The amazingly cheesy story of Pascal Beillevaire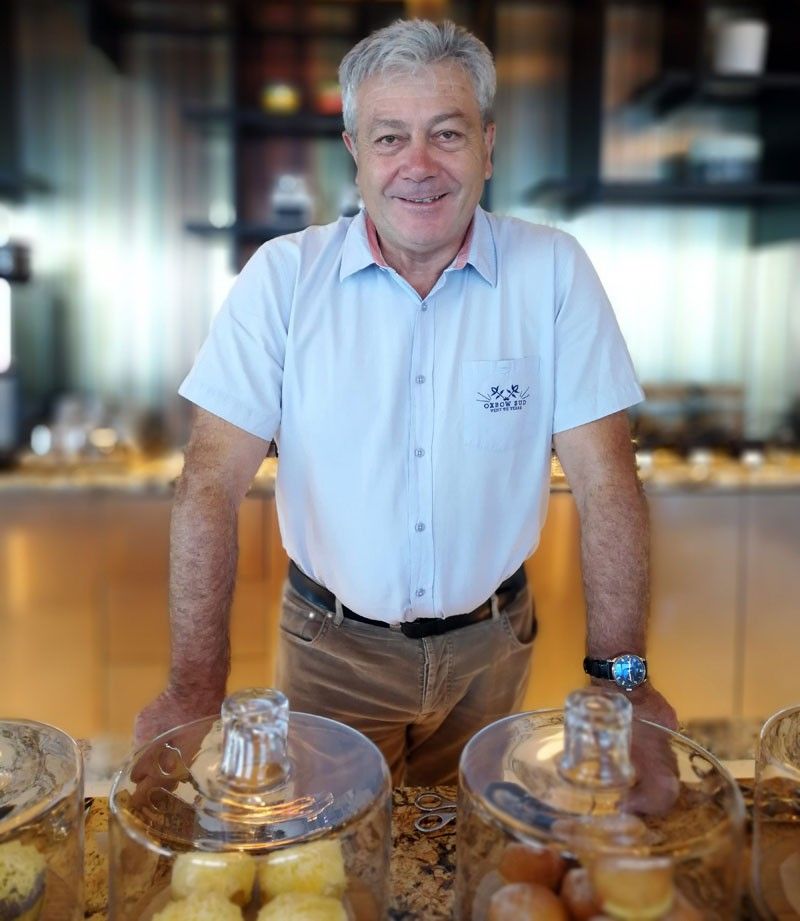 MILLIE: In recent months I have been to food crawls and wine crawls, but the other evening Karla and I attended an extraordinary cheese soiree. We not only had a taste of Pascal Beillevaire's cheese masterpieces, we actually spent two hours with him as he shared his story.
As we walked into The Peak, a bar at the top of the Grand Hyatt in BGC where the cheese soiree was being held, we spotted Pascal with a serious look on his face, churning fresh butter by hand. It didn't take long before we were chatting with him and he invited us to break bread with him over le petit dejeuner or breakfast the next day, to continue telling us his amazing, cheesy story.
We learned that Pascal hails from Machecoul in France, where his story began 40 years ago as a family enterprise. The farm, called La Vacheresse, is found near the mouth of the Loire River. Pascal would collect milk from farms surrounding his dairy twice a day and at the start, he would sell the cream and butter. Next he developed a yogurt line and eventually, the cheeses. Today, Pascal is proud to say he has 400 artisan and farmhouse cheese selections, of which he developed 115.
When asked which is his favorite, he said it is the Machecoulais, the first cheese he ever created.
Bleu d' Auverne is a cheese made in the Puy-de-Dôme. It is a blue- veined paste covered with a natural floral crust.
Pascal's uses cow, goat and sheep's milk to make the cheeses. He takes great pride in the Comte cheese, made from cow's milk, from the Comte's land, Vieu d' Izenave, where Beillevaire's maturing cellar is located with some 6,000 wheels.
Comte was granted the AOP or Appellation d'Origine Controlee in 1958 and awarded the AOP Protected Origine Nomenclature. The area is located near the Jura, Doubs and Ain in Eastern France. Part of the maturing process includes regularly turning, salting and rubbing the wheels with brine solution for several months. The wheels weigh 35 kilos each and are aged from 10 to 12 months, 18 to 24 months and 30 to 36 months.
Pascal narrates that underneath his dairy, he built a cellar with natural stones that look like a tunnel, where the temperature is maintained at 12 degrees all year long, making it the perfect place to mature his cheese creations. The process includes providing daily care to a well selected batch of cheeses that takes 60 days to mature, and are marked "bichonne," or "pampered."
I tried some of the cheeses unveiled that evening but the one that stood out for me that I tremendously enjoyed was the Brillat Truffe! It's a triple-cream, truffle-infused Brie, so buttery-tasting, soft and creamy smooth and I must have had three or four servings.
KARLA: It was such an honor to meet Pascal since I've been a fan of his products for the past few years now. I use Beillevaire cheeses for my business, La Petite Fromagerie. I've also seen Beillevaire cheeses in Sofitel Manila's Spiral cheese room and Mireio at the Raffles Hotel, Makati.
During the cheese soiree, we were able to try over 20 cheeses from Beillevaire's selection, not including the yogurts, butters and crèmes. Most of them I had not tried before. My favorites and newest discoveries were the 30-month aged Comte, Brun de Noix, Nenuphar and Ardechois Bichonne.
Comte is a hard cheese made from cow's milk. It is regularly salted and rubbed with a brine solution that allows the Comte wheel to develop a unique texture, color and perfume.
Other cheeses available that evening were the, 12- and 24-month aged Comte, Fourme d'Ambert, Gruyere de Gruyere, Croton de Pays, Chabichou, Rondelaine, Long Cendre, Chartreuse Bichonne, Tomme de Savoie, Petit Pave du Gois, Raclette de Montagne, Nenuphar, Buche de Chevre Marais Poitevin, Saint Nectaire, Pyrenees de Brebis, Secret du Couvant Bichonne, Carre de Brebis, Camembert Bonchoix and more.
I've featured some of my favorite Beillevaire cheeses for La Petite Fromagerie's Cheese of the Month and as part of my subscription cheese boxes, cheese towers and more. Every month I send a cheese box to my clients, some of whom have signed up for a three-, six- or 12-month subscription. The cheese box consists of three kinds of cheeses, tasting notes with serving suggestions so they can further appreciate the cheeses, crostinis, grapes, a bottle of wine, and delivery.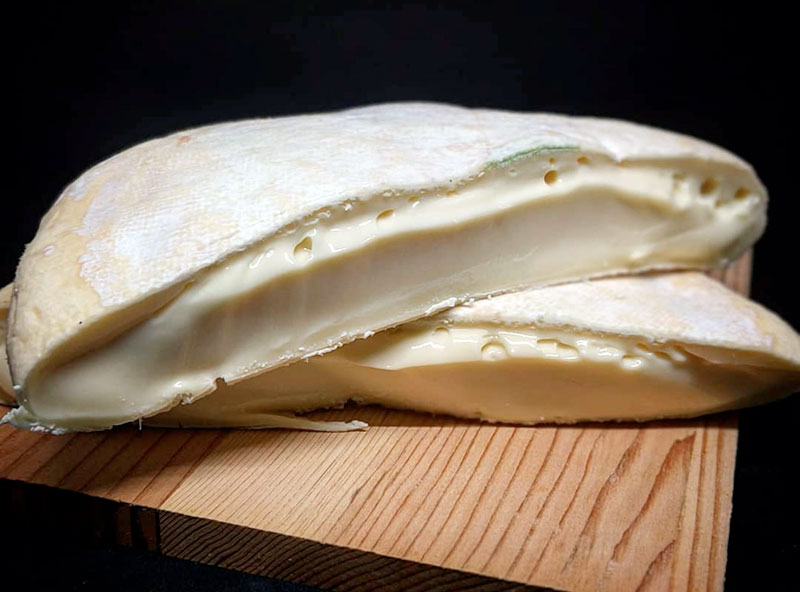 Reblochon Fermier, a semi-soft, washed-rind cheese made with pasteurized cow's milk
This gives me an excuse to try all the possible cheeses I come across. I pick my favorites and feature them, some of which are the Camembert Bonchoix, Chabichou du Poitu, Bleu d' Auverne, Truffle Camembert and Reblochon Fermier. Le Camembert Bonchoix is creamy and has a powerful bouquet, an earthy flavor profile and is slightly salted.
The Chabichou du Poitu is a goat cheese made with unpasteurized milk. Bleu d' Auverne is a cheese made in the Puy-de-Dôme. It is a blue- veined paste covered with a natural floral crust.
Camembert Truffe a la Melanosporum is a soft, creamy and bloomy rind cheese made with unpasteurized cow's milk with black truffle shavings.
MILLIE: Pascal Beillevaire has a strong partnership with the farmers, working closely to support their commitment to produce quality products such as pasteurized and unpasteurized butter. French butter, no doubt, is exceptional, but wait until you try Beillevaire's prestige butter line made with a choice of caviar, winter truffles and lobster oil! He also offers spiced butters with chili peppers, or seaweed or smoked paprika. A French cooking secret is butter, butter, and more butter! You can have it unsalted, slightly salted and mixed with salt crystals as well.
KARLA: Next to cheese, butter is probably our most favorite thing from France. Through my business, La Petite Fromagerie, I sell truffle butter using Beillevaire's butter with salt crunch. It can be used in so many different ways, not just on toast but you can also add it to your eggs, mashed potatoes, to baste your steaks, truffle butter pasta, and much more. Once you have quality product, the possibilities are endless.
* * *
Send email to milliereyes.foodforthought@gmail.com and quichethecook.ph@gmail.com. Find us on Facebook: Food for Thought by Millie & Karla Reyes and Instagram: @quichethecookph.