Heny Sison shares her kitchen secrets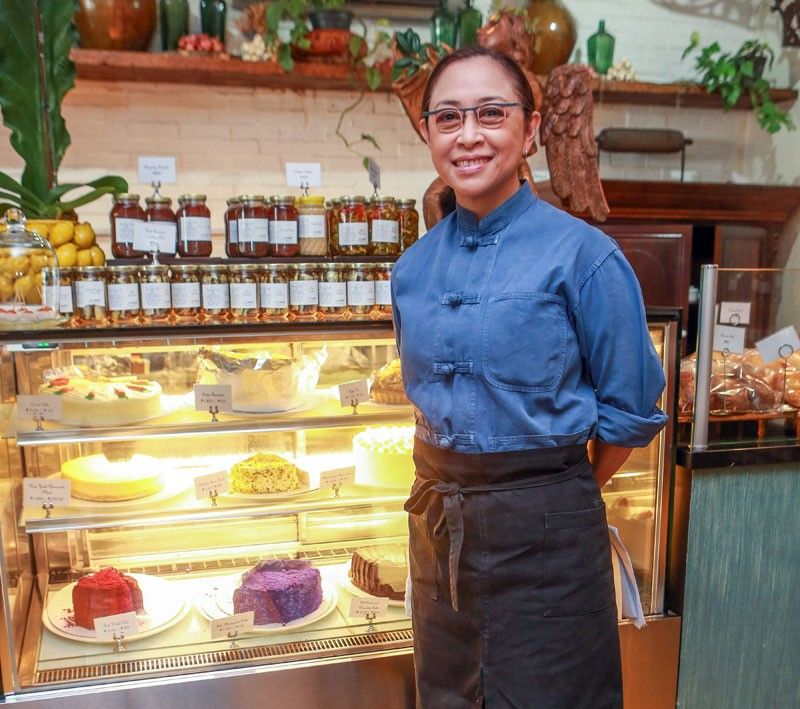 MANILA, Philippines — Kaliskis Empanada and bibingka — these were the two Filipino merienda dishes that Heny Sison shared at Kwentuhan sa Kusina, the hands-on workshop cum merienda-cena event that was held recently at the Heny Sison Desserterie inside Victorino's Restaurant on 11th Jamboree corner Scout Rallos Sts. in Quezon City.
During the cooking demo, chef Heny was generous in sharing practical tidbits of information and morsels of professional advice gleaned from her many years of experience in the kitchen. For the Kaliskis Empanada, she said, do not fry higher than 390 degrees Fahrenheit. If you fry lower than 350 degrees, it will become oily. Empanada that is deep-fried tastes better than one that is baked. Palm oil is nice for frying since it has a high smoke point. You can reuse the oil only three to four times. After four times, you have to throw it away.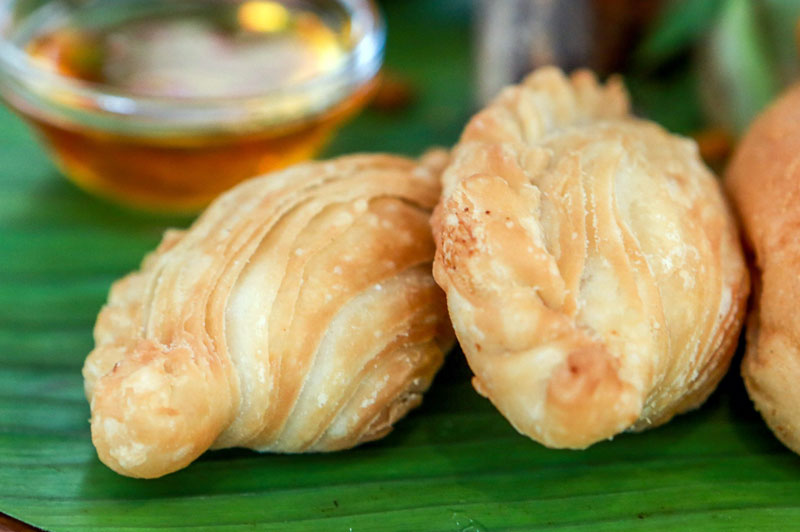 Kaliskis Magnolia Chicken Empanada
Use large eggs for the bibingka so you get equal amounts of egg white and egg yolk. It's nice for baking and cooking. If you use extra-large eggs, you get more egg white.
Chef Heny used a specially designed four-layer bibingka oven with four volume temperature controls. "Pre-heat the oven for five minutes," she advised. The bigger the size of the bibingka, the longer it takes to cook.
She also used various San Miguel Purefoods and Magnolia products, including Magnolia Gold Butter for the bibingka and ground Magnolia Free-Range Chicken for the filling of the empanada. "San Miguel Purefoods has been with us for almost 35 years," she said.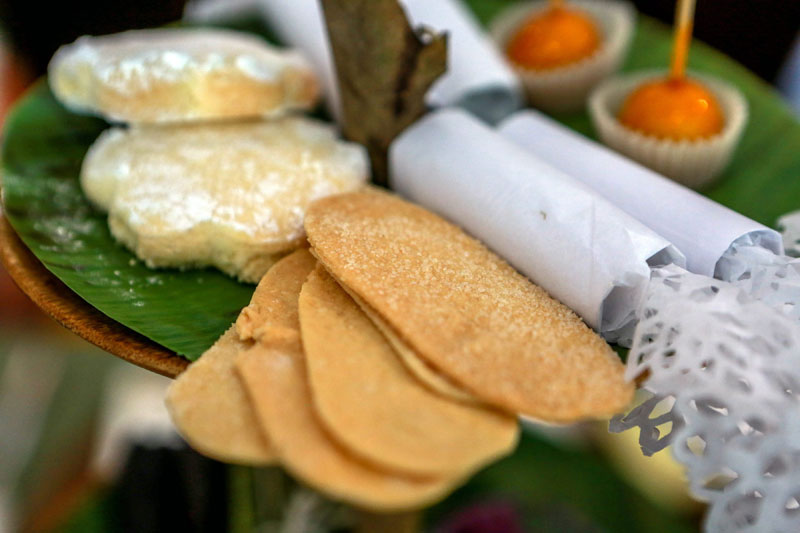 Sweet treats: Apas, uraro and caramel coated yema balls
Chef Heny demonstrated how to make the dough for the Kaliskis Empanada. It is a long process of rolling and folding the dough several times until it is ready to receive the filling, with meticulous attention to detail, pinching and crimping the edges of the folded dough to secure the filling inside.
"When you are a teacher, there are no secrets, so I give my secrets to my students, even the recipes that I use," Heny says. "My advocacy now is to help promote Filipino cuisine. I want to teach the essentials of Filipino cuisine. We can apply the techniques of French cooking to our Filipino cuisine."
She has also learned different cooking techniques not found in culinary books or from professional chefs, she said, but from ordinary food vendors who use cheap ingredients and simple techniques, like the thin buko pie of Candon, Ilocos Sur, and the fish ball sauce from street vendors. "We learn from each other," she said.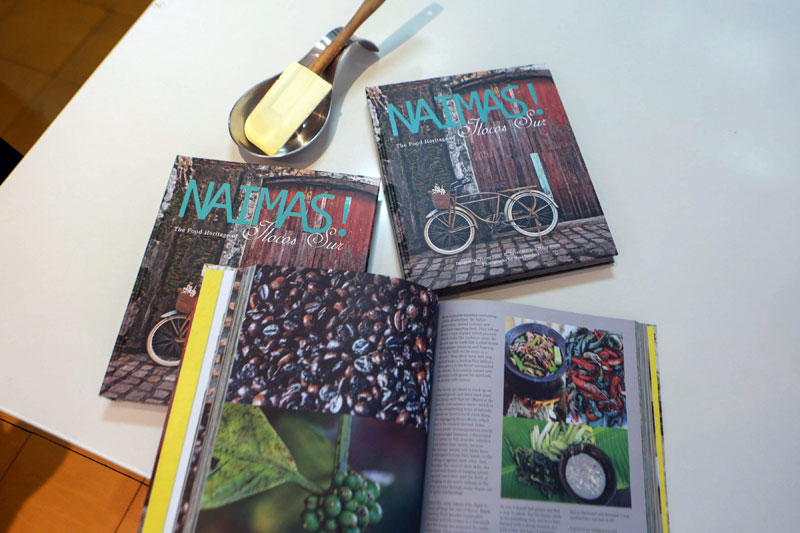 Chef Heny has also authored a book, Naimas!, which explores the rich diversity of Ilocano heritage cuisine.
Chef Heny has also authored a book, Naimas!, which explores the rich diversity of Ilocano heritage cuisine.
The chef instructors from the Heny Sison Culinary School were also present to talk about The Essential Series program, which is the school's in-depth and comprehensive culinary program, as well as the Kids' and Teens' Summer Classes, which will start on April 23 and April 25, respectively. The kids' classes are for those aged 12 years and below, while the teens' classes are for those 13 years old and up.
"The children in the two groups are both emotionally and psychologically different," chef Patty Loanzon explains. The kids are allowed to make a mess in the kitchen and the recipes they are taught are kid-friendly. The teens, on the other hand, are not treated like kids anymore. They learn not only cooking but also discipline and confidence, as well as teamwork — how to communicate and coordinate with others. They come out pretty well-rounded. Learning to cook is their first step to adulthood."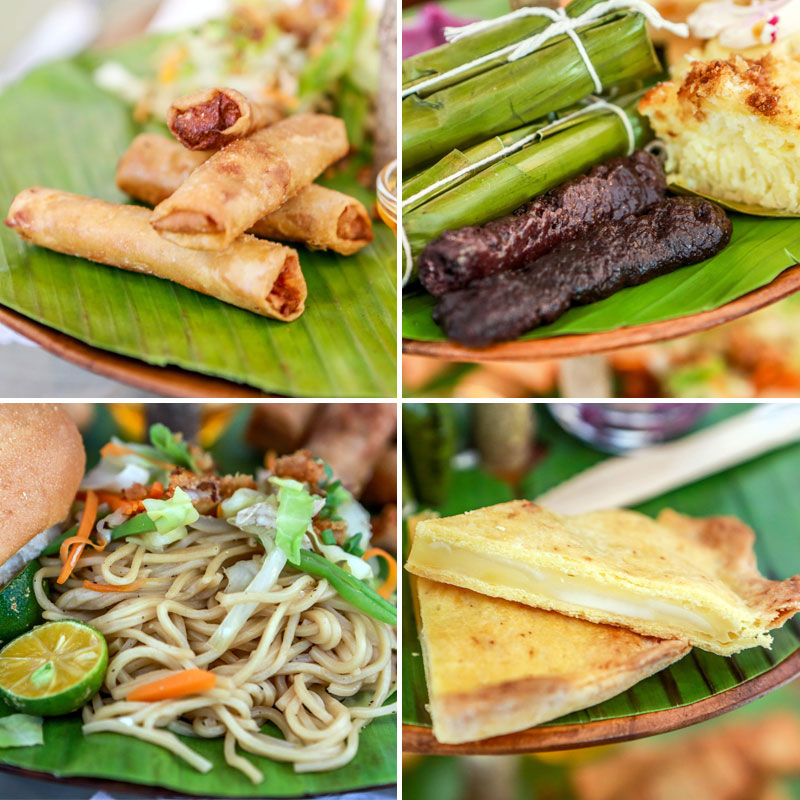 Other merienda dishes: (Clockwise from upper left) Lumpiang gabi, Suman at Halaya, Bibingka, buko pie and Pansit musiko.
The Essential Series Programs are for more serious, career-oriented students. It is a comprehensive 23-day program that teaches fundamental culinary concepts, skills training and techniques. Both the Essential Cooking Series and the Essential Baking and Pastry Arts Series use a techniques-based curriculum with hands-on experience, coupled with basic theoretical foundations designed to equip the students with the know-how to utilize their craft and talents professionally.
By the end of the program, students will be able to develop their own recipes and build a strong practical skill set in the kitchen. They learn from acclaimed instructors and industry experts who will help them grow and stand on their own in the culinary field."
The next Essentials of Cooking Series schedules are from April 22 to June 8, and July 15 to August 31.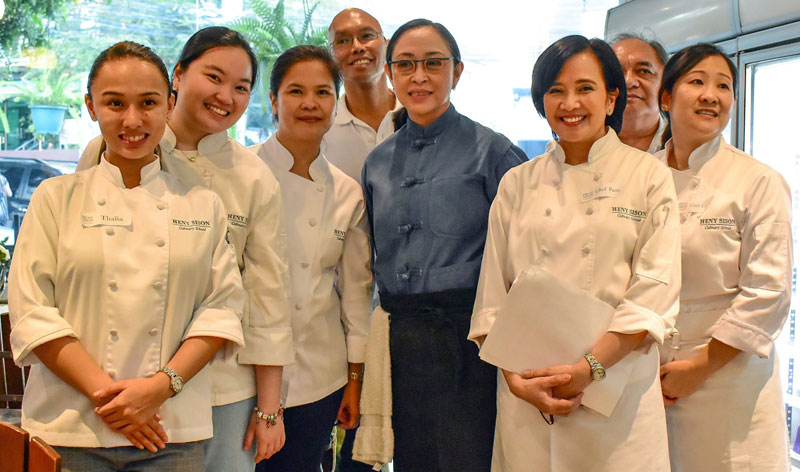 Heny Sison with Nathalia Estrella, Essential Cooking Series Batch 63 Graduate, Silver Spoon Awardee; Rochelle Tee, Essential Baking and Pastry Series Batch 81 Graduate, Silver Spoon Awardee; Zarah Navarro, Essential Cooking Series Batch 61 Graduate, Silver Spoon Awardee; chef Juan Carlo Estagle (culinary instructor, Essential Series and Lifestyle Classes); chef Patty Loanzon (culinary instructor, Essential Series and Lifestyle Classes); chef Carrie Madrid (culinarinstructor for Kids Summer Classes and Lifestyle Classes) and Bu Castroi
"Some of the students we taught who were in high school at the time are now professional chefs," says chef Patty, who was herself a star student of Heny Sison's. "Many of our students have found good jobs abroad and they have also come back home and now have their own businesses. We like to see our students become better than us."
Adds chef Heny, "You will not be allowed to teach in my school if you don't pass my standards."
It is her attention to detail and drive for excellence that spell the difference. The secret ingredients are her passion and love, not only for cooking and bakingbut also for teaching and sharing her secrets.
* * *
The Heny Sison Culinary School is located at 33 Col. Bonny Serrano Ave., Quezon City. For information, call 726-5316, email [email protected], or visit www.henysison.com.