Smoque gets in your eyes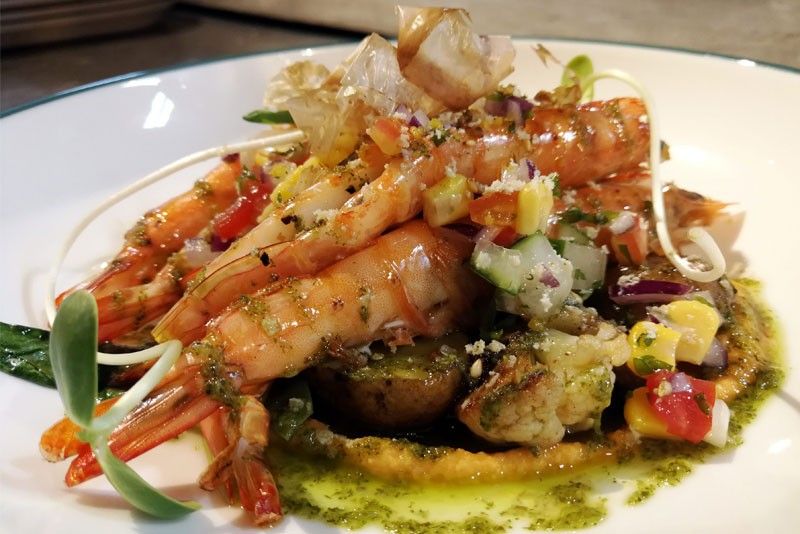 Millie: One of our newest finds on the island of Panglao was Smoque, a newly opened restaurant by chef Raphael Ongchiong.
Together with Karla's friends Jharvis Ong, Danielle Chen and Paolo Chen, who came to the island by ferry from Cebu to celebrate Karla's birthday with us, we decided to have dinner out. At first we were hesitant as we were comfortable at the beach, but Jharvis suggested we could drive out to Tagbilaran to buy a birthday cake for Karla, so we all decided to do just that.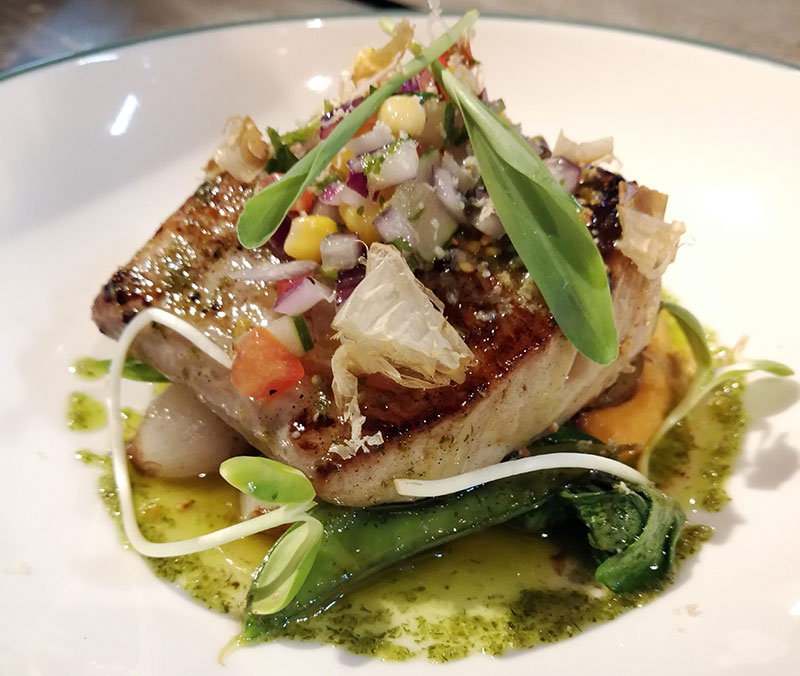 Grilled mahi-mahi with a sweet potato mash, pesto and corn salsa on top
As soon as we arrived at Smoque, Jharvis whispered to chef Raphael about preparing a birthday cake and I was actually surprised to see a mouthwatering display of cake selections created by Kriselle Alturas, who happens to be the wife of chef Raphael's partner, Mark Alturas.
Chef Raphael says he goes to market each morning to see what's fresh, available and in season, and changes the menu accordingly.
Karla: Chef Raphael, whom his friends call "Paeng," was trained in ISCHAM. He has worked at different kitchens, including Parellel45, the Wynn hotel in Macau and Aubergine. He moved to Bohol in 2010 and was the executive chef at Amorita Resort. Mom and I initially met him while he was still working there. He served us the most unforgettable sinigang to date. He slow-roasted pork belly to get a beautiful, golden-brown color. The skin was so thick and crispy that even when the sinigang soup was poured into the bowl, we still got that crunch we were expecting.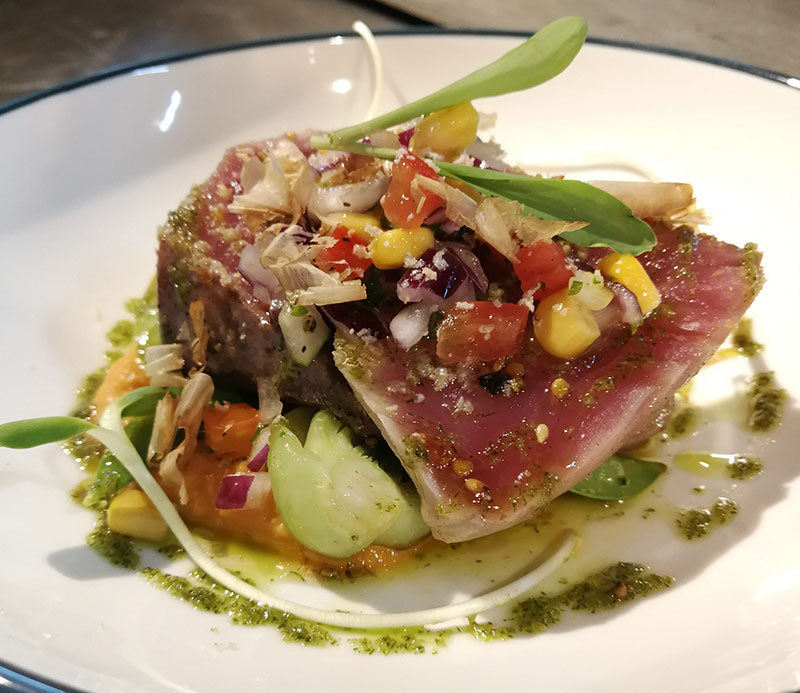 Fresh catch of the day: Slightly seared ahi tuna with potato mash, pesto and corn salsa
At Smoque Bar and Bistro, chef Paeng aims to serve whatever is fresh from the market and therefore, the menu is constantly changing. For my birthday dinner, we ordered the Smoque salad with seasonal produce, candied nuts, cured meat, queseyo cheese and house dressing. I enjoyed the tea-smoked duck salad with slices of smoked duck breast and duck croquettes tossed in truffle vinaigrette. Mom definitely loved the seared tuna salad with spiced seared tuna, and house greens served in anchovy vinaigrette and pepper aioli.
What I enjoyed most were the tostadas. We had BBQ meat tostada and beer-battered fish tostadas. Both were served with a corn salsa, refried beans, a dollop of guacamole, crema and queso fresca. For vegetarians, they also have roasted mushroom tostadas.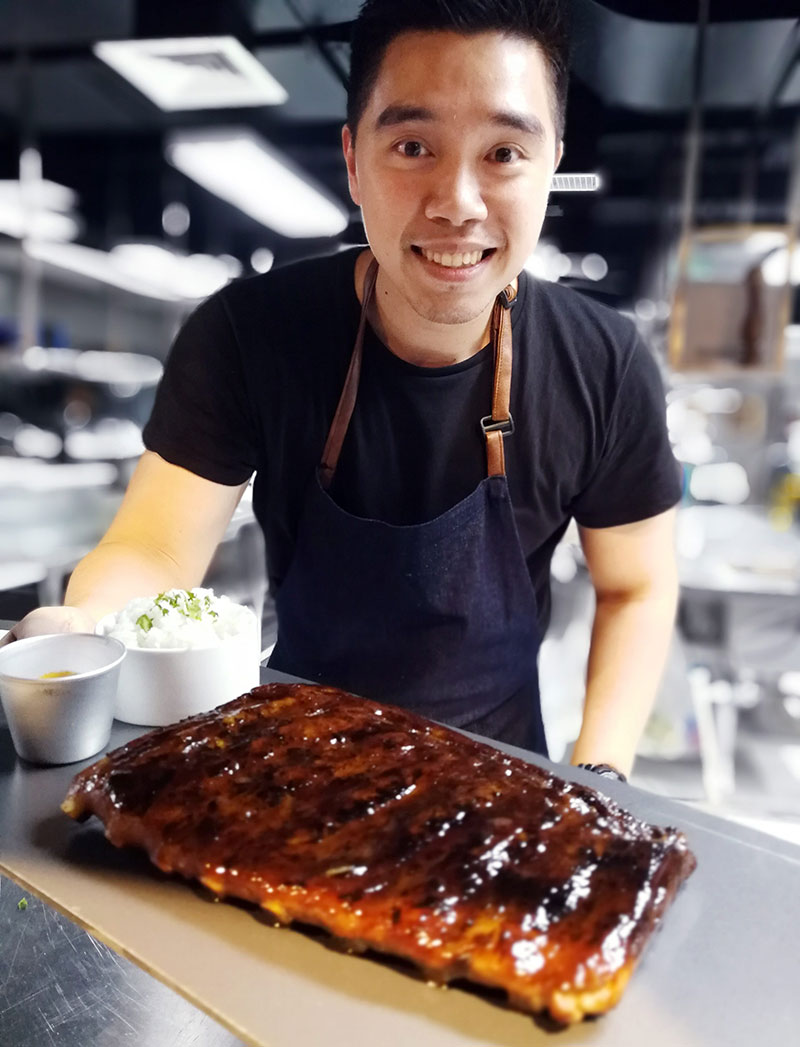 Smoque baby back ribs were cooked sousvide, finished off and basted in the oven and grilled with homemade BBQ sauce.
Our main courses included grilled mahi-mahi with a sweet potato mash, pesto and a corn salsa on top. We also had seared yellowfin ahi tuna and grilled butterflied shrimps. For the meats, we had sous vide baby back ribs finished off and basted in the oven and grill. It was cooked perfectly, tender enough but not too broken up for the bones to fall off. We also had the sous-vide brisket with chimichurri, which was perfectly seasoned and served with a side of creamy and buttery mashed potatoes.
Chef Paeng gave in to my request for a mini tour of his kitchen. He has a wood-fire brick oven, a couple of sous-vide machines, where he slow-cooks his meat dishes and oh, so much more. The kitchen is huge and very well kept. He anticipates that the kitchen will also be used for catering events and other special events at the restaurant. The seating capacity of the restaurant is around 120, enough to house a party for any special occasion.
Millie: Kriselle lovingly prepared a dessert sampler in lieu of a whole birthday cake with candles for Karla to blow. So we were lucky to get to try most of Kriselle's creations. Karla liked the cake with peanut kisses best. I couldn't get enough of the cheesecakes, and had to try all of them: the hazelnut coffee mocha cheesecake, the Oreo mousse cheesecake, and the ultimate cheesecake! There was also a red velvet cake, classic tiramisu, a mile-high dreamy chocolate cake and caramel cream cake.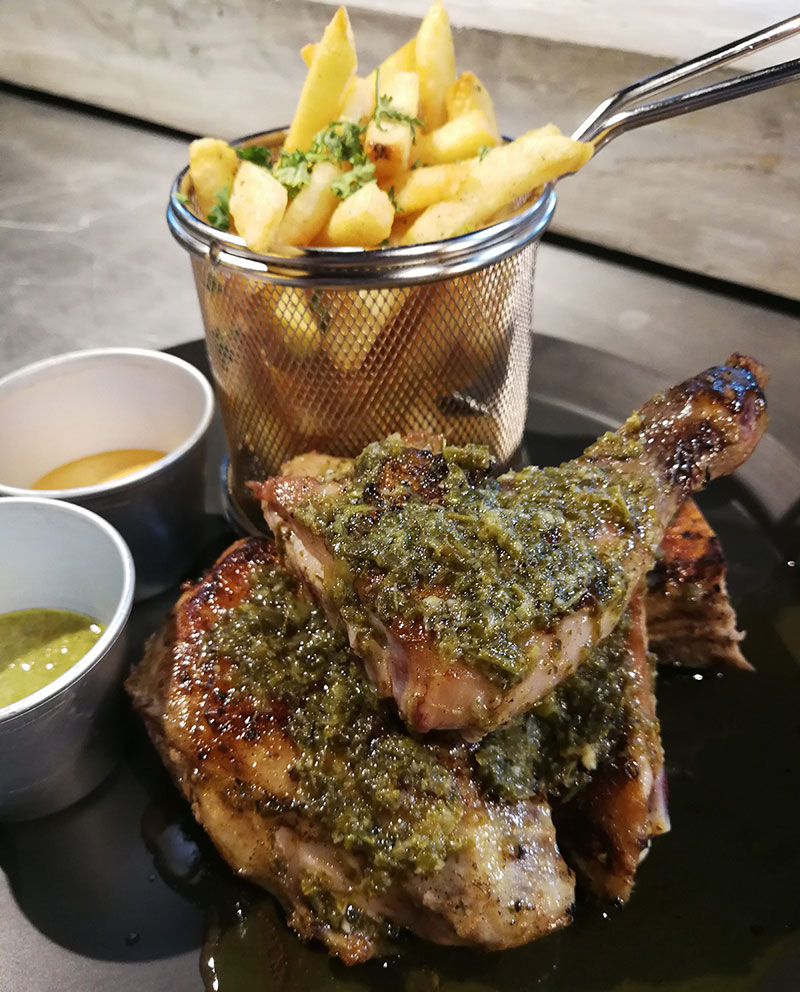 Piri-piri chicken is marinated and basted in chef Paeng's secret recipe, grilled then served with a side of French fries.
Kriselle took baking lessons and loves to create and experiment on her dessert line. She confides that she bakes the basic sponge at home and creates or does the finishing touches at Smoque. ?
We would have loved for Kriselle to sit and chat with us just as chef Paeng did, but as soon as we buckled down to dine she vanished, possibly because we were boisterously laughing the night away! We promise to be back to have a taste of more unique Smoque specialties.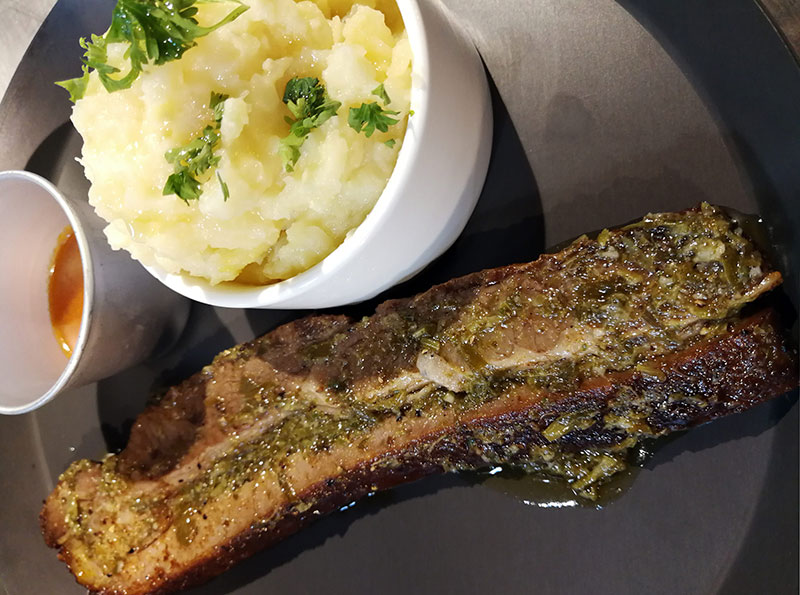 Beef belly with chimichurri, cooked sous-vide: It was perfectly seasoned and served with a side of creamy and buttery mashed potatoes.
* * *
Smoque Bar and Bistro is located at CPG East Avenue, along ACE medical center, Bool District, Tagbilaran City. They are open from Tuesdays to Sundays at 11 a.m. to 2p.m. and 6p.m. to 10 p.m. For reservations, call 0918-300-8180.
* * *
Send email to milliereyes.foodforthought@gmail.com and quichethecook.ph@gmail.com. Find us on Facebook: Food for Thought by Millie & Karla Reyes.