A taste of provence at Mireio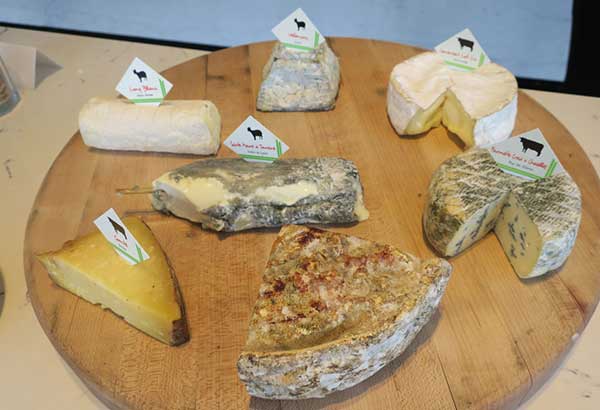 Millie: Earlier this year, we had the opportunity to witness the launch of Gout de France by French Ambassador Thierry Mathou, to celebrate French gastronomy as the only cuisine recognized by UNESCO as world heritage.
One of the participating chefs that stood out was chef Nicolas Cegretin of Mireio. Unfortunately, he disappeared before we could interview him during the launch. Karla and I were both curious to try Mireio as we had never been. So when we were invited by our group of blogger friends called KTG — acronym for "Kain Tulog Gang" — for a unique weekend brunch at Mireio, we gladly obliged.
For starters I ordered the terrine charcutiere maison with garlic and pickled shallots, which was served with a basket of assorted homemade breads. I enjoyed the hot and crusty baguettes served with French unsalted butter. What is breakfast without eggs? My egg dish of choice was simple oeufs brouilles, or scrambled eggs with a touch of class: black truffle juice and chives. My main course selection was slow-cooked oxtail parmentier with black truffle juice served with velvety-smooth mashed potatoes.
Karla: As soon as we entered Mireo, the first thing I noticed out of the corner of my eye was the cheese selection waiting for me. As we were seated at our table, it was announced that we could go ahead, take some photos and start with the spread. I went straight for the cheeses, of course. We were first served an assortment of appetizers. The first was a version of the traditional French Niçoise salad. This had baby potatoes, green beans, boiled egg, black olives, onions, and lightly seared tuna. Next came the homemade terrine with pickled garlic and shallots. We were also served a pissaladiere, an oniony tart that originated from the South of France. For my egg dish, I got the egg Benedictine, an English muffin with deep-fried beef tongue covered in béarnaise sauce and topped with jamon Iberico. For my main course, I had the roasted chicken with sweet potato puree, bean sprouts, meat jus and garlic.
The dessert buffet was mesmerizing. One of the first people there was, of course, mommy. Our favorites were the lemon meringue, salted caramel and chocolate mousse, and pate de fruit. They also had a French crepe station where you could choose your ice cream or sorbet flavor to top it with. I went with the famous crepe Suzette, which reminded me so much of my lolo as it was his favorite.
Millie: One evening, we found ourselves in the heart of Makati during rush hour and, instead of braving the traffic to go home, we decided to stay put and have dinner at Mireio. Dining by candlelight on the ninth floor of the Raffles Hotel with a breathtaking view of the city's skyline at night was so romantic.
The restaurant is inspired by a poem written in 1859 by French writer Frederic Mistral about Mireio, the daughter of a rich farmer in love with a modest basket maker.
Deciding on what to order as I held the menu in my hands was one of the most difficult decisions, as everything looked absolutely divine! Karla and I decided on selecting different dishes so we could sample more items.
I chose the chilled broccoli soup with Parmesan Chantilly cream, which was smooth and perfect for a warm evening. For my main entree I ordered the pan-seared duck breast topped with seared fresh foie gras — so delicate and rich-tasting — absolutely delicious.
I could have gobbled up everything but since Karla and I wanted to sample as much as we could, we switched plates midway. We found that it was better than giving each other a morsel of whatever we had ordered. Sometimes, we would ask the server to split the dish so both of us could savor and enjoy the item served.
Karla: Mom and I were so hungry when we arrived that we mindlessly ate the breads served to us. The French butter, of course, was too good to pass up as well. We knew we were in for a good meal when we opened the menu and couldn't decide what to have. We wanted to get almost everything. For my appetizer, I ordered the fresh and smoked salmon tartare — batons of granny smith apple, Dijon mustard cream and topped with a fish skin chip. For my main course, I couldn't decide but finally settled on the Dover sole Grenobloise — lightly pan-fried Dover sole topped with a brown butter sauce with capers, lemon, croutons and parsley. It was served with steamed potatoes on the side. Mom and I talked about how my Lolo Joe would have loved this dish and how I wish I could have been given the chance to cook it for him.
Millie: Our server suggested we should try some dessert so we chose something unique: the Brie and white chocolate cheesecake with lemon mascarpone salted crust. It was exquisite and we were very satisfied with our choice. Both Karla and I enjoy French cuisine and agreed that on the next special occasion, celebrating at Mireio would certainly be top of mind.
* * *
Mireio is located on the 9th Level of Raffles Makati, 1 Raffles Drive, Makati Ave., Makati. For more inquires and reservations, call 795-0707.