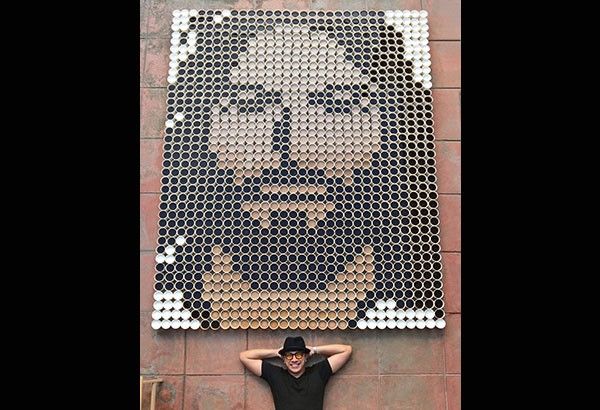 Food artist Mel Aguinaldo used different shades of coffee in paper cups to create his artwork of Jesus Christ.
I have always been surrounded by people with great talent — people that inspire and people that have taken their talent and changed the way we see things. One such artist was our featured guest in our recently concluded Essential Baking and Pastry Arts Series: Mel Aguinaldo, a trailblazer in food art in the Philippines.
Even though he has found great success as a creative director in the advertising industry, his passion for artwork made from unconventional mediums has continued to capture his passions beyond his vocation and given birth to his artwork. The story behind his inspiration and the purpose of his artwork fascinated me. This is his story and I hope it inspires you as it has inspired me.
"I love coffee," says Mel. "I grew up in Dagupan City with my family, who loves coffee very much. Coffee time with my family has always been my treasured memories and my family has been my inspiration for most of my artwork. I learned to draw at a very young age because I took inspiration from some of the artists in the family. My cousin, Leto Gonzales, was the one who taught me how to draw. Since then I've developed this addiction to draw and sketch, like my addiction to caffeine. It never stopped and I found myself appointed as president for the art department in high school, when I was in Mother Goose Special Science High School. I was always sent to compete with other schools and I would win most of the time.
"I decided to hone my talent further and majored in Fine Arts at the University of Sto. Tomas, batch 1991-1994. Back in college, I improved my sketching and painting (oil and watercolor) skills because I was taught by very competitive professors. They helped enhance my overall approach to art. I enjoyed my time at the university. It was as if I found a group of people who shared the same passion.
"Back then, art materials were a bit costly. I couldn't always afford to buy expensive watercolor brands, so I started to explore with improvised materials like coffee. I found it very interesting to use coffee because it worked the same as watercolor. I received good grades from my 'design plates' and I loved it! I enjoyed making these art pieces even late at night because of the smell of coffee that invigorated me — the aroma filled my entire room, which was the first thing you'd notice when you entered.
"With all my coffee artwork, combined with some fresh oil paintings, my room was beginning to smell weird. So I decided to place all my artwork in a mini-storage room outside the house. One day there was a storm that ripped off the roof of that mini storage and all my work was completely washed out — those beautiful pieces that I kept were all washed away by the rain except for one, which remained intact: the "Mother and Child" (Mama Mary and Jesus). It was a pen-and-ink artwork. I got so depressed and since then I didn't have the motivation to start making new art again. It was like my talent was paralyzed.
"When I was working in advertising as a creative director, my creative skill was different. I was mostly focused on graphic design using a computer and my drawing hand got used to the feel of a computer mouse. After years as an art director, I yearned to work with my hands again and went back to doodling and found myself drawing again. I was fascinated with some 3D drawings and food art, and so I started playing with coffee beans, adding them to my sketches and doodles. It was fun! I had an idea of making coffee art and I used the placemats in different restaurants and cafés as my canvas. I copied some artwork that inspired me using my iPhone. After I make the artwork, I take photos and leave it there in the café. I posted them on social media and people loved it. So I had a hobby that I look forward to every weekend: I make coffee art on placemats.
"However, one of the most remarkable artworks that I have made would be the Mother Teresa coffee art. My fascination with Saint Teresa stems from a deeply personal connection that goes beyond the timely fervor associated with her canonization. In the early 1980s, Mother Teresa visited many places the Philippines and one those places was Dagupan City, my hometown. While she was there, my mother and my sick little sister Michelle Aguinaldo were lucky to have met her in person in one of the missionary homes, Sisters of Charity. My mother brought my little sister, who was three years old at that time, because she was suffering from anemia and was really frail. She had many medicines that didn't work for her and even had a blood transfusion. We were almost running out of hope for our little Michelle.
"Mother Teresa's visit to our hometown was a good sign. Mama recalled that Mother Teresa smiled at my mother as if to say, 'Not to worry,' and carried my little sister in her arms and placed her hand on my sister's head and prayed for her. A week after, my frail little sister showed some good signs and started eating well again. After a month, the anemia was gone.
"A few months ago, I also got struck by an illness that made me weak and helpless. I was scared and really worried. Again, my mother told me to include Mother Teresa in my prayers because she is the saint for the sick and she is miraculous, so I prayed to her every day and every night. A couple of weeks ago she appeared in my dream; I remember that it was dark in that dream but she was there with her glowing sari, smiling at me — probably a sign from her that she heard my prayers and that I was in good hands. I woke up that day with a smile on my face and told my wife Lyda Aguinaldo about the dream. I was inspired and told her that I wanted to make an artwork for Mother Teresa, I told her, "Ipagtitimpla ko siya ng masarap na kape (I will make her some good coffee)," then I thought maybe she's the kind of saint who likes to have her coffee with cream and sugar. I made her this piece with cream and brown sugar.
"That Mother Teresa artwork got picked up by local media, TV Patrol and GMA. My family and I got interviewed. It was broadcast nationwide and also reached abroad, to the US and the UK. That's when JCI Manila gave me a call and asked me to design their 'Blessed Mother Teresa Award' for Fr. Leo Schmitt.
"Last December, just before her birthday, Mama Mary also appeared in my dreams, so I also made her a watercolor portrait using coffee granules. Pope John Paul II also appeared in my dreams. It made me wonder why the saints keep showing up in my dreams. They probably love my artwork? That's why I still have a lineup of artwork for saints. It is always a pleasure for me to honor them through my art.
"For Christmas I did one of my special artworks, the 'Jesus Christ Coffee Art.' It was putting together 1,400 cups of coffee, in different shades of brown, to form the portrait of Jesus. It was my gift to him, to show my gratitude for giving me this talent. I shared that artwork and posted it on social media for everyone to see and people loved it! I have a valuable reason to continue the coffee art: my goal is to make a lot people smile and that makes me happy."
Mel and I share one passion for artistry, and that passion is driven by the desire to inspire and motivate people by making beautiful creations that reflect the things we see beyond the ordinary. Whether it is a carefully designed cake or a meticulously prepared coffee artwork creation, hard work, dedication and a talent for the craft of creating gives us a deeper appreciation not only for creation but the Creator as well. May we all continue to inspire and be inspired by others by our mutual love for all things beautiful.