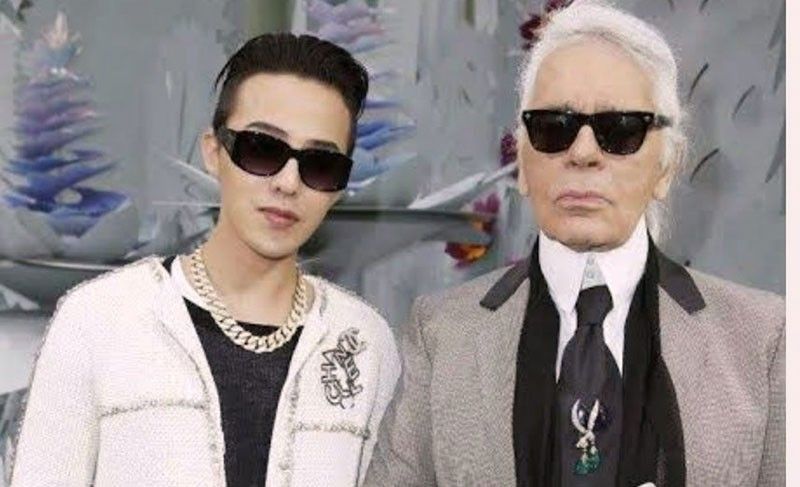 G-Dragon with the late Karl Lagerfeld
Korean celebrities as the face of fashion
Luxury fashion is looking towards the east. The fashion industry cannot ignore the power of China, Japan and Korea as major markets of luxury goods. They are fashion-forward, stylish, and lovers of trends. In recent years, more Asians have become prominent in the front rows of Fashion Week shows in Paris, Milan and New York.
I would like to point out some K-pop and K-drama stars who are brand ambassadors and endorsers of these luxury fashion houses. They have become the faces of fashion and have brought in much publicity and attention from their massive fandoms. There are actually now too many to mention, but these are the ones who caught my attention.
G-Dragon, korea's golden fashion boy
Where do I begin to describe G-Dragon, or GD? First and foremost, he is the leader of popular K-pop group Bigbang, songwriter, producer, rapper, designer, and businessman. Dubbed as the King of K-Pop, he belongs to the impenetrable fashion elite.
In 2017, the BOF (Business of Fashion) named G-Dragon as one of the "500 People Shaping the Global Fashion Industry." GD has been a Chanel ambassador for over five years, making him one of the first Asians to be included in this inner circle. His fashion sense is quirky, innovative, unorthodox, gender bending, and most of all, fearless. He would wear the Chanel classic ladies bouclé jacket and other ladies' garments and mix them with different pieces that would result in an absolutely chic look.
He has his own cool fashion brand called Peaceminusone. I've checked out their website and they are always sold out. GD was on a fashion hiatus for over a year due to military enlistment. Upon being discharged, he launched a collaboration with Nike called the Peaceminusone Paranoise Air Force 1. The shoes have a black outer layer that eventually peels off to reveal a personal artwork he created. The meaning of Paranoise was to go beyond the noise of the world. I have to say, for a pair of sneakers, it's quite profound. The Paranoise Air Force One sales and resale value was so impressive that he was invited to the recent Nike 2020 fashion show in New York, where he was photographed alongside other Nike brand collaborators like Travis Scott, Drake, Jacquemus, Virgil Abloh, Tom Sachs, and Hiroshi Fujiwara, among others — making up the coolest Nike squad.
Early this year, GD came back to Chanel as ambassador by attending their spring/summer 2020 show. The fashion world was anticipating what he would wear after a long absence. He did not disappoint. He came in his favorite ladies' tweed jacket in purple-pink paired with a blouse that had printed astronauts, purple corduroy cropped pants, square-toed shoes and a vintage Breton cap. To accent his look, he wore a classic Chanel flap bag, which he embellished with graffiti and pearls. Not to be missed were his signature pins and bracelets. Vogue claimed that G-Dragon made a chic comeback to Fashion Week, while GQ praised his unique embellishments. Beyond his musical prowess, what people sorely missed from G-Dragon during his military stint was his crazy-in-a-good-way fashion and the trends he created.
Superstar Lee Min-Ho and Exo's sehun for berluti
Berluti is an elegant bespoke and ready-to-wear menswear brand that also includes leather products. It was established in 1895 by Italian Alessandro Berluti and its current creative director is Kris Van Assche. Berluti belongs to the LVMH group with Antoine Arnault as the brand's CEO. The esteemed fashion house's patrons include Pierre Berge, Jean Cocteau, Alain Delon, Andy Warhol, Frank Sinatra and even writer Marcel Proust.
Last year, Berluti invited Korean superstar Lee Min-ho to sit in the front row of their spring/summer 2020 show at the Luxembourg Gardens. Alongside the statuesque actor were Ricky Martin, Joe Jonas and Eddie Peng. Of course, Lee Min-ho looked dashing dressed in Berluti from head to toe. He also had a photo shoot in its Paris store with the classic clothes perfectly adorning his tall, model-like physique.
In January, another Korean celebrity was invited by Berluti to be a brand ambassador. Sehun, the "maknae" of K-pop group Exo, was a special guest at the Berluti menswear winter 2020 show during Paris Fashion Week. He even shot a fashion film called W X Berluti, which was shown in various locations in Korea. When he attended the show, he was mobbed by fans.
Gong Yoo and winner's Mino: korean cool at LV
Gong Yoo, whom I consider to be the Brad Pitt of Korea, has been a front-row guest at Louis Vuitton for a couple of years now. Most recently, he attended the opening of the Louis Vuitton flagship store in Seoul. Last year, he was in Paris for the luxury brand's spring 2020 men's show in Place Dauphine. Clad in an all-black Virgil Abloh creation, he dazzled the crowd and turned heads as per Korean media.
In the same show, Mino, the tall, stylish rapper from the K-pop boy band Winner, actually walked the runway, creating a stir. Even Vogue had a feature titled "Winner's Mino just walked the Louis Vuitton runway — and stole the show." The impact that these Korean celebrities make in the fashion world is amazing.
By the way, Kris Wu was in the most recent LV show in Paris last month. Even though he is Chinese, he was formerly a member of K-pop group Exo. That's two markets in one! He was photographed next to supermodel and beauty Bella Hadid.
Kai of Exo as the Gucci 'IT' boy
Under the helm of creative director Alessandro Michele, Gucci is now known for its colorful, witty and distinctive style. The contemporary look, which I can describe as very extra, found an endorser in Kai, a member of the extremely popular K-pop groups Exo and Super M. He is a singer, dancer, model and actor with a fashion sense equally as colorful as Gucci's. Kai was seen at the luxury brand's fashion show in Milan in January for the fall/winter 2020 collection. He was wearing a floral top with a striped shirt underneath and checkered pants in true Gucci fashion. He has been hailed as the "human Gucci" by Korean media, personifying the brand's style and unique taste. He is Gucci's first-ever Korean global ambassador.
Taeyang x Fendi
Taeyang is a member of legendary K-pop group Bigbang. He is known for his great vocals, songwriting and dancing. Taeyang's collaboration with Fendi started in 2017 for a capsule collection that included a lineup of jackets, hoodies, T-shirts and accessories.
In the recent Milan Fashion Week for the fall/winter 2020 collection, he was again welcomed to the Fendi family by Sylvia Venturini Fendi after his military enlistment. Sylvia, granddaughter of the brand's founders, took over from the late Karl Lagerfeld, who would oversee the collections. Sitting in the front row with the Italian fashion elite, Taeyang was spotted in a woven suede and leather jacket with an all-black ensemble and, of course, the much-coveted Fendi bag as an accessory.
Rosé from Blackpink and Saint Laurent
Belonging to the same entertainment agency as fashionable group Bigbang, Rosé of K-pop girl group Blackpink shows a distinct style of her own. Saint Laurent recently announced that Rosé is its new ambassador for the spring/summer 2020 collection. The collection is designed by Anthony Vaccarello, who has taken inspiration from iconic and vintage pieces, as well as the style of legendary rock star Mick Jagger of the Rolling Stones.
Korean global ambassadors for local brands
Philippine fashion brands have not been left behind with this trend towards appointing Korean celebrities as their endorsers. Bench has a long list of top K-drama and K-pop artists promoting its products. Their list of Korean celebrity ambassadors includes Super Junior's Siwon Choi and Dong Hae, Lee Min-ho, 2PM's Nichkhun, actress Park Shin-hye, Ji Chang-wook, Park Hyun-sik, Park Seo-jun and famous girl group Twice. Penshoppe, on the other hand, signed up Sandara Park, Weightlifting Fairy actor Nam Joo-hyuk and most recently, Lisa of the immensely popular girl group Blackpink as its ambassadors.
Outside of the Runways
It is not only in the fashion week runways and ads that we see Korean celebrities donning the latest in fashion. Onscreen, actress Son Ye-jin was spotted wearing a Longchamp Roseau bag in the hit K-drama Crash Landing on You. The cute members of world-famous boyband BTS (Bangtan Boys) attended various high-profile events wearing Yves Saint Laurent by Anthony Vaccallero, Givenchy, and Alexander McQueen. Popular Blackpink members Lisa and Jisoo also wore Givenchy in their super hit Kill This Love music video.
Korean celebrities have transcended global fashion and are now at the forefront of the industry setting trends and influencing audiences worldwide. It's exciting to wait and see what they will do next.