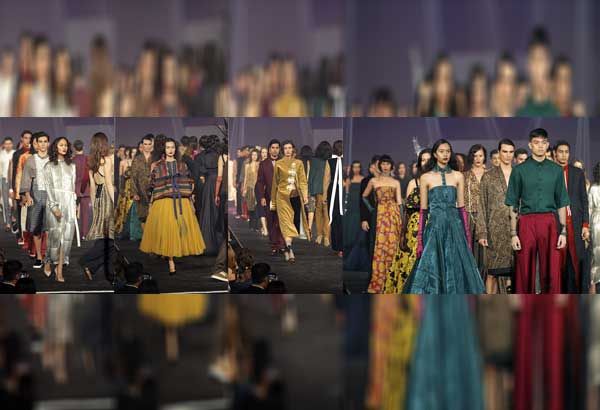 Joey Samson is very innovative and very now, says Ben Chan
J oey Samson is a one-of-a-kind designer in the Philippine fashion industry. Most designers go with current trends, follow the norms of tradition and try to carve a certain image. Joey doesn't do that.
At the Red Charity Gala 2017 held at Shangr-La at The Fort, Joey made us think. He led us to a journey — he calls it pilgrimage — where we examine who we were, how we are and where we are going. Along the way, he stirred some quiet emotions and made us go through the depths of our soul. Or was it his soul?
The keyword is "quiet" or perhaps serene, which describes Joey's personality. Behind this serenity, there is a disquieting trove of words which inspired his recent creations: Pilgrimage. Passage. Offering. Devotion. Prayer. Homage. Memory. Dream. Rediscovery. Homecoming.
"My collection is a depiction of one man's journey to nostalgia, recaptured via images, best portrayed by a mood, a moment, a patina, a place, an individual, a feeling that renders symbolisms, represented by garments that evoke and embody sentiments and souvenirs," he explains. "From tradition to something a bit outré, remixing looks and reshuffling garment elements.
"I wanted the clothes to be a revival of old wardrobe favorites, as if relics of a long passage at the same time, something with a sense of familiarity with a contemporary feel, transitioning from conventional to ceremonial."
With tailored pieces, you see soft fabrics swishing from beneath the hem. Dainty evening gloves — as if tattooed with flowers — matched with starkly mannish coats. Layers of beads stringed together to form an armor over a sheath dress. Always expect the unexpected from Joey Samson.
His followers say the show was very Joey Samson, but not just that. "I like how the collection is, but you evolved. You stayed true and faithful to your DNA, but at the same time, your new offerings are distinctly your own," a friend told him.
The hard-to-please Ben Chan, whose Bench company is the major sponsor of this annual fundraiser organized by Tessa Prieto-Valdes and Kaye Tinga — was all praises for the show. "Joey Samson is very innovative, very now. Very experimental and I like that," Ben says.
To see formal dressing beyond convention — that was what Samson wanted the audience to do. We saw that. In the serene corners of our mind. And we loved it.
* * *
Follow the author on Instagram and Facebook@milletmartinezmananquil. Email her at mmmananquil@philstarmedia.com.