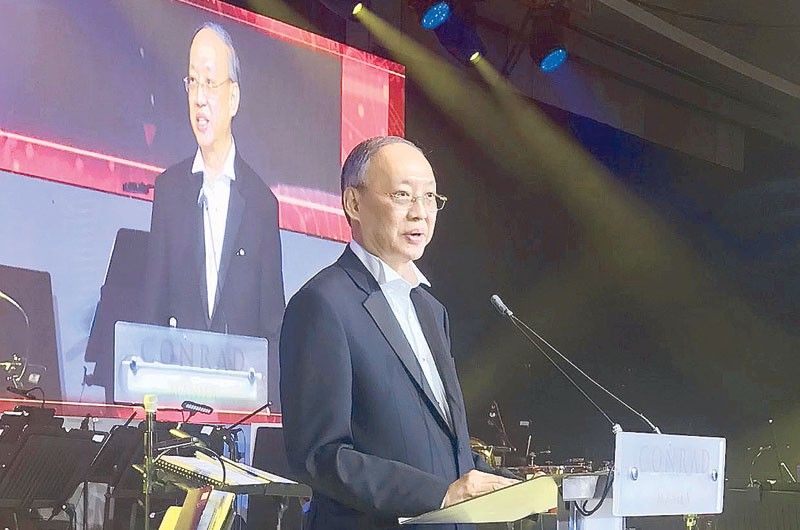 Performing Arts and Recreation Center Foundation chairman William Guido.
In the natural order of things, we'll often read about how a foundation or a notable endeavor is dedicated to the memory of a father or mother, how the children are carrying on a tradition set by their parents.
In the case of PARC, the Performing Arts and Recreation Center Foundation, found on Lt. Artiaga St. in San Juan City, there's a unique reversal of order an exemplary vision started by a son, and now carried on by his father, due to the son's untimely demise.
Along with two friends, it was 2015 when Wilmer Guido (then only 23 years of age) had a vision of creating a mini-Cultural Center of the Philippines (CCP) in San Juan. An avid fan of the performing arts and a diligent music practitioner/student, Wilmer, along with close friends Larissa "Issay" Nodalo and SamSam Santiago as co-founders, established PARC as an arts center for underprivileged children and struggling local artists by repurposing the office space of his father, William Guido. William, who heads Globaltronics Inc. and the Guido Group of Companies, was set to relocate and Wilmer seized the opportunity to fulfill a dream by taking over the soon-to-be abandoned space.
It was back in June 2016 that PARC officially opened its doors; and in December 2017, Wilmer passed away from a sudden illness. Rather than letting his son's dream wither away, William found new purpose by taking on the chairmanship of PARC, sustaining the operations, and forging new partnerships to keep Wilmer's "torch" burning bright.
And with co-founder Issay Nodalo stepping in as president and overseeing the day-to-day operations, PARC is now a vibrant center for the arts in its locality, a beacon for possibility within the milieu of the performing arts.
Sitting on its board of trustees is a savvy mix of business people and representatives of the arts community, which includes Raul Sunico, a world-renowned pianist and former president of the CCP, and Wilmer was once one of his music students.
Founder of the Philippine Philharmonic, maestro Rodel Colmemar is similarly a trustee, and there's Jasper Evangelista, COO of Globaltronics, and Alvin Kingston Tan, president and CEO of Fil-Chi Media Productions (Chinoy TV). In short, it's a brain trust that William has assembled who can sustain the vision of Wilmer, and make practical suggestions to make this non-profit flourish.
The PARCaralan program offers free music, dance and theater classes to young talented Filipinos from the San Juan locality, and from as far away as Tondo, Manila. At present, there are 22 scholars, and during the PARC Performing Arts Ball, which served as the year-end fundraiser, William unveiled his ambitious plans of having as many as 300 scholars by the year 2025. The educational assistance given includes transportation allowance and books. A newfound partnership with Megawide involves a Life Skills Exchange program that should be launched this year.
Talking to Issay, she recounted how having been a strategic planner at an advertising firm, her managerial skills have been put to a test with her new role at PARC. She was enthusiastic about a tie-up William has forged with Singapore's Global Cultural Alliance, a like-minded group that has prospered since 2014. It aims to build communities and bridge borders via arts and cultural programs; and has been very successful. And PARC hopes to synergize further with the Singapore group in the coming years.
In a touching speech that William gave during the ball, he talked about Wilmer and this dream and passion he had, how driven Wilmer was to see PARC succeed, and play an integral role in the community. Carrying the torch, and sustaining PARC has been William's best way of remembering Wilmer. And for Issay, it's the best way to keep alive the memory of Wilmer.