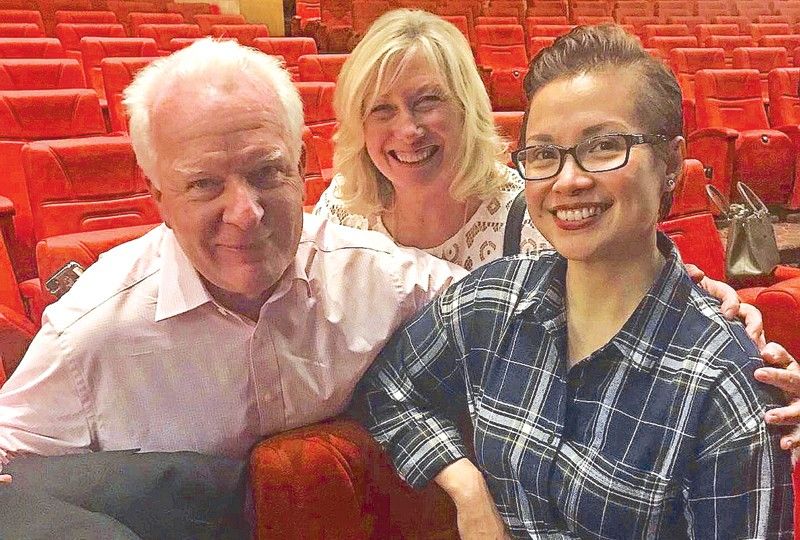 Robin and Sharon Horsman with Facial Care Centre endorser Lea Salonga, after her Sweeney Todd performance.
Putting on a brand-new face (& body)
The story of Facial Care, Marie France and Svenson here in the Philippines began in 1982, when the first Facial Care Centre opened its doors, with Marie France following three years after. Svenson also has a history that now surpasses 30 years. So that's a lot of faces, bodies and heads of hair that have fallen under the expert care, guidance and noninvasive treatments that the three centers are known for. And let's face it, in this day and age of intense competition in the personal care and services industry, marked by ever-changing and improving technology and treatments, you either keep up with the times, provide reliable and effective service, or end up heading out the door.
As its name would imply, Facial Care is about treatments and regimens aimed at the facial area, while Marie France is about slimming and body sculpting services. Svenson deals with hair loss and other issues that involve one's head of hair. And if something has drastically changed over the 30 years that these three centers have been in existence, it's not just the technology available, but the attitudes and culture directed towards these type of services.
Back in the 1990s, most individuals would be shy, or downright secretive, about letting friends know they were regularly heading to beauty care centers. Now that people are more open about personal care and services of this type, gift certificates for services are given on birthdays, or as Christmas gifts, and they're welcomed by the recipients.
There's also now a brisk business with men. Male vanity is on the upswing, and even fitness buffs see the benefit of augmenting their physical regimens with complementary noninvasive procedures that can help further sculpt their bodies. Svenson was always a given for the male market and their tonsorial concerns, but now they'll also patronize they company's facial and slimming clinics.
For the beauty and personal care company, it's not just about contracting with individuals as endorsers, ambassadors and personalities connected to the brands; it's about making you feel you're part of a family. Yes, you're asked to attend salon openings, new product and services launches, even corporate Christmas parties, but George Siy and the Siy family, Robin Horsman, Renato Reyes et al., also invest in creating opportunities where you meet and bond as "family."
One night in October was a prime example. Lea Salonga is a Facial Care Centre endorser and as she was performing in Sweeney Todd at The Theatre at Solaire, Mimi Siy (George's wife) led a group of celebrities, management and staff in enjoying the show. The tickets were given on a complimentary basis, and they were just making sure the seats would be used. Lea joined Mimi with Robin and Sharon Horsman after her performance, and you could see the appreciation on her face, on how her FC family had come to support her and her stage endeavors.
The three centers wouldn't be in the game after more than 30 years if there wasn't a long list of satisfied clients. That they've prospered all these years goes beyond the services and programs offered, it's also in the individual care and attention the staff are trained to give to every client who walks through their doors. *