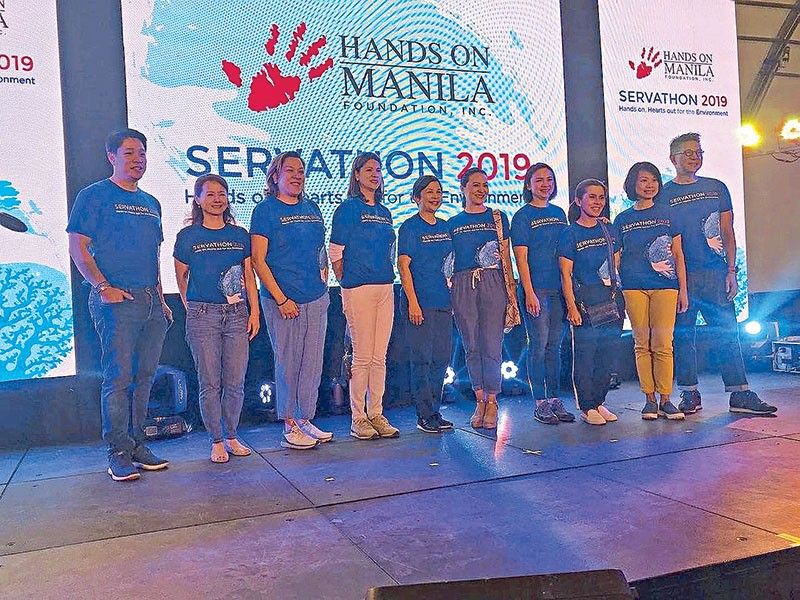 The HOM board of directors (from left) Quintin Pastrana, Michelle Batungbacal, Mia Villanueva, Lizette Cojuangco, Gianna Montinola, Marilou Batchelor, Patty Pineda, Marianne Po, Sheila Ramos and Junie del Mundo.
Without a doubt, a lot of corporations here in the Philippines have CSR (corporate social responsibility) programs that can, and should, be sources of pride for the rank and file. Especially when it comes to the millennials, they prefer to affiliate themselves with companies that exhibit a stronger understanding that they're part of a bigger community, and should play a role in enhancing that community. It's when it comes to volunteerism that these corporations can use some guidance, especially if the CSR already in place consists primarily of financial or technical support to some cause or advocacy. There's still nothing like volunteerism to help foster an esprit de corps, and make the employee feel that the company he or she is part of, is a caring one.
For 18 years now, Hands On Manila (HOM) has played a vital role in giving definition to any corporation's desire to establish a program of volunteerism for its employees. The present HOM chairperson is Gianna Montinola (and I am also friends with a number of its directors) so one early Saturday morning, I found myself heading to the PICC Tent to witness firsthand how HOM provides these volunteerism opportunities to companies ready to join the HOM Servathon. And what I found was that there were 32 companies, each represented by a significant number of its managers and employees.
Affiliated with the US-based Points of Light Foundation, one of the leading global champions of corporate volunteerism, HOM chose to make the environment the backbone of its volunteer efforts this year, partnering with the local chapter of the World Wildlife Fund (WWF) and hence the presence of Joel Rama and Iza Calzado to accept the output of the volunteers. That this was serendipitous there can be no doubt, as the screen at the Tent would flash images of, and the video of the impassioned speech of young female environment activist Greta Thunberg — and reaction of the volunteers was unmistakably favorable.
There were three major activities going on within the Tent. First, there were soil booster mixes being put together and placed in liter bottles. To be distributed at a later date, the boosters would help enrich the soil. Second, there were environmental information kits being packed for teachers and students at local schools. The obvious aim here is to get the kids aware and concerned about environmental issues at a young age.
And there were Mabuhay Balls being formed. Based on the Japanese technology that created bokashi balls, the balls are made from clay soil, effective micro-organisms, rice bran, sugar, salt, and so on. Utilized for river and lake clean-ups, the bokashi balls promote the growth of good bacteria to consume water pollutants, and to increase oxygen levels to support aquatic life. The balls being formed that morning are allowed to ferment for about two weeks, before being dispersed in the riverways and estuaries.
Over at the Solaire area, which consisted of some eight long tables, it was obvious to note the added enthusiasm of the volunteers, as no other than Lizzy S. Razon and David Batchelor were there that morning, helping form the messy Mabuhay Balls, and being one with the volunteers. The corporations were all encouraged to create cheers and rallying cries — and were awarded prizes for Best Cheer.
When host Issa Litton introduced the current HOM board of directors, it was heartening to see how the top business community was represented, throwing support behind this idea of volunteerism. That they've been doing this since 2001, in such a quiet manner, speaks volumes of how sincere they have been in promulgating this ideal without seeking validation or the proverbial pat in the back.
Great job, HOM! *