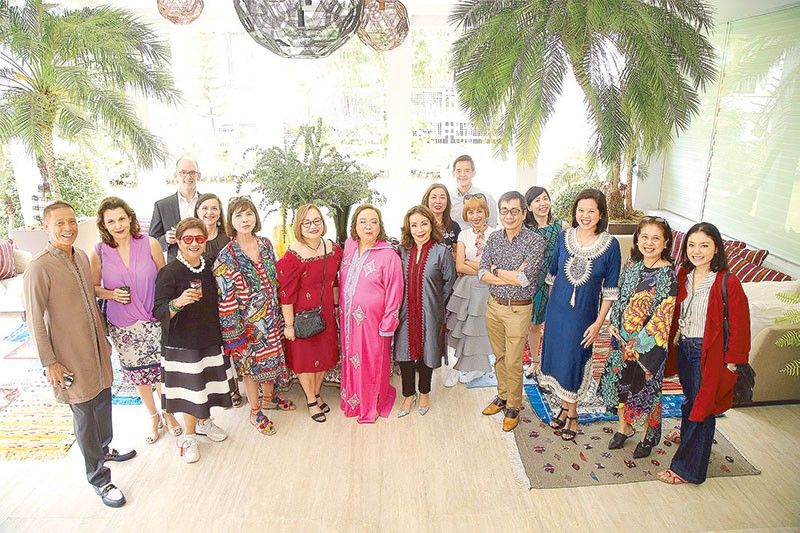 At the special preview lunch of Cafe Casablanca hosted by Rustan's home division VP for merchandising Marilen Tantoco (eighth from left) at her residence. Also in photo are (from left) Renato Enriquez, Monia Zaoui, Susan Joven, Denise Faulhaber, HSBC SVP and head of retail banking and wealth management Peter Faulhaber, Millet Mananquil, Thelma San Juan, Rustan's member of the board Maritess Tantoco Enriquez, Tanya Lara, the author, Cheche Moral, AA Patawaran, HSBC's Niki Chua-Bangsil, Yvette Fernandez, Rustan's home division manager Cecile Hermoso and marketing communication head Dina Tantoco.
Morocco conjures up images of romance and mystery. Marrakesh, Tangier, Fez, Rabat, Casablanca — the names of these cities alone instantly help in creating that aura and allure. The Tantoco family has always had a special place in their hearts for Morocco — members of the family having lived and worked there at one time or another over several decades, and to this day.
So, we can be super-thankful that as the family behind Rustan's, the Tantocos have always wanted to share this appreciation for things Moroccan with us. For their annual festival "Fall in Love with Morocco," it was wonderful to see how they converted the fifth floor of Rustan's Makati to Marrakesh's medina, or a souk. The Cafe Casablanca (also on the fifth floor) just opened, and for a change this year, it will extend for months to come.
Like Filipinos, Moroccans are extremely proud of their cuisine, and it's gained an enviable global reputation. To highlight the menu of the Cafe Casablanca this year, Marilen Tantoco hosted a very special Moroccan lunch. The media, sponsors HSBC, and other Tantoco family members made up the guest list. It was a baptism of fire of sorts for visiting chef Rachida Bousta and her assistant chef Fatima Zara. They had just flown in from Morocco the day before but they were excited and eager to have us sample genuine Moroccan cuisine — and they more than satisfied our curiosity.
Naturally, the ubiquitous couscous was present, but it was a couscous of vegetables. I absolutely loved the traditional Moroccan salad — creating my personal mix of beetroot, carrot and potato bechamel, olives, a spinach dish, and this one made of peppers. A lamb tagine with prunes, pastilla of fish and chicken were the main courses. Look out for the dessert — we had pastilla with milk, orange with cinnamon, and rice with milk.
Moroccan cooking traditions are a virtual "melting pot" of influences that have arisen over centuries. You start with the native cuisine of the Berbers, then throw in the Arab flavors, and the influences coming from the Andalusians and the French. In general, Moroccan cuisine is complimented on its being relatively healthy. Most dishes are rich with vegetables and whole grains, all freshly prepared. Rather than utilizing refined sugar, they use sweet fruit and spices to add flavor; and you seldom see any dish that's deep-fried. Lamb, which is leaner than red meat, is the preferred choice; and couscous is regarded as healthier than rice.
The Cafe Casablanca should prove to be a very interesting meeting place over the next few months. But more than the Moroccan culture and the food, which is being exposed to us, I'd like to talk about the passion with which the Tantocos are organizing festivals of this sort.
We know of their ties to Europe, particularly Italy and France, thanks to the brands they represent here in the Philippines. But to take something more personal, such as their affinity to Morocco, and converting that to Fall in Love with Morocco, and now, Cafe Casablanca, isn't connected to some commercial linkage or consideration. But they've gone ahead with this, now on its second year, and it's truly in the spirit of what Rustan's founder and matriarch, Gliceria R. Tantoco, would have done.
Tita Glecy and Tito Benny were both good friends of my own mother and father, and every time I bump into Tito Benny at their events, he breaks out into a smile, reminiscing about them. So, it's wonderful to see the two generations that are now running Rustan's keeping that passion of Tita Glecy so alive.