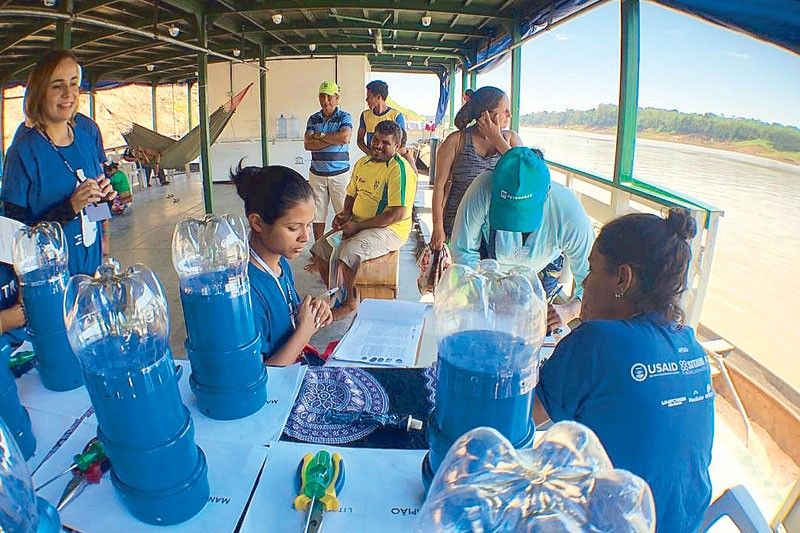 Peace Boat through the Amazon.
Filipinos now: Lighting the world
I just got out of the Amazon after six days and finished 600 houses installed with lights!" Social entrepreneur and global green champion Illac Diaz jubilantly sent me a message through Viber. What streamed through next were photos of a visionary Filipino leading a whole pack of people through the Amazon to light poor communities. Illac had been traveling on a Peace Boat teaching communities in the Amazon to build solar lanterns with available parts using local skills.
In 2011, MyShelter Foundation created the Liter of Light program, which aims to provide poor communities in the Philippines and around the world with a cheap source of lighting that can be produced and distributed locally. Recycled plastic bottles filled with water and a bit of bleach are fitted into the roof to provide lighting during the day and can be upgraded with an LED bulb, microsolar panels and a battery to provide a low-cost night lighting system.
Liter of Light was conceived as an open-source, DIY program that could easily be replicated by anyone around the world using readily available materials and basic carpentry and electronics skills. Within 20 months of its inception, Liter of Light had become a global movement and to this date, has been benefiting more than 850,000 households worldwide.
For the local community, it is all about access to light. The second is livelihood creation. This is something we, under the ECHOsi Foundation and our GREAT Women communities, are looking to partner with. After his Peace Boat, we will work together with Illac to see how we expand this for our women to light their communities and streets for safety.
Liter of Light developed an environmental-friendly lighting concept, made out of recycled plastic bottles, that achieves the goal of bringing light to poor areas while at the same time avoiding to rely on traditional and centralized energy providers such as coal, nuclear or even hydro plants. This recycled, affordable green technology follows an economic model that is durable and can be reproduced everywhere in the world. These solar lights are viable micro-businesses that teach women a sustainable livelihood income source. We want to teach women micro-entrepreneurs under our GREAT Women national network how to make these solar lamps and light not only for their houses, but also for schools and weaving centers. And even the streets for their safety and that of their children. Especially in the most rural of areas. After all, women are the "ilaw ng tahanan" or guiding lights of their families and homes. And women and children, too, are the most vulnerable.
I like to see the positive side of the Filipino in this time when our world is so dark and full of challenges. I want to see the Filipino today as the bringer of light and the one who shines the light into the world. Like how our 10.2 million OFWs scattered all over the world clean up a home, teach a ward something new, cook wonderful creative dishes, sing new songs as songbirds and bands or dance groups scattered around the world lighten up the atmosphere to one of a fiesta celebration, or social innovators out to inspire with new ideas, and through a country personality that is so open, caring and giving, the Filipinos are out to make the world a more fun space to be in. And Filipinos are so resilient they shine with courage.
Many times I have eavesdropped on some OFWs, when, during my airport waits, I hear men and women talking to their loved ones on the phone saying bye-bye. Connecting just before checking in. Connecting on that precious phone just before take-off. "Mag-ingat ka, anak, at huwag mong awayin si kuya mo (Take care of yourself, child, and don't fight your brother)." Or "Take care of your mother. Mag-aral kang mabuti. (Study well)." And always, ending with messages of love. Mahal kita. This…the love that defines sacrifice for another to have a better life. This, the loving energy to want to bring the lightness of life to another.
Because of the help that Liter of Light can give to the world, the program won the seventh edition of the Zayed Future Energy Prize in Abu Dhabi, United Arab Emirates in 2015 in the Non-Profit Organization (NPO/NGO) category; and became a world record holder for the largest environmental sustainability lesson in 2018.
Liter of Light is the only Filipino organization to have won this prestigious prize. How symbolic is this? That a Filipino like Illac, in collaboration with many groups, is inspiring many to light the world…one liter at a time. This prize puts him on the global stage to be highlighted in the Dubai World Expo in 2020, which is focused on sustainability.
Light is one of the most universal and fundamental symbols. It is my personal favorite symbol. It is the spiritual and the divine. It is at once, illumination and intelligence. Light is the source of goodness and the ultimate reality. This journey towards the light is so deeply embedded in our collective psyche as we constantly seek the kaliwanagan of our national spirit. Through colonizers, dictators and corrupt leaders, the Filipino constantly seeks to uphold that which is right, honest, good and positive.
The Liter of Light is already being done globally in many countries. So we would love to see this program replicated locally through our women groups all over the country. If we can enable this to happen, then we would be making a symbolic yet concrete move. Liter of Light has begun this program in Marawi City, one of the most devastated parts of our country.
We have begun a weaving center there too, for the ECHOsi Foundation's GREAT Women project. Together, as enablers, we hope to do this around the country, expanding the Liter of Light in the hands of women weaving and living in the most rural of areas.