"Normcore" is buzzword in social media and among style aficionados. It is this season's biggest fashion statement that, quite ironically, places premium on what is ordinary or average to a point where the reference becomes one's father about 20 years ago. The idea, apart from embracing the essentials of androgyny, is to embrace an attitude that is bland, effortless, even generic. The three key cities of fashion — Paris, New York and Milan — have each presented a genius representation of "normcore" that further emphasizes an appreciation for the subtle and anonymous.
In Paris, the city's most revered luxury brand, Hermès, proved to be the most fitting show to introduce "stealth wealth." With Christophe Lemaire taking the reigns as the brand's creative director, Hermès' lush fabrics and outsized proportions were key elements to the Fall 2014 collection. Slouchy whilst still clearly polished in true Hermès form, the pieces each emanated an air of chic elusiveness and nonchalance.
Perhaps one of the labels that, even prior to the "normcore" explosion, has best embodied all the ideals of the trend, Maison Martin Margiela was in its element this season. The brand's approach to "normcore" was an intelligent reworking of the male wardrobe that resulted in a feminine collection utilizing and manipulating tweeds, flannels, sweaters and pinstriped prints.
A city celebrated for producing the most eye-catching pieces through color, print and shine, Milan seemed to have turned towards a more discreet design direction. Max Mara's design team this season was focused on outerwear utilizing a mix of tweeds, plaids and herringbone. Once again, the silhouettes were of-the-moment oversized with just the right amount of metallic peeking through from inside.
Still in Milan, legendary Giorgio Armani turned a predominantly gray collection from corporate to effortlessly elegant. Called Fade to Gray, Armani showed an inventive manipulation of fabric (where wool had gone from voluminous to streamlined) and colors (ranging from monochrome to ombre). His layers not only created rich collage of textures, it also focused on the exploration of newer shapes and silhouettes. A master in every sense, Armani had single-handedly turned something so seemingly dull into a collection so utterly outstanding.
Finally, New York was home to some of the most covetable "normcore" pieces of the season. A strong influence on the street style scene, the Olsen twins managed to elevate their brand from mainstream to high fashion. This Fall, their innate sensibility, as seen on numerous paparazzi photos of both Mary Kate and Ashley, came to life with their collection of slouchy, outsized ensembles. The duo explained that their collection for the season was focused on lush fabrics like cashmere. Overpowering necklines, outsized outerwear coats and vests were all impeccably crafted to express a strong sense of understated luxury and elegance.
"Normcore" is not necessarily a statement against fashion, rather an attitude that favors simplicity and low key luxe. Jason Wu's work for Hugo Boss has strengthened the brand's women's wear range. Of course it helps that the label's strength lies in its distinguished men's line. This season, Wu works with men's fabric in neutral tones like black, charcoal, camel and ivory. We reworked these masterful men's into androgynous pieces that best appeal to an audience that appreciates a daily fashion uniform. Again, the proposition of the show was to emphasize a brand of inner confidence that has the capacity to stand out by blending in.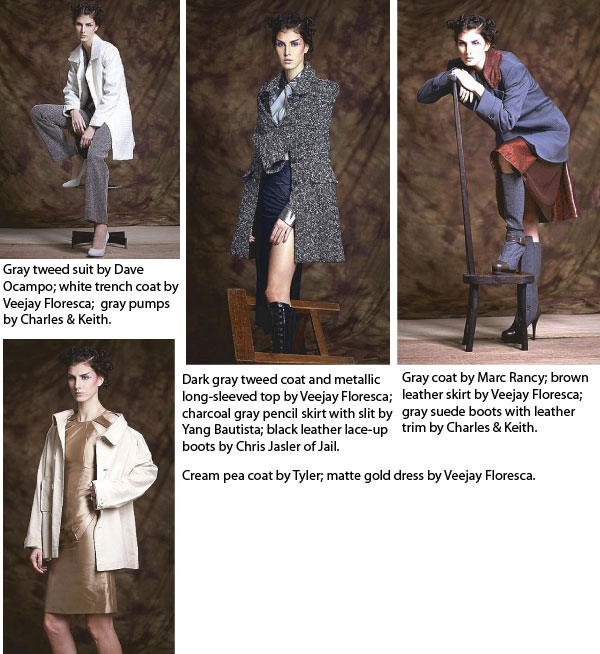 Photography by RXANDY CAPINPIN, assisted by DIEGO LEE and ADREO ESGUERRA • Fashion styling by LOI VILLARAMA, assisted by GENE ALBARILLO • Makeup and hairstyling by HANNA PECHON of SHU UEMURA • Model: GABRIELLA PAPP