A Prestigious recognition for the 'Beauty Preneur'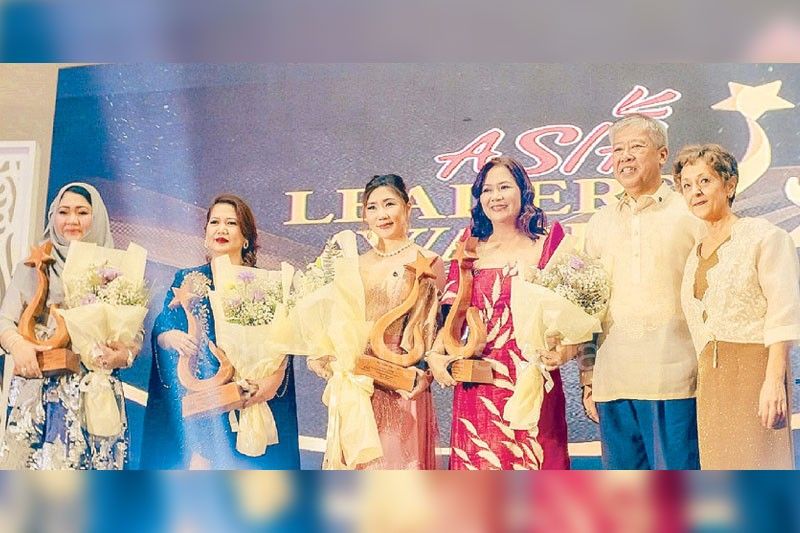 Proud Philippine Retailers Association (PRA) member Nikki Tang, the inspiring CEO of DMARK Beauty Corporation and DermAsia Corporation, was recognized at the 6th Asia Leaders Awards organized by Rising Tigers Magazine. Known as the hardworking "beautypreneur," she was one of the recipients of the 2022 Woman of Substance award at the ceremony held at The Manila Hotel in Ermita, Manila. The noteworthy event honored empowered individuals who made a difference in their respective fields and who displayed vision and upheld the spirit of achievement and excellence in business leadership in Asia. Under Nikki's helm, DMARK Beauty and DermAsia take pride in being the leading beauty solutions expert trusted by dermatologists and skin care professionals as well as the foremost distributor of technologically-advanced medical and aesthetic products in the Philippines, respectively. Seen in the photo are (from left) 2022 Woman of Substance awardees Prime Group group CEO Dr. Mary Jane Alvero-Al Mahdi, MPQ Travel and Tourism LLC CEO Malou Prado, Nikki Tang, and Philippine Commission on Women (PCW) chairperson Sandy Montano with The E-Hotels, Resorts, and Residences Suites Group chairman, president, and CEO Dr. Elton See Tan and Romanian Ambassador Räduta-Dana Matache.
A fun afternoon among clubmates
The Catholic Women's Club (CWC) celebrated the joint birthday of members Milo Bondoc and Letty Calma held at the former's fabulous La Cumbre home in Capitol Hills, Quezon City. Guests were treated to a sumptuous merienda cena spread and an array of mouthwatering delicacies and desserts prepared by Letty. After a series of games where winners were given lovely prizes such as crafted bags from Dubai and summer hats and brooches from Bangkok, everyone was entertained by lawyer Edward Chico with his unmatched wit and humor. CWC president Mimi Valerio then discussed the club's future projects which includes the upcoming release of its highly-anticipated coffee table book. All in all, it was an unforgettable afternoon filled with fond and lasting memories.
All Through the years with the every body's group
The ever-genial and generous Minerva Tanseco was feted with a memorable appreciation party at her elegant home in Makati City by her close-knit friends from the Everybody's Group. The intimate gathering was a way of saying thanks to Minerva for her dedicated leadership of the 13-year-old band of successful names from the business and social sectors. Everyone enjoyed the sumptuous lunch, meaningful conversations, and even a fun session of line dancing.
* * *
You may email me at jjlitton@indanet.com. Follow me on Facebook and YouTube: Johnny Litton by Jayelles PH and on Instagram: @jayellesph.