Senators deny preference for Pfizer jabs, stress oversight function after Duterte lashes out
January 19, 2021 | 6:06pm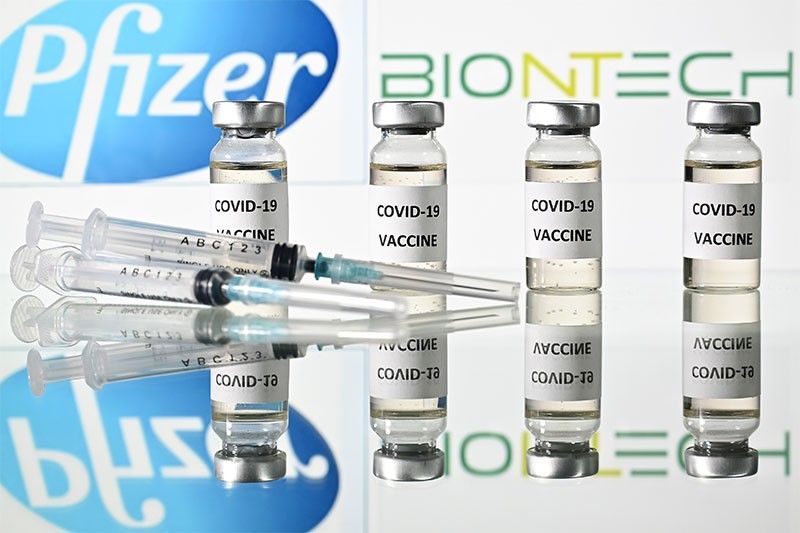 MANILA, Philippines — Senators on Tuesday denied holding a bias toward any vaccine brand, saying instead that they are concerned with the safety, efficacy, pricing, and availability of the badly needed jabs.
The clarification was made in response to President Rodrigo Duterte's claim Monday night that the upper chamber, which has been conducting hearings into the government's national vaccination plan, holds a preference for Pfizer's vaccine.
"You want Pfizer, you senators," an agitated Duterte said in Filipino at the very start of his address. "You want that? We will order it for you. That is what you want, it's mentioned over and over again in this article by the Inquirer."
Senate President Tito Sotto questioned whether the president was receiving accurate reports of the hearings being conducted, telling ABS-CBN: "Tell him Thanks but No Thanks! I wonder what gave him the idea that the senators favor Pfizer?"
"I asked Sen Bong Go yesterday...if the President is informed of whats transpiring in our hearings. He said yes but apparently not!" he added.
Sen. Ping Lacson, in an interview with ANC's "Headstart," also said that he is not aware of any senator who has shown a preference for the Pfizer jab. "What we are doing in the Senate is an exercise of our oversight function over the appropriations laws that we passed, particularly on the purchase of the vaccines."
Sens. Grace Poe and Francis Pangilinan last week urged officials to prioritize purchasing Pfizer vaccines but cited as their reason the government's own approval of the jab for emergency use. No other coronavirus vaccine has been granted Emergency Use Authorization (EUA) by the country's Food and Drug Administration.
Sinovac's request to conduct clinical trials was only approved by the FDA on Tuesday.
"For us in the Senate, it has never been about choosing a particular brand. The origin of the vaccine is inconsequential for as long as it is guaranteed safe, effective, and available on time," Sen. Risa Hontiveros said partially in Filipino.
"It is the duty of the Senate, under the principle of checks and balances, to ensure that the public funds for vaccine procurement [are] used efficiently and for the best buy."
Senators: Cabinet members, not Senate, hold vaccine preference
Lacson and Hontiveros both noted that it was President Duterte's appointees, not the Senate, who showed partiality towards a vaccine brand.
"It is the Palace itself, through its Spokesperson, in its prior statements, that definitely showed [a] preference for a single Chinese vaccine, despite reports of its lower efficacy, and questionable pricing cost," Hontiveros said, referring to doses manufactured by Sinovac Biotech.
Presidential spokesman Harry Roque has long defended the jabs, claiming that they are being sold to the country by China at a "BFF" rate nearer to the P650 price offered to Indonesia and not over P3,000 — a rate which Sen. Sonny Angara's office received from the health department late last year.
Roque also said that he would personally prefer to receive a Chinese-made vaccine.
Top officials such as Roque, vaccine czar Carlito Galvez Jr. and Health Secretary Francisco Duque III, have all said that they are bound by confidentiality disclosure agreements with vaccine manufacturers and cannot reveal the exact prices of the jabs being acquired by the government.
They have also varied on the finality of the deal with Sinovac, with Galvez claiming that the Philippines can still back out of the purchase only to be contradicted by Roque who said the obligation was binding.
Despite this, they have all but revealed the ballpark amount after sustained pressure from senators and Filipinos online, with Roque saying it nears the P650 price per jab given to Indonesia and Galvez saying that the amount will not be more than P700 per dose.
"If at the outset during our first hearing last Jan. 11, [Galvez] already declared we can get Sinovac vaccines for P700 thereabouts, then that's the end of the story," Lacson said.
"So the controversy is their own doing. It's not the Senate, it's not the senators. We're performing our job, oversight. We did it in the Bureau of Customs, PhilHealth, and Bureau of Corrections. Things happen when we investigate in aid of legislation," he added partially in Filipino.
Transparency needed for successful inoculation program
"People have the right to full information before vaccines are chosen," Senate Minority Leader Franklin Drilon said in an interview with CNN Philippines' "The Source," adding that the confusion surrounding vaccine prices "generate questions of trust."
Sen. Manny Pacquiao also said in Filipino: "[W]e all have the right to know all the transactions entered into by the government, especially if it has to do with the treasury."
No data has been released by Sinovac on the efficacy of their vaccine. The latest trial results from Brazil showed that they were 50.4% effective, barely meeting the threshold of 50% to 60% set by global health authorities.
As It Happens
LATEST UPDATE: November 11, 2021 - 7:30am
The national government has so far secured two official deals for COVID-19 vaccine supplies in the Philippines, one with Chinese pharmaceutical company Sinovac and another with the Serum Institute of India.
Watch this space for bite-sized developments on the vaccines in the Philippines. (Main image by Markus Spiske via Unsplash)
November 11, 2021 - 7:30am
The United States immunized around 900,000 children aged five-to-11 against Covid in the first week the Pfizer vaccine was authorized for them, a White House official says Wednesday.
Roughly 700,000 more have made appointments at pharmacies, White House Covid coordinator Jeff Zients tells reporters.
"The program is just getting up to full strength," he says, adding most of the shots were given in the last couple of days alone. — AFP
November 8, 2021 - 7:56pm
The Philippines has received 2.8 million doses of the Sputnik V COVID-19 vaccines from Russia.
The shipment arrived at the Villamor Air Base in Pasay City on Monday night and was met by President Rodrigo Duterte himself.
November 7, 2021 - 11:57am
A Department of the Interior and Local Government proposal to require Pantawid Pamilyang Pilipino Program beneficiaries to get vaccinated before cash transfers to them can be released will not help the poor, Sen. Risa Hontiveros says.
"Walang kundisyon sa 4Ps law na kailangang COVID-19 vaccinated ang recipients kaya dapat igalang at irespeto ng ating mga opisyal ang desisyon ng sinuman ukol sa pagbabakuna," she says.
(The 4Ps Law does not include the condition that recipients must be vaccinated against COVID-19 so the government must respect people's decision to get vaccinated or not)
She says it would be better for government agencues like the social welfare and health departments to encourage 4Ps beneficiaries to get vaccinated but not as a condition to receive cash aid.
Hontiveros says encouragement and explanations have helped address vaccine hesitancy in Metro Manila.
October 19, 2021 - 8:21am
Pfizer-BioNTech submits an authorization request to Health Canada on Monday for the use of its Covid-19 vaccine in children aged 5-11, the companies and the Canadian government said.
"This is the first submission Health Canada has received for the use of a Covid-19 vaccine in this younger age group," it says in a statement.
The authorization request is based on data from trials conducted on 2,268 children in this age group for whom the dosage was lowered to 10 micrograms per injection — three times less than the standard dose — which the company says is "the preferred dose" for 5-11 year olds.
This same Pfizer-BioNTech vaccine is approved in Canada for ages 12 and up. — AFP
September 21, 2021 - 7:34am
Cuba agrees to provide Vietnam with 10 million doses of its home-grown coronavirus vaccine, Abdala, for which the Asian nation has given emergency approval.
A deal was signed between the two countries during an official visit by President Nguyen Xuan Phuc to the communist island, the government says.
The agreement concerns an initial five million doses, but Vietnam has already authorized the purchase of 10 million doses in total, Cuban media reports. — AFP