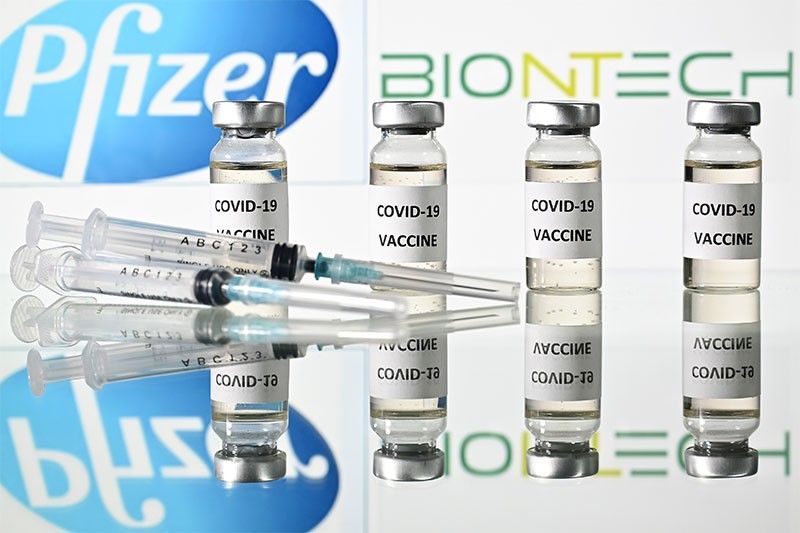 An illustration picture shows vials with Covid-19 Vaccine stickers attached and syringes with the logo of US pharmaceutical company Pfizer and German partner BioNTech, on November 17, 2020.
AFP/JUSTIN TALLIS
Gov't told to prioritize acquiring Pfizer vaccines over unauthorized jabs
MANILA, Philippines (Updated 5:55 p.m.) — Two senators on Thursday said top officials should focus on acquiring vaccines from Pfizer instead of manufacturers whose jabs have not yet received regulatory approval in the country.
"The Food and Drug Administration's green light to use the Pfizer vaccine in the country against the novel coronavirus should prompt the government to immediately negotiate for its purchase and delivery to the Philippines.," a statement released by Sen. Grace Poe reads.
"Negotiations with Pfizer should be prioritized over deals with other manufacturers whose products have yet to get FDA's approval," she added.
Sen. Francis Pangilinan similarly pushed the government to expedite negotiations with the US biotech company.
"Pfizer should be on top of the government's list for purchase over other vaccines that have yet to get the emergency use authorization," he said.
"Funds are already available in the 2021 national budget, from Bayanihan 2, and from grants and loans, that we can use to buy vaccines for the protection of Filipinos, especially the most vulnerable," Pangilinan added in Filipino.
Earlier on Thursday, the FDA announced that it granted emergency use authorization (EUA) to Pfizer Inc. and its German partner BioNTech SE's jab, making it the first vaccine to receive the authorization needed for rollout in the government's national vaccination plan.
Only health professionals, who are trained to recognize and manage severe allergic reactions, will be allowed to administer the vaccine which has been cleared for the use of people aged 16 and above.
During the same press briefing, the FDA revealed that it received an application from China's Sinovac for emergency use of its vaccine.
According to vaccine czar Carlito Galvez Jr., either the Pfizer or the Sinovac vaccine will be the first to arrive in the country next month.
'Worrisome' Sinovac purchase
But senators have expressed concern over Sinovac's jab whose efficacy remains unclear. In Brazil, it was shown to be 50.4% effective, barely meeting the threshold of 50% to 60% set by global authorities.
Pangilinan on Wednesday called on the government to cancel its purchase from Sinovac after trial results were released by the Brazilian government, noting that it was six times more expensive and 20% less effective than the United Kingdom's AstraZeneca. Sen. Ping Lacson made the same observation, questioning the government's acquisition choices.
In response, Galvez disputed these prices and claimed that the country is purchasing Sinovac doses at "best price" but did not reveal the cost.
But Senate Majority Leader Juan Miguel Zubiri on Thursday flagged the lack of transparency on vaccine cost, saying that the Senate might ask resource persons to disclose the prices in an executive session to prevent them from violating their non-disclosure agreements.
"What's kind of....worrisome is the statement of our dear Secretary Duque...that they have already made the order, or it's a done deal that we have 25 million doses of Sinovac coming into the country," Zubiri said in an interview with ANC's "Headstart," citing what he called the very low efficacy rating released by the Brazilian government on Wednesday.
Presidential spokesman Harry Roque on Monday also confirmed the country's purchase of 25 million Sinovac jabs, the first 50,000 of which are expected to arrive by February.
Palace: Philippines bought China's Sinovac vaccines at 'BFF' price
Still without disclosing the price of the vaccines purchased by the government, Roque during a virtual briefing on Thursday denied that Sinovac is the second most expensive of the vaccines being eyed by the government for acquisition.
"I can say that of all our orders, Sinovac is not the most expensive....If I'm not mistaken, it is only the third most expensive out of six brands," Roque said in Filipino.
"I can assure you na nabigyan po tayo ng presyo na ukol lamang sa kanilang BFF (that we were given a price that was only for their [best friend forever])," he added.
Galvez and Roque have lauded China for offering the country what they said was the best price for the Sinovac doses but both Cabinet members have said that they are not at liberty to reveal exactly how much they cost.
Roque further defended the choice to purchase tens of millions of doses of the vaccine despite the lack of definitive data on its efficacy, saying in Filipino: "There is nothing to rethink because we are taking all the steps to get any vaccine that can be proven safe and effective by our FDA as soon as possible."
"Hindi natin gagamitin ang Sinovac kung walang EUA (We will not use Sinovac without EUA)," he also said.
But Dr. Tony Leachon, a former adviser to the COVID-19 task force, said Filipinos should be told exactly how much the Sinovac vaccines cost.
"Is it cheaper than the more efficacious vaccines like Pfizer or Astra[Zeneca]? I think the public has the right to know," he said on Twitter.
Referring to questions about why the government is possibly purchasing more expensive and less efficacious vaccines, Leachon noted: "Its a valid concern."
"[W]e should be relentless in pursuing the answers to these important questions. It's about our health and vaccines are our lifesavers and the solid link to economic recovery." — with a report from Xave Gregorio
As It Happens
LATEST UPDATE: April 16, 2021 - 8:19am
The national government has so far secured two official deals for COVID-19 vaccine supplies in the Philippines, one with Chinese pharmaceutical company Sinovac and another with the Serum Institute of India.
Watch this space for bite-sized developments on the vaccines in the Philippines. (Main image by Markus Spiske via Unsplash)
April 16, 2021 - 8:19am
As approved by the inter-agency task force on COVID-19, Priority Group A4 of the National COVID-19 Vaccine Development Plan will include:
commuter transport (land, air and sea), including logistics

public and private wet and dry market vendors

frontline workers in groceries, supermarkets, delivery services

workers in manufacturing for food, beverage, medical and pharmaceutical products

frontline workers in food retail, including food service delivery

frontline workers in private and government financial services

frontline workers in hotels and accommodation establishments

priests, rabbis, imams and other religious leaders

security guards/personnel assigned in offices, agencies and organizations identified in the list of priority industries/sectors

frontline workers in private and government news media

customer-facing personnel of telecoms, cable and internet service providers, electricity distribution and water distribution utilities

frontline personnel in basic education and higher education institutions and agencies

overseas Filipino workers, including those scheduled for deployment within two months

frontline workers in law/justice, security, and social protection sectors

frontline government workers engaged in the operations of government transport system, quarantine inspection worker safety inspection and other COVID-19 response activities

frontline government workers in charge of tax collection, assessment of businesses for incentives, election, national ID, data collection personnel

diplomatic community and Department of Foreign Affairs personnel in consular operations

Department of Public Works and Highways personnel in charge of monitoring government infrastructure
April 15, 2021 - 2:28pm
The US, through the United States Agency for International Development (USAID), will provide P170 million in support to help the Department of Health rollout the government's COVID-19 vaccination program.
According to the US Embassy, the aid was announced by US Embassy Chargé d'Affaires John Law during a visit to a Caloocan City vaccination site with Health Secretary Francisco Duque III and other officials.
"Through this new funding, USAID will support the Philippines in strengthening the vaccine supply chain, monitoring vaccine safety, and delivering effective communication campaigns to address vaccine hesitancy. This assistance will also support local government units as they plan for, track, and administer vaccines."
April 13, 2021 - 8:42pm
Top US health authorities recommended a "pause" in the use of the Johnson & Johnson Covid-19 vaccine "out of an abundance of caution" as they investigate any links between it and blood clots, a regulator said Tuesday.
The US Food and Drug Administration and the Centers for Disease Control are assessing the "potential significance" of six reported cases of a rare blood clot in patients who have received the shot, the FDA tweeted.
"Until that process is complete, we are recommending this pause," it said.
The regulator said that as of Monday more than 6.8 million doses of the J&J vaccine had been administered in the US.
"CDC & FDA are reviewing data involving 6 reported U.S. cases of a rare & severe type of blood clot in individuals after receiving the vaccine. Right now, these adverse events appear to be extremely rare," the FDA stated on Twitter. — AFP
April 13, 2021 - 11:20am
Some 20 million doses of Russian-made Sputnik V COVID-19 vaccine are expected to arrive in the Philippines within the next four months.
Vaccine czar Carlito Galvez Jr. says the government will sign a supply agreement with Russia's Gamaleya Research Institute this week.
"It can be used on the elderly, so from 18 and above. So we can use this and the good thing is at least in the absence of AstraZeneca, we can use this," Galvez says in an interview with ANC's "Headstart."