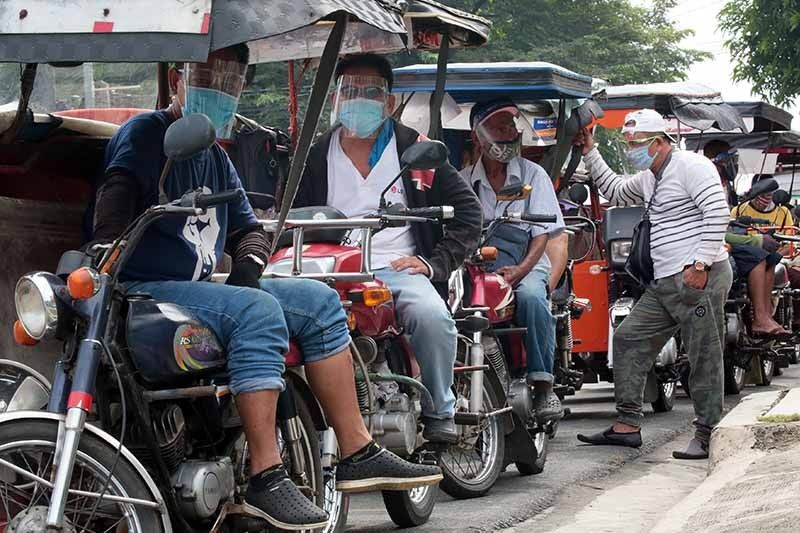 Tricycle drivers at V. Luna Extension in Quezon City wear face shields on August 16, 2020.
The STAR/Michael Varcas
Coronavirus infections in Philippines hit 164,474 with 3,314 new cases
MANILA, Philippines (Updated 4:49 p.m.) — The number of confirmed coronavirus cases in the Philippines soared past 164,000 Monday with over 3,214 new infections.
To date, 164,474 people have caught the coronavirus disease in the country. Of the figure, 49,043 are active cases or individuals who are still sick.
Of the newly-reported cases, 1,918 were from Metro Manila, 274 from Laguna, 219 from Cavite, 118 from Rizal and 105 from Bulacan.
These areas were placed under modified enhanced community quarantine until August 18.
The DOH also reported 237 new recoveries, bringing the total number of COVID-19 survivors to 112,759. The day before, the department logged 40,397 additional recoveries—around 98% of which were part of its time-based recovery scheme.
Under this scheme, mild and asymptomatic cases after undergoing 14 days of quarantine are tagged as recoveries based on the discharging criteria of the World Health Organization.
The country's death toll, meanwhile, rose to 2,681 after 18 more people succumbed to the disease. The country's case fatality rate stood at 1.63%, higher than the global case fatality rate of 3.49%.
The DOH said it had removed 93 duplicates from the total case count.
Some 1.921 million people have been tested for coronavirus in the country.
President Rodrigo Duterte is expected to announce new quarantine classifications Monday night.
Mutated coronavirus strain
The Philippine Genome Center said a mutated coronavirus strain called G614 has been detected in the country. In a study published last month, international researchers found that a specific change in SARS-CoV-2, the virus which causes COVID-19, is more infectious in cell culture.
"We note that all the samples tested were from Quezon City and may not represent the mutational landscape for the whole country," PGC said in an August 13 bulletin.
Genomic researchers also stressed "there is still no definitive evidence" showing that carriers of the G614 variant are actually more transmissible than those with the original D614 genotype. The mutation also does not appear to "substantially affect clinical outcomes," they added.
DOH Undersecretary Maria Rosario Vergeire also said "there is no solid evidence" showing that G614 strain is more transmissible.
Globally, the coronavirus case count reached 21.67 million, with over 775,000 deaths since the health crisis burst out of China earlier this year.
As It Happens
LATEST UPDATE: December 9, 2020 - 3:44pm
Metro Manila and other "highrisk" areas were placed under a modified enhanced community quarantine last May 16, which is more relaxed than ECQ, but has more restrictions compared with the general community quarantine (GCQ). Bookmark this page for updates. Photo by The STAR/Michael Varcas
December 9, 2020 - 3:44pm
The local government of San Juan Batangas orders the closure of Blue Coral Beach Resort in Laiya Aplaya following repeated violations of COVID-19 protocols.
This comes after a video of a large group partying without face masks, face shields and not observing physical distancing at the beach of the resort were sent to the Department of Tourism.
San Juan Mayor Ilderbrando Salud has issued a memo revoking the business permit of the beach resort. — Report from Rosette Adel
LOOK: A group was seen partying without face masks/face shields at a beach in Laiya, San Juan, Batangas. The individuals are also not observing the physical distancing protocols at the beach.

Video from: DOT @PhilstarNews pic.twitter.com/mlyU9DvGf7

— Rosette Adel (@rosette_adel) December 9, 2020
December 7, 2020 - 10:29pm
President Rodrigo Duterte says he will ask local government units to make necessary arrangements on vacant hotels and motels to allow COVID-19 patients to stay in their premises.
Duterte says he will ask the Congress to find a way to compensate the hotels that will accommodate coronavirus patients.
"To the owners of hotels, inns, motels to accommodate the Filipinos who are in need of help. I will assume the full responsibility of paying you pagdating ng panahon," Duterte says in a recorded speech aired late Monday.
December 7, 2020 - 4:25pm
The Zamboanga City government strongly opposes proposals of Interior Secretary Eduardo Año in allowing children to go to malls and other public places with their parents.
The local official and health authorities also disapprove of the possibility of expanding the manner of classes to face-to-face classes engagement as part of the 'new normal.'
Mayor Maria Isabelle Climaco-Salazar expresses her disapproval, citing critical observations by local health officials here about the eminent contamination from the deadly Severe Acute Respiratory Syndrome CoronaVirus (SARS-CoV) which causes the coronavirus disease 2019 (COVID-19).
"It is not still safe to allow children to go out except for medical reasons or emergency cases," Salazar says in her virtual presser. — The STAR/Roel Pareño
August 18, 2020 - 4:47pm
Sen. Bong Revilla, who earlier tested positive for COVID-19, was rushed to the hospital, according to his wife Bacoor Mayor Lani Mercado.
"He is being rushed to the hospital. His latest X-ray shows that he has developed pneumonia and isolation in a regular facility is no longer ideal," Mercado says in a Facebook post Tuesday.
August 18, 2020 - 4:23pm
The Department of Health reports 4,836 additional COVID-19 cases in the country, pushing the total number of confirmed cases in the country to 169,213.
The DOH also logs 182 new recoveries, bringing the total of recovered patients to 112,861. The national death toll is now at 2,687 with the addition of 7 new reported deaths.
Total active cases (net of COVID-19 deaths and recoveries) in the Philippines is now at 53,665.