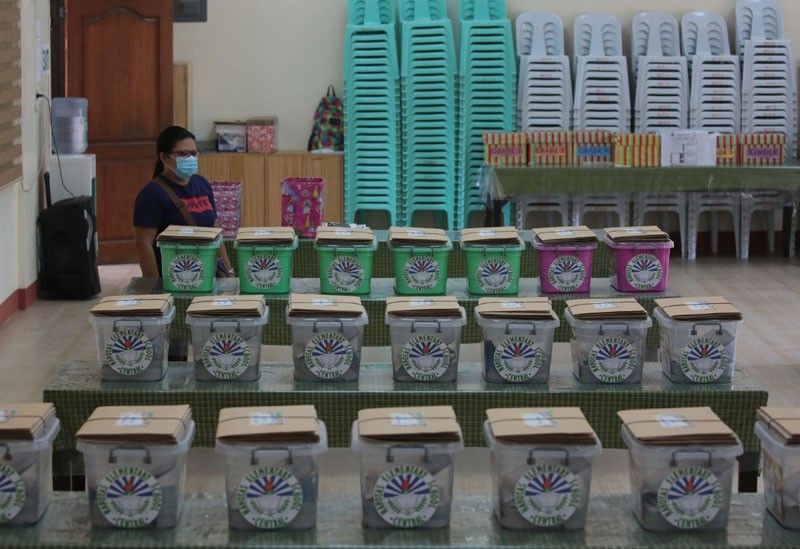 According to DepEd, more than 8.8 million parents chose modular learning as their preferred distance learning modality for the upcoming school year, with only 3.3 million opting for online learning.
Michael Varcas
DepEd urged to postpone reopening of classes, consider regional resumptions
MANILA, Philippines — Sen. Francis Tolentino on Wednesday urged the Department of Education to push back the reopening of classes to a later date in light of several concerns raised by teachers and other stakeholders.
"Forcing schools to open this August will only defeat the purpose of education. Let us accept the fact that we are not fully ready, and it will not be wise, to simultaneously open School Year 2020-2021," he said during a Senate hearing.
Tolentino further asked DepEd to postpone the opening of classes from" this August to October or even later" and proposed that class resumption be regionalized "with high-risk areas to start school upon determination of a more favorable public health situation."
"Areas with higher health risks should be allowed to start the school year at a later date, as even the parents' livelihood are also affected. Not only will postponement of school opening favor teachers and learners. The prevailing health, livelihood, and internet connectivity situations should all be considered by DepEd," he added.
The Alliance of Concerned Teachers last Wednesday made the same calls to DepEd, urging it to revise its plans for the resumption of classes or to postpone it altogether, citing what it called the failed state of preparations thus far.
Members of ACT sounded the alarm over the lack of clear and comprehensive health measures from the government for teachers, students, school workers and parents.
They also alleged a severe lack of overall support from the government, which they say has left both educators and students alike scrambling to prepare for the fast approaching resumption of classes amid the COVID-19 crisis.
"It will be wise perhaps for DepEd to consider opening classes on a per regional health and connectivity situation basis. Not only will students' health and safety be safeguarded, but as well as the welfare of teachers who will be forced to deliver the modules to students' homes or at the very least report to school for the distribution of modules to parents," Tolentino said.
DepEd says August 24 'hard limit' for reopening classes
Education Secretary Leonor Briones, in a press conference on Monday, reaffirmed in no uncertain terms that classes would reopen in less than two weeks.
"August 24 is the hard limit on what is legally allowed as opening of classes, so we will continue this no matter what happens with covid because we will not be conducting face-to-face sessions," Briones said in Filipino.
Both Tolentino and ACT have pointed out that President Rodrigo Duterte in July signed a law allowing schools to open later than August provided that a state of calamity or emergency has been declared either over parts of the country or its entirety. The Philippines has been under a state of public health emergency since March and a state of national emergency since September 2016.
The senator also reminded DepEd that it only has six days left to craft the implementing rules and regulations of the law in order to fully carry it out.
"I am asking DepEd to prudently adhere with the provisions of RA 11480," he said, referring to the law adjusting the school year.
READ: Aetas displaced by Taal eruption to continue lessons through hand-delivered modules
School heads sound alarm over late, depleted funds from DepEd
ACT on Tuesday said that principals from several regions have complained about the "late release of funds from the Central Office and the depletion of school funds for the mass production of self-learning modules (SLMs)."
"Teachers aren't the only ones strained by DepEd's stubborn but poorly backed school opening plans. Even principals are affected, they no longer know how to make do with the small budget of their schools to fund the costs of the [learning continuity plan]," ACT Secretary General Raymond Basilio said in a mix of English and Filipino.
"The central office only released funds and utilization guidelines for module reproduction on the latter half of July. Many school heads have attested that the P9 billion downloaded funds from the central office have not yet reached the school level, also, given the stringent procurement rules and lengthy processes, these funds cannot deliver the needed modules any day earlier than October," he added.
According to Basilio, DepEd has ordered that schools use their funds for school maintenance and other operating expenses (MOOE) to cover the costs of module production in the meantime.
"The [MOOE] is the regular government funding for schools, computed based on the school's teacher and student population, that cover expenses for utilities, supplies, equipment, repairs, and the like. In light of the pandemic, DepEd ordered schools to charge to their MOOE the health and sanitation supplies needed such as PPEs, alcohol, disinfectant, foot bath, and others," he said.
Basilio further noted that these compounding costs shouldered by schools' MOOEs "explains why so many of us still have to beg for bond paper supplies, printers, ink, and others materials."
ACT added that the cost of printing modules can outpace the whole MOOE budget of several schools.
Basilio further expounded on this, citing a high school in Bacolod City that has an MOOE budget of P4.5 million but would need P5.5 million just to reproduce enough modules for the first quarter of the coming school year.
"The stress and pressure our school heads are experiencing right now is yet another substantial proof that we're not ready to open schools on August 24. And unlike Sec. Briones' absurd claims of preparedness being relative, it is on the contrary very quantifiable, concrete, and verifiable on the ground," he said.
"Preparedness, at the minimum, means a 1:1 module set to pupil ratio ready for distribution by August 24, a 1:1 ratio of laptops to teachers, internet subsidy to teachers and learners, health screening and PPEs for teachers, and medical fund for free treatment if they get infected by COVID 19."