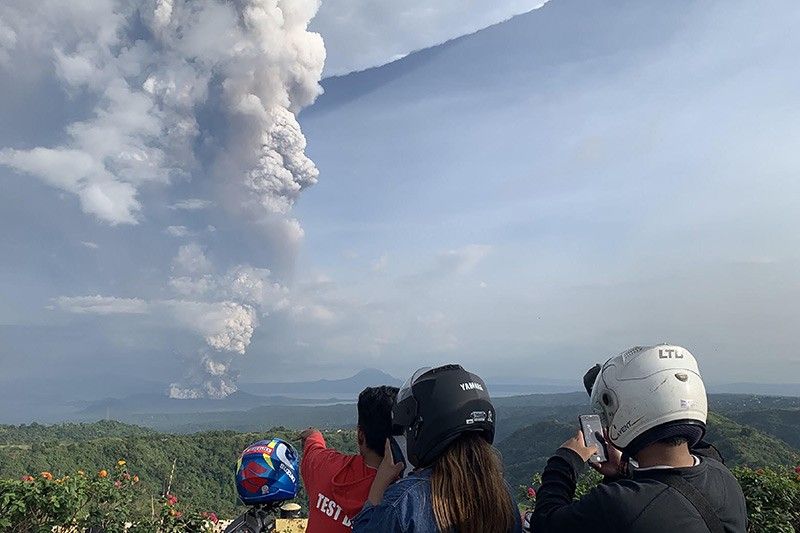 People take photos of a phreatic explosion from the Taal volcano as seen from the town of Tagaytay in Cavite province, southwest of Manila, on Jan. 12, 2020.
Bullit Marquez/AFP
Thousands flee their homes as Taal Volcano rumbles
(Agence France-Presse) - January 12, 2020 - 7:23pm
MANILA, Philippines — Taal Volcano spewed a massive cloud of ash into the sky on Sunday, forcing the precautionary evacuation of thousands of residents, authorities said.
Government seismologists recorded magma moving towards the crater of Taal, one of the country's most active volcanoes located 65 kilometers (40 miles) south of Manila.
That increases the chances of an eruption that could happen "within days to within weeks" if such activity continues, Renato Solidum, chief of the Philippine Institute of Volcanology and Seismology, told AFP.
Taal's last eruption was in 1977, he added.
READ: Phivolcs raises alert level to 3 as Taal Volcano spews kilometer-high plumes
A kilometer-high column of ash was visible and several volcanic tremors were felt within the vicinity of the volcano, which is popular among tourists for its scenic view.
The local disaster office said it had evacuated over 2,000 residents living on the volcanic island, which lies inside a bigger lake formed by previous volcanic activity.
READ: Walang Pasok: Canceled classes for January 13, 2020 due to Taal Volcano's unrest
Solidum said officials will also order the evacuation of people living on another island nearby if the situation worsens.
Earthquakes and volcanic activity are not uncommon in the Philippines due to its position on the Pacific "Ring of Fire," where tectonic plates collide deep below the Earth's surface.
In January 2018, Mount Mayon displaced tens of thousands of people after spewing millions of tonnes of ash, rocks, and lava in the central Bicol region.
WATCH: Taal Volcano spews plumes 100 meters high after phreatic eruption
As It Happens
LATEST UPDATE: February 27, 2020 - 9:35am
Get updates as Phivolcs issues warnings over Taal Volcano's unrest. (Main photo by Philstar.com/Rosette Adel)
February 27, 2020 - 9:35am
Philvolcs says in its 8 a.m. bulletin that Taal Volcano's main crater emitted steam-laden plumes that are 300 meters high between 9pm February 26 to 3am of February 27.
Taal Volcano remains at Alert Level 2.
TAAL VOLCANO BULLETIN
27 February 2020
8:00 A.M.#TaalVolcanohttps://t.co/Sf9pQ3NXMj pic.twitter.com/5kh5tMkjaJ

— PHIVOLCS-DOST (@phivolcs_dost) February 27, 2020
February 15, 2020 - 4:32pm
Police say they are still waiting for the Scene of the Crime Operatives for confirmation of the victim's identity, whose body was found dead underneath mud on Taal volcano Island.
February 14, 2020 - 9:29am
Phivolcs downgrades the alert status of Taal Volcano from Alert Level 3 to Alert Level 2.
The state seismic network characterized the activity of the volcano in the last three weeks by "less frequent volcanic earthquake activity, stabilizing ground deformation of the Taal Caldera and Taal Volcano Island edifices and weak steam/gas emissions" at the main crater.
Under Alert Level 2, Phivolcs warned that sudden steam-driven or phreatic explosions, volcanic earthquakes, ashfall and lethal accumulations or expulsions of volcanic gas can occur and threaten areas within the volcano island.
"People are also advised to observe precautions due to ground displacement across fissures, frequent ashfall, and minor earthquakes," Phivolcs said.
February 8, 2020 - 10:15am
Alert Level 3 is still up over Taal Volcano, state volcanologists say.
According to the 8 a.m. bulletin Saturday, the volcano emitted white to dirty white steam-laden plumes rising 200 to 300m high before drifting southwest in the past 24 hours.
"Weak steaming from fissure vents along the Daang Kastila trail is currently ongoing. Sulfur dioxide (SO2) emission was measured at an average of 54 tonnes/day on February 7, 2020," Phivolcs says.
"The Taal Volcano Network recorded one hundred fifteen (115) volcanic earthquakes including three (3) low-frequency events. These earthquakes signify magmatic activity beneath the Taal edifice that could lead to eruptive activity at the Main Crater," it adds.
February 7, 2020 - 8:36am
Alert Level 3 is still raised over Taal Volcano as its latest activity signify possible eruptive activity at the main crater.
In the last 24 hours, Phivolcs observed moderate emission of white to dirty white steam-laden plumes rising 200 to 300 meters high before drifting southwest.
The state seismic network also observed weak steamong from fissure vents along the Daang Kastila trail.
At least 118 volcanic earthquakes, including five low-frequency events and one harmonic tremor that lasted three minutes were recorded.
"DOST-PHIVOLCS reminds the public that sudden steam-driven and even weak phreatomagmatic explosions, volcanic earthquakes, ashfall, and lethal volcanic gas expulsions can still occur and threaten areas within Taal Volcano Island and nearby lakeshores," Phivolcs said in its 8 a.m. bulletin for February 7.