WATCH: Taal Volcano spews plumes 100 meters high after phreatic eruption
January 12, 2020 | 6:18pm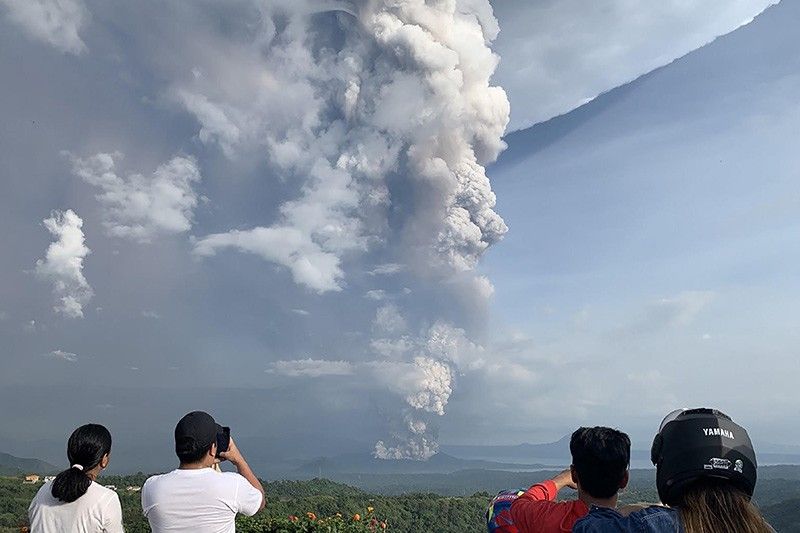 MANILA, Philippines — A phreatic explosion at the main crater of the Taal Volcano Sunday afternoon generated plumes 100 meters high, prompting state volcanology agency Phivolcs to raise the alert level to 2.
Nearly two hours later, however, the state volcanology agency again raised the alert level to 3 after the volcano spewed plumes a kilometer high.
READ: Phivolcs raises alert level to 3 as Taal Volcano spews kilometer-high plumes
The state volcanology bureau said that as of 2:04 p.m., Taal Volcano's main crater escalated its eruptive activity, generating an eruption plume 1 kilometer-high accompanied by volcanic tremor and felt earthquakes at the Taal Volcano Island and the barangay of Agoncillo, Batangas. Ashfall is currently being showered on the southwest sector of Taal.
The agency in its 4 p.m. bulletin Sunday strongly recommended that the Taal Volcano Island and high-risk barangays of Agoncillo and Laurel, Batangas be evacuated due to the possible hazards of pyroclastic density currents and volcanic tsunami.
"The public is reminded that the entire Volcano Island is a Permanent Danger Zone (PDZ), and entry into the island as well as high-risk barangays of Agoncillo and Laurel is prohibited. In addition, communities around the Taal Lake shore are advised to take precautionary measures and be vigilant of possible lakewater disturbances related to the ongoing unrest."
As It Happens
LATEST UPDATE: October 21, 2022 - 2:43pm
Get updates as Phivolcs issues warnings over activity in Taal Volcano. (Main photo by Philstar.com/Rosette Adel)
October 21, 2022 - 2:43pm
DOST-Phivolcs issues a notice of low-level phreatomagmatic activity in Taal Volcano after it recorded 19 phreatomagmatic bursts of the Taal Main Crater between 8:50 a.m. and 1:30 p.m. on Friday.
"Some of these events produced 200-meter-tall steam-rich plumes with a few emanating from very short dark ash plumes that immediately collapsed into the Main Crater Lake," it adds.
State volcanologists reiterates the reminder that Alert Level 1 remains hoisted over Taal Volcano, which means "it is still in abnormal condition and should not be interpreted to have ceased unrest nor ceased the threat of eruptive activity."
July 11, 2022 - 8:25am
Phivolcs lowers Taal Volcano's status to Alert Level 1 (Low-level unrest) from Alert Level 2 (Decreased Unrest).
State volcanologists say Taal's condition in the last two months "has been characterized by baseline volcanic earthquake activity, stabilizing ground deformation of the Taal Caldera and Taal Volcano Island edifices and weak degassing and surface activity at the Main Crater."
On March 26, Phivolcs escalated Taal to Alert Level 3, warning of a magmatic intrusion at the main crater. The volcano was deescalated to Alert Level 2 on April 9.
TAAL VOLCANO BULLETIN
11 July 2022
8:00 AM

This serves as a notice for the lowering of Taal Volcano's status from Alert Level 2 (Decreased Unrest) to Alert Level 1 (Low-Level Unrest).#TaalVolcano

Filipino: https://t.co/S3LJC8ESCz

English: https://t.co/EA1u7VCddA pic.twitter.com/fnmEjeR4ui

— PHIVOLCS-DOST (@phivolcs_dost) July 11, 2022
April 9, 2022 - 9:28am
The Philippine Institute of Volcanology and Seismology says it has lowered Taal Volcano's status to Alert Level 2.
March 26, 2022 - 8:44am
Phivolcs raises Alert Level 3 over Taal Volcano, which means there is magmatic intrusion that may further drive succeeding eruptions.
July 11, 2021 - 9:45am
State volcanologists record 75 volcanic earthquakes from Taal Volcano in the past 24 hours as of 5 a.m. on July 11.
Phivolcs says these include 61 volcanic tremors that lasted from one to 25 minutes with weak background tremor.
Alert Level 3 is still raised over Taal Volcano.
BULKANG TAAL
Buod ng 24 oras na pagmamanman
11 Hulyo 2021 alas-5 ng umaga #TaalVolcanohttps://t.co/PE0xY4Rnwd pic.twitter.com/jMjg8bfIb3

— PHIVOLCS-DOST (@phivolcs_dost) July 11, 2021