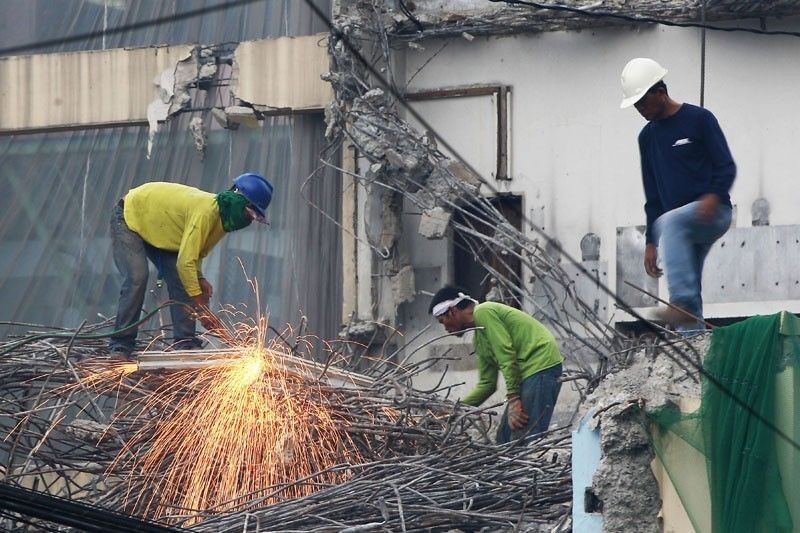 Tulfo claimed that contractors prefer Chinese workers because Filipinos talk while working and take breaks to go to the restroom and to drink water.
File
Tulfo claim that Chinese workers are better is gossip, labor party says
(Philstar.com) - March 8, 2019 - 2:54pm
MANILA, Philippines (Updated, 4:53 p.m.) — Special Envoy to China Ramon Tulfo's claim that Chinese laborers work harder and are more efficient than Filipino ones is just gossip and hearsay, Partido Manggagawa said Friday.
In an interview on CNN Philippines' "On The Record", Tulfo defended the perceived influx of Chinse workers in the Philippines, saying developers told him them they prefer Chinese workers to Filipino laborers. He said Filipino workers "take time" and take frequent breaks to go to the restroom or to drink water.
"All Tulfo says is gossip, or hearsay according to lawyers. We challenge him to provide a comparative measure of productivity or a time-and-motion study," Partido Manggagawa, which is a labor group and a political party, told Philstar.com in an online exchange.
PM added Tulfo, a former broadcaster and newspaper columnist, "is just an apologist for Duterte's pro-China policy and for Chinese interests."
President Rodrigo Duterte and the Palace have been playing down concerns over a perceived increase in the number of Chinese nationals in the country, particularly in online gambling hubs called Philippine Offshore Gaming Operators.
"We lack so many construction workers that is why many Chinese workers are being hired because there are no more Filipinos. Many Filipinos are unemployed and yet they lack the skill so we need to teach them," presidential spokesperson Salvador Panelo said in January.
PLM: Filipino workers abroad because of low wages at home
In a separate statement, Partido Lakas ng Masa, a socialist coalition that includes labor group Bukluran ng Manggagawang Pilipino, said there is no shortage of skilled Filipino workers.
"[B]ut they are abroad as the world's most in-demand laborers because precisely of the failed 'export of labor' and 'cheap labor' policies of the government. Cheap labor includes contractualization, regionalization and municipalization of wages and low wages," PLM, which is fielding Leody De Guzman—a factory worker for 12 years before becoming a labor organizer—in the senatorial elections.
"Low wages and contractual work drives away our skilled labor force, which are not seen by the incompetent past and present administrations that benefit from billions of OFW remittances despite their bungling economic programs," PLM also said.
The party added: "We need an overhaul of labor and economic legislation to promote living wages, regular jobs and full employment through the strengthening of industry and agriculture."
Migrant workers
President Duterte has cautioned against deporting Chinese nationals, saying Beijing could do the same to 300,000 Filipinos in China.
RELATED: Duterte on deporting Chinese workers: Let them work here
Partido Manggagawa for its part clarified that "we do not call for the expulsion of Chinese workers as they have rights as migrant workers." According to the Philippine Statistics Authority, the Philippines had around 2.2 million migrant workers deployed all over the world as of 2016.
What should be done, PM said, is to hold Chinese investors and contractors accountable for potential violations of Philippine immigration and labor law.
In a follow-up report on CNN Philippines, Labor Secretary Silvestre Bello III said he "violently disagrees" with Tulfo's statement on Filipino workers.
"He should know that the most sought after workers in the world are the Filipinos. You go anywhere, in any other country, and they always give preference to Filipinos because Filipinos are very industrious, very efficient and they are very good workers," he said in the televised report.
He added an inter-agency taskforce that includes the Department of Labor and Employment, Department of Justice, Department of Trade and Industry, Bureau of Immigration, Bureau of Internal Revenue, and the Philippine Amusements and Gaming Corp. has already met to address the issue.
He said foreigners will be required to secure working visas from the Philippine consular office in their country of origin before applying for jobs in the Philippines.