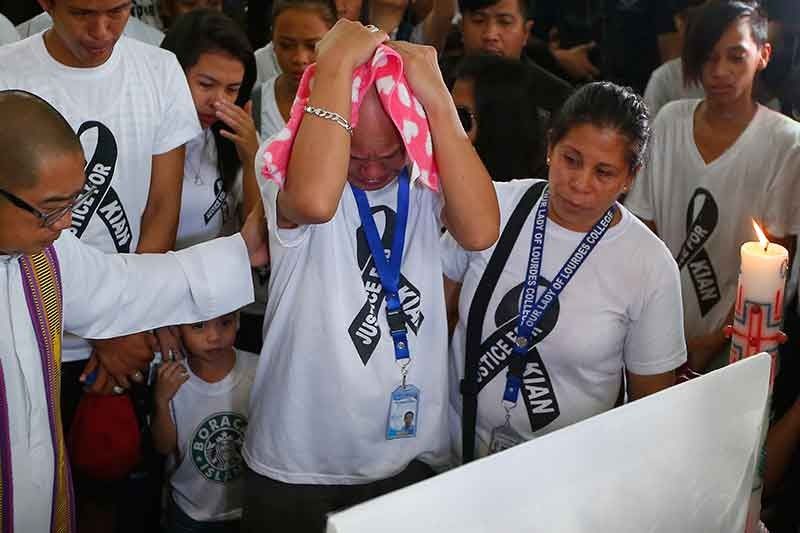 Saldy delos Santos, center, and his wife Lorenza, second right, grieve over the coffin of their son Kian Loyd delos Santos, a 17-year-old student, who was killed in an alleged anti-drug crackdown during his funeral, Saturday, Aug. 26, 2017, in suburban Caloocan City, north of Manila, Philippines. Murder complaints were filed Friday against Philippine police officers in connection with the killing of a teenager that has sparked an outcry against the president's anti-drug crackdown, which has left thousands dead.
AP/Bullit Marquez, File
'A win for justice': Lawmakers hail guilty verdict on Kian murder
MANILA, Philippines — Lawmakers on Thursday welcomed the conviction of the killers of 17-year-old Kian Loyd delos Santos and said it served as a warning to the perpetrators of extrajudicial killings in the country.
Caloocan Regional Trial Court Branch 125 sentenced PO 3 Arnel Oares, PO 1 Jeremias Pereda and PO 1 Jerwin Cruz to reclusion perpetua or up to 40 years in prison with no possibility of parole. This is the first conviction of police officers in the administration's ferocious war on drugs.
The guilty verdict also came a year after Delos Santos, a schoolboy, was slain during the night of Aug. 16, 2017. His killing triggered massive outrage against the policy of President Rodrigo Duterte.
The Caloocan court, however, found the cop convicts not guilty of planting of illegal drugs and gun "for failure of the prosecution to prove the guilt beyond reasonable doubts."
Opposition lawmaker Bam Aquino called the development an important step in attaining justice for Delos Santos and other victims of the government's anti-drug crackdown.
"This is a compelling verdict because it tells us that justice is on hand, not just for the young Kian delos Santos, but for the other dubious deaths linked to the drug war," Sen. Grace Poe said.
Sen. Risa Hontiveros called the development a "light in the darkness."
"Despite the gruesome climate of killing and impunity in the country, this verdict sends the message that there is hope and justice. And we will fight for more light and truth until the darkness cannot overcome them," Hontiveros said.
Verdict proves EJKs exist, disproves 'nanlaban' claim
For Hontiveros, the court decision proves that EJKs under Duterte's leadership are real.
"The president cannot wash his hands of these killings any longer and his apologists cannot play deaf dumb and blind in the president's defense. Through his words and endless provocation, President Duterte set into motion the killings of thousands," the opposition lawmaker said.
Sen. Francis Pangilinan, moreover, said the ruling on the murder of Delos Santos debunks the claims of police that killed drug suspects resisted arrest.
"Isang pagpapatunay na totoo ang karahasan ng ilang myembro ng kapulisan. Isang pagpapatunay na nagsisinungaling ang ilang alagad ng batas," he said.
A report of Social Weather Stations released last month found that 26 percent of adult Filipinos do not believe police claims of "nanlaban" drug suspects, while 27 percent of the respondents said the police are telling truth.
A plurality or 47 percent of the respondents were undecided on the matter.
According to the government, 4,999 suspected drug personalities have been killed in "legitimate police operations" since Duterte, who vowed to cleanse the country's streets of illegal drugs and crimes, took office.
But rights groups have higher estimates—around 12,000 deaths, mostly urban poor dwellers.
"Let us stop this madness. Let Kian be the last name we will see in the list of EJKs under the Duterte administration," Hontiveros said.