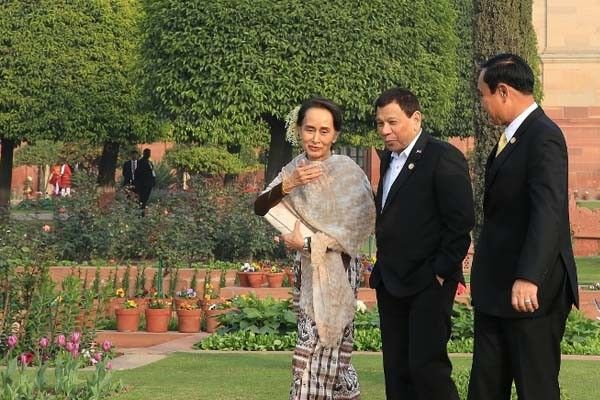 President Rodrigo Duterte said his comment on Myanmar's Rohingya problem was "sarcastic."
Presidential photo/Albert Alcain
Duterte apologizes to Suu Kyi for Myanmar 'genocide' comment
MANILA, Philippines — President Rodrigo Duterte on Friday apologized to Myanmar State Counsellor Aung San Suu Kyi for calling the Rohingya crisis a "genocide."
In a speech April 5, Duterte, expressing pity to Rohingya Muslims, offered them a refuge in the Philippines.
His description drew a public rebuke from government spokesperson Zaw Htay, who said that Duterte does not know anything about Myanmar and has a propensity to "speak without restraint."
READ: Philippines to accept refugees from Myanmar 'genocide'
In a press briefing early Friday morning, Duterte said his comment on Myanmar's Rohingya problem was "sarcastic."
"I will apologize to you but if you have noticed my statement was almost a satire," he said, addressing Suu Kyi.
The chief executive said he made the remark after he was informed of rights violations in Myanmar.
"I was just adapting their findings that there are lot of violations in your country. I am not ready to intervene in your --- I was just using because I said, if you are willing, you guys stay in Europe to receive, provide sanctuary or in the meantime allow the... Rohingyas to stay with your country, I will also do it," Duterte said.
He also defended Suu Kyi from bodies criticizing her over her supposed mishandling of the Rohingya crisis.
"You talk too much. There are a lot of people with nowhere to go. Why don't you provide any relief?"
International bodies, such as the United Nations Refugee Agency, have been donating aid to the refugees since they started fleeing to neighboring Bangladesh since August 2017 to avoid persecution.
Myanmar denied that ethnic cleansing of the Muslim minority group is taking place.
The crisis has tainted the reputation of Suu Kyi, a once revered icon of democracy because of her struggle against Myanmar's military junta.
Last January, Duterte advised Suu Kyi to ignore her critics, calling rights groups a "noisy bunch."
Duterte has also drawn strong criticisms both at home and abroad for his brutal war on drugs, which has left thousands of suspected drug personalities dead.