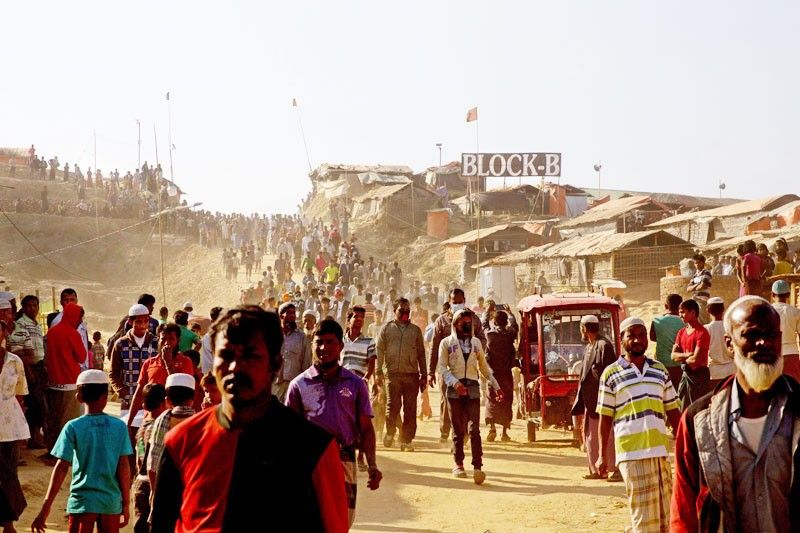 Rohingya refugees come out of their homes after the visit of Indonesian President Joko Widodo at Jamtoli refugee camp near Cox's Bazar in Bangladesh in this Jan. 28 file photo.
AP
Philippines to accept refugees from Myanmar 'genocide'
MANILA, Philippines — President Duterte has called the Rohingya crisis in Myanmar a "genocide" as he expressed willingness to take in refugees from the Southeast Asian country.
The description drew a rare public rebuke from a Myanmar official, who said Duterte had a propensity to shoot his mouth off.
"He doesn't know anything about Myanmar," government spokesman Zaw Htay was quoted as saying by Reuters. "The usual behavior of that person is to speak without restraint. That's why he said that."
Duterte said some members of the international community are finding fault with him but could not solve the Rohingya problem, which has resulted in the exodus of more than 600,000 members of the mainly Muslim minority group to Bangladesh.
The President has drawn flak from human rights advocates here and abroad for his war against illegal drugs, which has left thousands of suspects dead. He denied endorsing extrajudicial killings and accused his foreign critics of interfering with the Philippines' internal problem.
"Hindi nga nila ma-solve-solve 'yung (Rohingya).'Yun ang genocide talaga (They can't even solve the Rohingya problem. That's the real genocide), if I may say so," the President said during the awarding of outstanding farmers and fisherfolk in Malacañang last Thursday.
The President was referring to the alleged military campaign against the Rohingya that some human rights advocates have described as ethnic cleansing.
Myanmar denied that ethnic cleansing is taking place and chided critics for reacting to the issue despite their supposed lack of knowledge about the situation.
Duterte said the Philippines is prepared to accept Rohingya refugees but Europe should also do the same.
"The way it's being presented to the world, I really pity the people there. Me? We? I'm willing to accept refugees," Duterte said.
The Rohingya crisis has tainted the reputation of Myanmar State Counselor Aung San Suu Kyi, who was once revered as a democracy icon because of her struggle against Myanmar's military junta.
Suu Kyi, who was under house arrest for 15 years for resisting military rule in Myanmar, was accused of not doing enough to protect the Rohingya against a state-sponsored crackdown.
Last January, Duterte, who chided countries that are allegedly meddling with the Philippines' affairs, advised Suu Kyi to ignore her critics.
"Do not mind the human rights (critics). They're just a noisy bunch actually," Duterte said in a speech before Indian business groups in New Delhi.
"You know, Aung San Suu Kyi was with us. I pity her because she seems to be caught in the middle of being a Nobel Prize winner for peace and this is the ruckus now. She is heavily criticized," he added.
Suu Kyi won the Nobel Peace Prize in 1991.