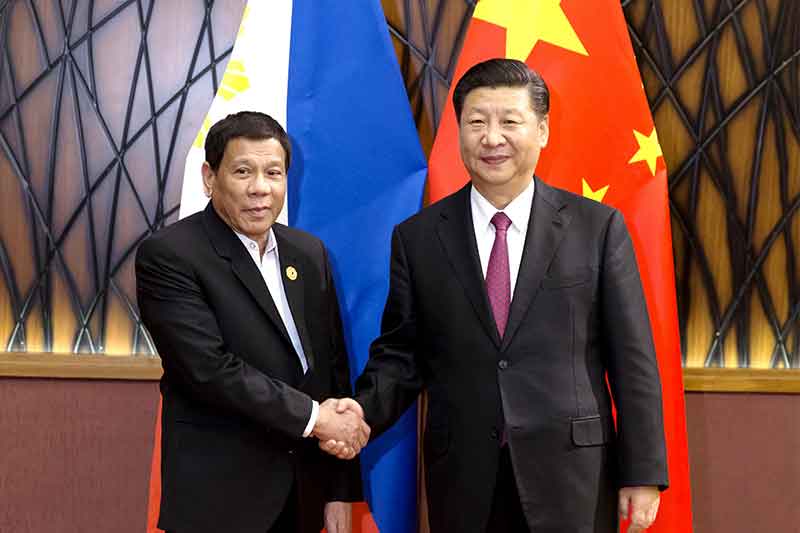 In this Nov. 11, 2017, photo released by China's Xinhua News Agency, Philippine President Rodrigo Duterte, left, and Chinese President Xi Jinping shake hands as they pose for a photo during a meeting on the sidelines of the Asia-Pacific Economic Cooperation (APEC) Forum in Danang, Vietnam. Fei Maohua/Xinhua via AP
China assures Philippines: No military force in South China Sea
MANILA, Philippines — Amid the completion of Beijing's military assets in the South China Sea, Chinese President Xi Jinping assured President Rodrigo Duterte that they will not go to war over the maritime dispute.
Presidential spokesperson Harry Roque on Monday revealed that Duterte and Xi had a "frank and very candid" discussion on the disputed waters during their bilateral meeting at the sidelines of the APEC Summit in Da Nang, Vietnam.
Roque confirmed that the two leaders discussed the issue of militarization in the disputed South China Sea.
"China responded by assuring that they are not ready to go to war with anyone and the Philippine president also clarified that it is not to the Philippine interest to resort to the use of force as well," Roque said in a press briefing.
RELATED: China agrees to work on Code of Conduct
The Chinese leader also assured Duterte that they will not block the freedom of navigation and overflight in the international waterway.
Malaysian Prime Minister Najib Razak, on the other hand, raised the South China Sea issue during the ASEAN-US Summit in Manila, where US President Donald Trump attended.
"ASEAN reiterated that it would want a peaceful solution to the West Philippine Sea issue, that they would want a code of conduct to be concluded at the latest," Roque said.
Roque, however, noted that Duterte was only compelled to bring up the South China Sea issue in his meeting with Xi due to his role as ASEAN chair this year.
"He (Duterte) wanted to address the apprehensions of many nations particularly regarding right of navigation in the Indo Pacific region," Roque said.
Xi gave Duterte the assurance that his goals for China would include the peaceful resolution of disputes in the region.
The Chinese leader stressed that they are pursuing bilateral relations with every single claimant country to settle the dispute, according to Roque.
"The Chinese president also said that the relationship with ASEAN is at its best and credit was given by the Chinese president to the leadership of President Duterte," the Cabinet official said.
Following the ASEAN-China Summit in Manila, Beijing announced that they will officially commence negotiations on the Code of Conduct in the South China Sea.
"While the situation is calmer now, we cannot take the current progress for granted... It is in our collective interest to avoid miscalculations that could lead to escalation of tensions," the ASEAN said in a common statement.
RELATED: South China Sea row will not be taken for granted, says ASEAN