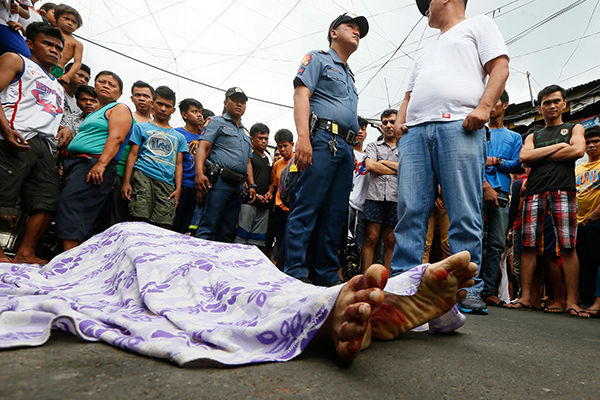 In a statement, LP said the administration continues to use tactics to divert public attention away from the country's pressing problems like rising prices, extrajudicial killings and corruption, including drug smuggling at the Bureau of Customs. AP Photo/Bullit Marquez, File
LP: Drug links aim to demonize party
Marvin Sy
(The Philippine Star) - October 26, 2017 - 4:00pm
MANILA, Philippines — The Liberal Party (LP) slammed the latest allegations raised against its members as another administration attempt to demonize the party in the eyes of the public using unsubstantiated claims.
In a statement, LP said the administration continues to use tactics to divert public attention away from the country's pressing problems like rising prices, extrajudicial killings and corruption, including drug smuggling at the Bureau of Customs.
The administration, it added, has made it a habit to manufacture witnesses who have "questionable record and reputation" just like in the case of party member Sen. Leila de Lima, who is detained on charges relating to illegal drugs.
It also noted the statement of Justice Secretary Vitaliano Aguirre II that the affidavit of Ricky Serenio, confessed bagman of the Berya drug cartel, could already be used as a complaint affidavit.
Serenio linked Senate Minority Leader Franklin Drilon and former Interior and Local Government secretary Manuel Roxas II as protectors of the illegal drug trade in the Visayas. He also named Iloilo City mayor Jed Patrick Mabilog as a protector to the illegal drug operations of Melvin Odicta Sr.
He accused Drilon and Roxas of partnering with Odicta to control "the illegal drug business in Western Visayas...by kicking out the Berya Tolentino and Camaria group from their dominance as local drug suppliers."
"Being in power with close association to the PNP, it was easy for the Roxas-Drilon tandem to paralyze, and eventually overthrow, the Berya-Camaria drug operations and wipe out these groups from operating in Negros Island," Serenio's affidavit read.
Serenio claimed that "the Negros market is bigger than in Panay or Iloilo, as confirmed in the declaration of President Duterte that the NIR (Negros Island Region) is No. 3 as the most drug affected in the country."
He also alleged that Drilon and Roxas were patrons of Mabilog who, in turn, was allegedly protecting Odicta.
Aguirre said on Wednesday that the Negros Oriental prosecutor could already look into these claims and, if there is probable cause, charge Drilon and Roxas in court.
He clarified that the National Bureau of Investigation (NBI) cannot conduct a fact-finding investigation on it because the fight against illegal drugs was already transferred to the Philippine Drug Enforcement Agency (PDEA).
"The President's order specifically instructed other agencies to forward information or anything to PDEA, and then it's up to PDEA to make appropriate request to a particular agency," Aguirre explained.
In Iloilo City, Mabilog's spokesman and lawyer Mark Piad said they are considering the filing of complaints against Serenio for libel and perjury.
"We are only preparing the case on the part of Mayor Mabilog… Such allegations are incredible without proper factual basis and a product of an imaginative moron," said Piad, adding that they have not coordinated with Drilon's and Roxas' camp.
President Duterte has, on several occasions, linked Mabilog to the illegal drug trade in Western Visayas, a claim that the mayor has repeatedly denied.
The LP said that while the administration has been busy fabricating charges against the opposition, it has turned a blind eye to some cases such as that of two former Bureau of Immigration officials who were accused of receiving a P50-million bribe.
"On the other hand, P1,000 was taken from the alleged P50-million bribe at the Bureau of Immigration involving brods of the Lex Talionis fraternity so that the case won't be classified as plunder. There seem to be incidents of dagdag-bawas of evidence at the Department of Justice. Adding evidence for those considered as foes, and subtraction for friends," the LP statement read. – With Edu Punay, Jennifer Rendon