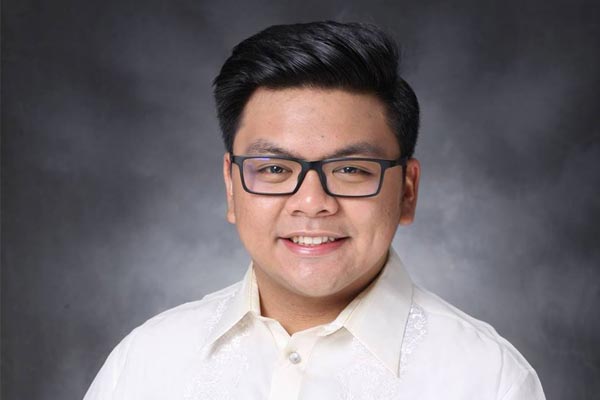 UST Law freshman Horacio Tomas Castillo III, believed to be a victim of fraternity hazing rites, was dumped on a sidewalk in Balut, Tondo. He told his parents he would attend the "welcome ceremony" of the fraternity Aegis Juris but did not come home the day after. His body was bloated and had candle and cigarette marks and bruising. Photo from Horacio Tomas Castillo III's Facebook
Aegis Juris fratman on lookout order left Philippines on Tuesday
(philstar.com) - September 21, 2017 - 2:05am
MANILA, Philippines (Updated 10:45 a.m.) – Ralph Trangia of Aegis Juris Fraternity, among the identified as persons of interest in the fatal hazing of Horacio Castillo III, left the country on Tuesday, the Bureau of Immigration said on Thursday.
Tangria is among the 16 members of Aegis Juris Fraternity that are currently being investigated by the authorities for their involvement in the apparent fatal hazing of Castillo, a first year law student at the University of Santo Tomas.
Bureau of Immigration spokesperson Ma. Antonette Mangrobang told Philstar.com in a text message that "a certain Ralph Caballes Trangia departed yesterday 19 Sept 2017 on board Eva Air flight BR262 bound for Taipei."
BI Ports Division Chief Marc Red Mariñas earlier told PhilStar.com in a text message that Trangia left on a 1:53 a.m. EVA Air flight to China on Tuesday, September 19. He left through Ninoy Aquino International Airport Terminal 1.
A check of the flight number showed, however that it was actually a flight to Taipei in Taiwan.
"The rest appears to still be in the country or do not have enough info on their identity to ascertain if they are the same person as the one appearing in BI records," Mangrobang said.
READ: 16 members of Aegis Juris Fraternity placed under immgration watchlist
The 15 others placed by Justice Secretary Vitaliano Aguirre II in an Immigration Lookout Bulletin Order on Wednesday, meanwhile, have no records of departing the country. They are:
Arvin R. Balag
Mhin Wei Chan
Marc Anthony Ventura
Axel Mundo Hipe
Oliver John Audrey Onofre
Joshua Joriel Macabali
Jason Adolfo Robiños
Ranie Rafael Santiago
Danielle Hans Mattew Rodrigo
Carl Mattew Villanueva
Aeron Salientes
Marcelino Bagtang
Zimon Padro
Jose Miguel Salamat
John Paul Solano
Immigration officers were instructed through the ILBO to immediately inform the Office of the Secretary and the Office of the Prosecutor General should there be indicators that the 16 are attempting to leave the country.
The ILBO, however, cannot bar subjects from leaving the country as it is different from a Hold Departure Order issued by a local court.
The lifeless body of Castillo was discovered early Sunday morning in Tondo, Manila.
His parents claimed that Horacio asked permission to attend the welcoming ceremonies of the Aegis Juris Fraternity on Saturday morning. His body, covered in blanket when found, sustained contusions in the upper arms and candle burn marks.
Aguirre has ordered the National Bureau of Investigation to conduct a separate probe on the matter.