Anti-hazing law: 22 years, 1 conviction
September 21, 2017 | 1:59am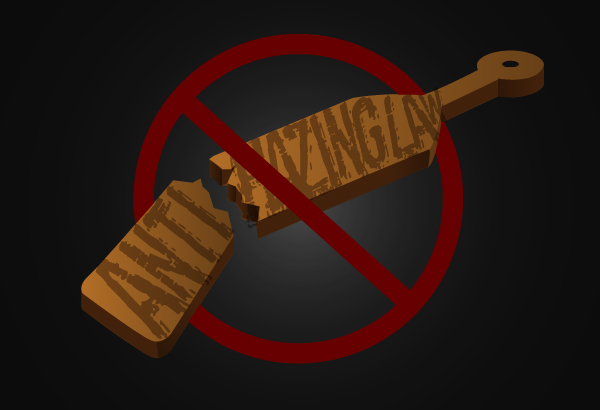 MANILA, Philippines (First published on Sept. 20) — He told his parents he would attend a "welcome ceremony" of the fraternity where he is a new member and assured them there would be no be hazing rite.
But Horacio Tomas Castillo III did not come home the next day.
His parents found him in a funeral parlor—his body bloated, bruised and had candle and cigarette marks—which led his family to believe he was killed in a hazing rite of fraternity Aegis Juris.
Castillo was promised brotherhood but it was death that he got instead.
He was only 22.
READ: UST law freshman dies in alleged frat hazing
Castillo's death has sparked public outrage. Students and faculty members, not limited to the University of Santo Tomas community, condemned the tradition of hazing and the culture of impunity.
His death also brought into focus talks of amending the anti-hazing policy.
The Anti-Hazing Law
Passed in 1995, Republic Act 8049 or the Anti-Hazing Law regulates initiation rites and prohibits physical harm and violence against applicants.
It was the death of Ateneo law student Leonardo Villa in 1991 that resulted in its passage.
The law mandates that no hazing or initiation rites shall be allowed without prior written notice to the school authorities or head of organization seven days before the conduct. At least two representatives of the school or organization must also be present during initiation to ensure that violence will not be employed.
The law also states that "if the person subjected to hazing or other forms of initiation rites suffers any physical injury or dies as a result thereof, the officers and members of the fraternity, sorority or organization who actually participated in the infliction of physical harm shall be liable as principals."
Life imprisonment will be imposed on individuals involved if initiation rites result in death, rape, sodomy or mutilation.
Since it was enacted under former President Fidel Ramos, several neophytes attempting to join fraternities and sororities have incurred injuries or died in brutal and unregulated initiation rites.
In 22 years, only 1 conviction
While the law is still in place, many of the reported deaths due to hazing since 2000 did not lead to justice for the victim's families.
Over two decades since its passage, there has only been one conviction for hazing. In 2015, the Supreme Court found two Alpha Phi Omega members guilty of violating the law for the death of University of the Philippines-Los Baños (UPLB) student Marlon Villanueva in 2006.
In 2015, Anthony Javier, a student at the Western Mindanao State University in Zamboanga City died after hazing by the Tau Gamma Phi WMSU-chapter. The year before, De La Salle-College of Saint Benilde student Guillo Cesar Servando was also killed in hazing rites of a chapter of the same fraternity.
In 2013, John Mark Dugan, a 19-year-old sophomore marine cadet at the Maritime Academy of Asia and the Pacific died of hazing.
San Beda law students Marc Andre Marcos and Marvin Reglos were killed in separate hazing rites by different fraternities in 2012. The accused in Marcos' death were cleared of charges in 2013 for lack of probable cause.
READ: Hazing deaths in the Philippines: A recent history
Proposed amendments
For Bagong Henerasyon party-list Rep. Bernadette Herrera-Dy, Castillo's death shows that fraternities have not learned "the tragic and painful lessons of previous fatal hazing incidents."
Lawmakers from the lower and upper house have filed separate bills seeking to amend the 22-year-old Anti-Hazing Law.
Majority leader Tito Sotto filed Senate Bill 223 last year which seeks to impose maximum penalty in instances when hazing is committed under the influence of illegal drugs and liquor and when there is a presence of non-resident or alumni fraternity members during hazing.
Gatchalian, meanwhile, believes the current Anti-Hazing Law is not effective in stopping fraternities, sororities and other organizations from hazing their new recruits.
"The Anti-Hazing Law must be overhauled to eliminate loopholes and ensure that all persons responsible for these cruel and senseless hazing deaths will be held accountable to the full extent of the law. It's time for the Senate to take up this proposed legislation," he said.
Gatchalian's Senate Bill 199 seeks to prohibit all forms hazing. Only initiation rites or practices which do not inflict physical or psychological suffering or injury to the applicant shall be allowed.
The measure also poses stiffer penalties to those involved in hazing. Aside from life imprisonment, a fine of P3 million will be imposed if hazing results in death, rape, sodomy and mutilation.
If non-resident and intoxicated or under the influence of illegal drugs individuals participate in hazing, they will face life imprisonment and a fine of P2 million.
Imprisonment ranging from 20 to 40 years and a fine P1 million will be imposed on participating members and officers involved in hazing.
Gatchalian likewise wants schools to educate their students regarding the consequences of conducting and participating in hazing.
Just like Gatchalian's bill, House Bill 3467 authored by Dy also seeks to make all kinds of hazing illegal.
'UST has greater obligation'
Gatchalian said that although Castillo's death is quite similar to hazing deaths reported in recent years, the fraternity linked to his death is a "duly accredited student organization of the educational institution it calls home."
"The fact that the fraternity being implicated in this hazing death is recognized by the university itself as a legitimate student organization means that UST cannot pull the same tricks used by other schools in the past to evade responsibility for the criminal actions of their students," he said.
Gatchalian added: "UST has an even greater obligation than ever to uncover the truth of this incident and hold Atyo's killers accountable for their sick crimes," he said.
But according to a report from The Varsitarian, the official student publication of UST, the Office for Student Affairs clarified that Aegis Juris is still in the process of seeking its annual accreditation.
READ: 'We'll leave no stones unturned': UST condemns student death in alleged hazing
OSA accredits and recognizes university and college-wide organizations.
UST Civil Law Student Council President Jonathan Santos also said that Aegis Juris is not recognized by OSA.
"All we can say for now is that the fraternities and sororities are strictly prohibited by our Student Welfare and Development Board in recruiting UST Law freshman unless recognized by the OSA," Santos told Philstar.com in an online exchange.
UST Civil Law Dean Nilo Divina on Monday said the faculty was not aware of the "welcome ceremony" of Aegis Juris.
Divina is an alumnus of Aegis Juris.
In a statement, UST said investigations will be conducted immediately to find out the truth and institute necessary legal actions.
"We condemn in no uncertain terms hazing in any form or manner. Violence has no place in an academic institution, particularly in our University that values and promotes charity and compassion," UST said in a statement.
It added: "We will leave no stones unturned to ensure that the perpetrators be meted the appropriate sanctions and brought to justice."
Fight for justice
Castillo's family decried the murder of the law student saying, "He was 22 years old with many hopes and dreams. We grieve and despair at the life he was not able to live and the cruel and inhumane way by which it was cut short."
The family called on the UST administrators to ensure a thorough, impartial and swift investigation into Castillo's murder and on Divina to champion the rights of his slain student regardless of his affiliation with Aegis Juris.
The Aegis Juris Fraternity, which is linked to the death of a University of Santo Tomas law freshman, on Monday vowed to cooperate with the investigations.
Aegis Juris said on Monday the fraternity "will extend its utmost cooperation in the investigation of this unfortunate incident."