Teen killed by Maute sniper while praying inside mosque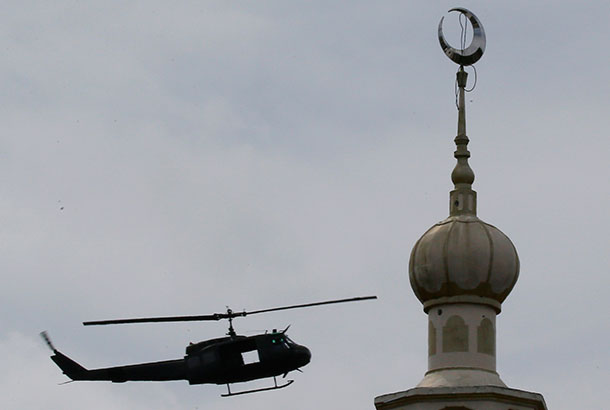 DAVAO CITY, Philippines – A 14-year-old boy praying inside a mosque was the latest casualty in Marawi, which has seen almost three weeks of heavy fighting and bombardment since the Islamic State-inspired Maute group occupied several areas.
Abdillah Masid was reciting Friday prayers with his father Cumacasar, mother Maimana and several other relatives at around 12:30 p.m. when a sniper's bullet from the Maute lines hit the boy in the head.
He died instantly.
The Datu Saber mosque where they prayed was just a few meters from the camp of the Army's 103rd Brigade.
It was also near the area that President Duterte was supposed to visit last Thursday. The Presidential Security Group and military ground forces persuaded Duterte to cancel the trip for security reasons.
Both forces told him Marawi was still too dangerous for a presidential visit, prompting Duterte to instead go to the 4th Infantry Division's Camp Evangelista in Cagayan de Oro City.
A source said the bullet was fired at a member of the Army brigade.
"It was very clear that the sniper fire came from the area where the remaining Maute militants are still holed up. And, from its trajectory, it was supposed to be intended for the 103rd Brigade but it fell short and instead hit the child," the source told The STAR.
Masid's death came amid heavy fire against the remaining terrorists that have been holed up in several parts of Marawi City.
His family could not bury him immediately yesterday and had to keep his remains inside the mosque for several hours as it was extremely hard to dig a burial plot because of sniper fire. It is the practice of Muslims to bury their dead within 24 hours.
As of 4:35 p.m. yesterday, a report said Masid was finally laid to rest.
The government said it plans to put an end to the air strikes and offensives against the remaining Maute members. It also plans to "liberate" Marawi City on June 12, to commemorate the 119th Philippine Independence Day.
There are also plans to raise Philippine flags in the city on Monday.
Armed Forces spokesman Brig. Gen. Restituto Padilla said there are only three barangays that remain under control of the Maute group. – John Unson