Vinyl dream of Lokal Brown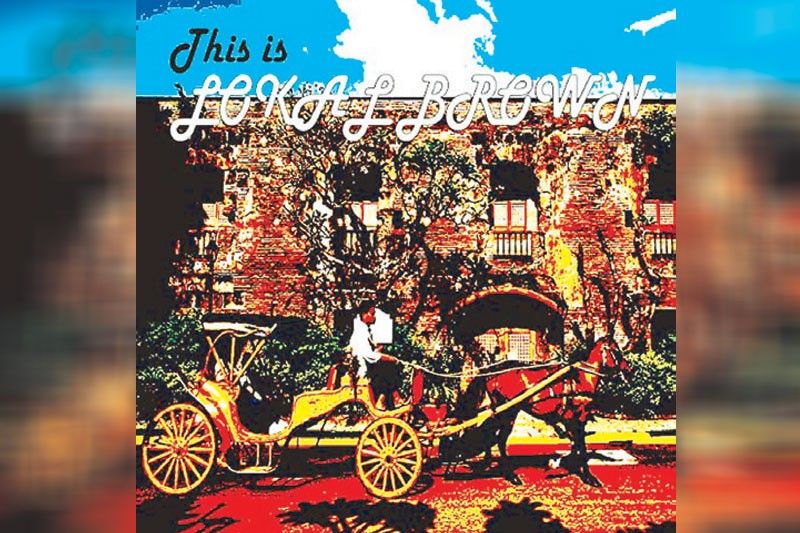 A friend of mine who is an avowed fan of Filipino pop music and a serious LP collector is dreaming of Lokal Brown. He very much wants to have a copy of the first album by the group. The tracks included are a memorable lot. This is not Amerika, I am Lokal, So What About the Children, Winter in Manila, Iguhit ang Kasaysayan and others.
So, he went looking. He found one from an online seller. The LP is available and said to be in very good condition. The only problem is that This is Lokal Brown original album costs $1,500. That means a whopping P75,000 if we are to go by the exchange rate of P50 to a dollar. Who would have thought something like this would happen to Lokal Brown.
There must be a lot of you out there who remember the group. It was an all-star collective that producer and songwriter Ed Formoso put together back in the early '90s. Members included Lolita Carbon, Eva Caparas, Saro Banares, Chikoy Pura, Mon Espia, Pendong Aban, Eva Caparas and Formoso himself. They recorded a few albums and then disbanded. But it looks like the band remains in great demand even if only on vinyl.
So to all This is Lokal Brown album owners out there, if you have treasured your copy these past 20 years, here is your chance to make quite a lot of bucks.
By the way, another album that was also produced by Formoso, is also the subject of a search among collectors. This is the soundtrack of the movie, Tinimbang ang Langit. Directed by Danny Zialcita, it starred Kuh Ledesma and Christopher de Leon. The duo sang the most popular cut, Try a Little Suicide, composed by Formoso. And while we are at it. Might as well also start looking for Formoso's Dinosaur.
I have also encountered inquiries about vinyl editions of Martin Nievera Live with the Philippine Philharmonic Orchestra at the CCP; Smokey Mountain by the Smokey Mountain; One by Ryan Cayabyab; Unang Kagat by Hotdog; Bakit Ba Ganyan by Dina Bonnevie; Ako ay Ikaw Rin by Nonoy Zuñiga which has Never Ever Say Goodbye; Buhat by the New Minstrels; Nanette Inventor as Doña Buding; Odette Quesada by Odette Quesada; Puso, Diwa at Daliri ni Florante by Florante and others.
And what about those soundtracks? Better to relive your favorite scenes just by playing those sounds from the movies. Bagets with Farewell by Raymond Lauchengco; Hotshots where Iwi Laurel sings A Special Part of Me; Bituing Walang Ningning with Sharon Cuneta singing the music of Willy Cruz; and does anybody know if a soundtrack album of Kakabakaba Ka Ba? exists? That is the comedy flick where Christopher de Leon sings Sisikat din Ako.
Make no mistake about it, vinyl collecting is the hobby of the moment and if we are to take This is Lokal Brown as an example, it is now serious business. Blame the pandemic for this. Those who are averse to being under the sun and getting their hands dirty being a plantito, have turned to music. And because true-blue audiophiles heartily profess that LPs are the best way to listen to music, they buy albums.
Thankfully, not all of them are as rare and expensive as This is Lokal Brown. In fact, the Vicor label which owns a huge catalogue of the best Filipino pop sounds from the past 50 years, has taken to reproducing select titles on vinyl. These are exact copies of the originals and are priced at an affordable P2,000 each.
Recent releases include Himig Natin by the Juan de la Cruz Band; Awiting Pilipino by Mike Hanopol, which has Laki Sa Layaw; Maria Cafra by Maria Cafra with Kumusta Mga Kaibigan; Next by Gary Valenciano includes Di Na Natuto, composed by Danny Javier of the APO Hiking Society and the one that will certainly get a lot of spins on the turntable, Best of Yoyoy Villame by the genius from Bohol, the legendary Yoyoy Villame with his biggest hits, Granada, Si Felimon, Butsekik, Mag-Exercise Tayo, Magellan, Philippine Geography.
Now do you think one day soon there will be a This is Lokal Brown vinyl available for P2,000?