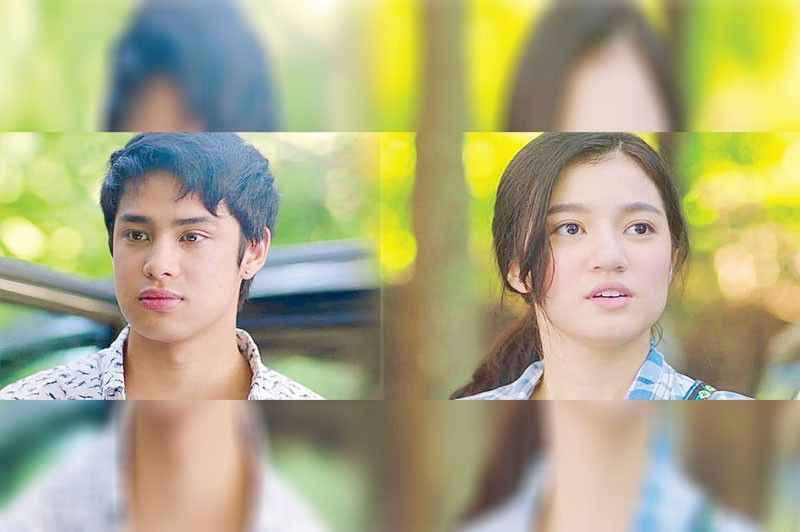 Donny Pangilinan and Belle Mariano topbill the hit romantic series He's Into Her. Will DonBelle's reel romance turn real? No one knows. But one thing is sure — they have great chemistry on and offscreen
STAR/ File
Are Donny & Belle into each other?
The loveteam of Donny Pangilinan and Belle Mariano is one of the most exciting and hottest pairings of this generation.
DonBelle, as they are fondly called, topbills the hit romantic series He's Into Her, which is based on a Wattpad story written by Maxinejiji. Their characters Deib (played by Donny) and Max (Belle) make viewers swoon as they watch the blossoming romance between the two.
Will DonBelle's reel romance turn real? No one knows. But one thing is sure — they have great chemistry on and offscreen as I observed during our recent conversation on The Interviewer.
Here are excerpts from the interview, where Donny and Belle talk about love, career and some things in between. Read on.
Donny, are you into Belle?
"I enjoy being with her. I enjoy her presence. I enjoy working with her and she's an amazing person."
Belle, 'pag naririnig mong sinasabi iyan ni Donny ano ang iyong reaksyon?
"Coming from Donny, nakaka-flatter po. And same goes to him, I enjoy his presence as well. I enjoy his company. It's really fun to work with him and ang dami ko rin pong natututunan sa kanya. I admire him for that."
Donny, nag-overlap ba ang character at saka iyong gusto mo kay Belle as a person?
"As we started shooting more, mas naging close kami ni Belle. Iyong chemistry namin mas na-feel namin. Scenes just became easier. We were more supportive of each other. Sobrang thankful ako. Sobrang blessed ako."
Belle, while listening to my conversation with Donny, how do you react to this?
"In order to make our scenes believable, kailangan pong totoo iyong nararamdaman namin. It's real. It should come out naturally."
What do you tell your fans who have different expectations?
Donny: "First of all, sobrang appreciative kami sa lahat ng supporters namin. Kami ni Belle, we always talk about it. Even before our shows are airing, they have been here from the very start. And now as it carries on to the episodes, sobrang blessed po kami. I'm really thankful that they're so appreciative of what we do and I want to say that it's not one-sided. We also feel the same way. We wouldn't be here without you guys."
Belle: "Like what Donny said, I totally respect them. I totally respect what they want. But right now, I don't want anything to affect my genuine friendship with Donny."
Do you have an idea why this show is such a huge hit?
Belle: "A big factor why this is such a huge hit is because iyon pong lahat ng gumawa ng series na ito are so amazing, sobrang hardworking nila. They really love what they do. Feeling ko po nag-re-reflect iyon sa camera. Nakikita kung pinagsisipagan ang isang bagay. Kapag you're doing it out of love. I feel it's such a huge hit because of that. It's also a hit because it's He's Into Her. Ang dami pong naging readers nito."
You are at the threshold of something really big. God willing, you're going to be a huge loveteam. You're going to be superstars. What are you thinking?
Donny: "All I have to say is God is good. Despite everything happening during the pandemic, I'm able to work. Just to be with people that are fun to be with. Nakakataba po ng puso and I'm just very appreciative. I'm humbled."
Belle: "Even just thinking about it, grabe po. Sobrang natutuwa ako and I'm really grateful for what is given to me right now. This pandemic has taught me to be more grateful na mas pahalagahan ang mga binibigay sa akin. Being paired with Donny, being able to portray a character in He's Into Her, I'm just really grateful that in these times, we have work."
Do you feel that there is a chance that you will be falling for each other?
Donny: "I will say there's always a chance all the time, right? I will never really close any doors. But right now, I guess we're just focusing on what we have. Walang halong showbiz. I won't say anything that is not true."
Belle: "I feel like iyong mga bagay po na iyon ay hindi naman po dapat minamadali. Love has its own time. Love will wait."
At 19 (Belle) and 23 (Donny), if you were to share with each other what you know about love, what would you tell each other?
Belle: "What can I say about love? Based on what I know about it is that love is the core of everything. Don't do anything na walang halong pagmamahal."
Donny: "Even if it's hard, let all that you do be done in love. I love that verse in the Bible, 'Love is patient. Love is kind.' That is truly the foundation of love. I just feel like love is the most powerful thing in the universe."
How do you, guys, pray? What is your relationship with God like?
Donny: "I feel like the most important thing is a personal relationship like just you being able to talk to God anytime of the day and just pour out anything. I don't see Him as Someone who's so far away but rather Someone who's just there, ready to listen and you should also be ready to listen as well."
Belle: "God kasi sa Kanya po ako walang tinatago. He knows everything about me, about everyone. He's Someone I can be vulnerable with anytime."
If I give you a chance to ask each other a question, what will that be?
Belle: "Kumain ka na ba, Donny?"
Donny: "What is one thing you really enjoy whenever we work together?"
Belle: "Iyong bond natin together. Nag-ja-jibe iyong personalities natin and we really enjoy each other's company. That's one thing I really appreciate."
(To watch the complete interview, visit The Boy Abunda Talk Channel or Batalk channel on YouTube.)