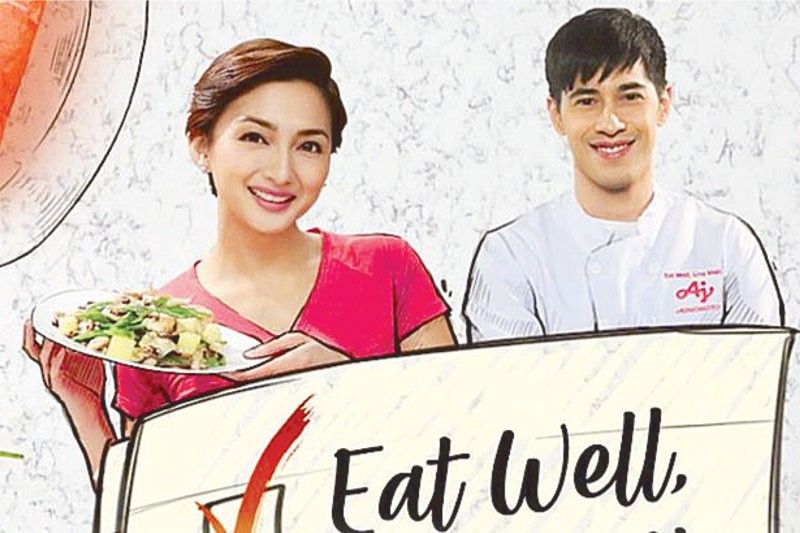 Iya Villania and Chef Jose Sarasola prepare nutritious and delicious food every Friday on GMA 7's Eat Well, Live Well. Stay Well.
STAR/ File
Iya, Jose encourage viewers to eat and live well
Jerry Donato
(The Philippine Star) - January 15, 2021 - 12:00am
Iya Villania and Chef Jose Sarasola engage viewers in a demonstration and discussion of healthy lifestyle through cooking nutritious, delicious food. Their platform is Eat Well, Live Well. Stay Well, aired Fridays at 11:20 a.m. on GMA 7. Ajinomoto Philippines Corporation and the Kapuso network produce the show.
"For me, it's really just a good balance of everything," answered Iya when asked about her and Chef Jose's thoughts on living healthy in a recent media call, "a good balance of working out, a good balance of eating well, a good balance of enjoying also your food even if it's a little bit of the stuff we're not supposed to be indulging too much. So, for me, that's what it is."
Jose followed Iya's train of thought by saying that "as a chef, I think basically being healthy starts in the kitchen. Of course, we can always work out, then be fit and be healthy. But I think the starting point to the road to become healthy starts in the kitchen." He added that one should have a good workout routine and follow a good diet. From there, one will feel good (and eventually well) inside out. Reality-wise, making the first step to eating, living and staying well is tough. However, everything is possible.
"For me, I would say, well, in terms of working out, find a movement you enjoy, an activity that you like and enjoy," said Iya. "Sometimes (you) want to be running like this person but it doesn't make you happy at hindi ka tatagal (and you will not be able to sustain your enthusiasm), you really have to find a movement or a workout that will make you happy. Another is you really have to try to simplify your food."
Jose couldn't help but agree with Iya. "You find your niche, in terms of workout. We live in this day and age when everybody gets pressured by the way they look, their size (their appearance and weight). Be yourself. You don't really have to pressure yourself, you know, to be someone you're not yet. Just take it step by step. I've said you start it in the kitchen. Use very fresh produce and healthy ingredients." He also suggested to watch out one's consumption of carbs and sweets and reiterated Iya's thought about a good balance of everything, particularly food and workout, "Kailangan ng balance sa dalawa… para talagang may resulta (Striking a balance between the two means good results)."
Iya and Jose's Eat Well, Live Well. Stay Well is a continuation of Suzi Abrera's online series as one may look at it. It is a healthy Friday morning habit after watching a movie broadcast on GMA and before following a Koreanovela and Eat, Bulaga!
Conversations from the presscon shared that Eat Well, Live Well. Stay Well will feature recipes that address concerns in the kitchen. Viewers get tips on food that boosts children's immunity (since the latter stay late to meet online school requirements and deadlines) and types of diet to complement their healthy routine and plan to lose weight and become fit.
The cooking show's pilot episode saw Iya preparing a quick, low salt recipe, Shrimps in Roasted Vegetables, and showing cooking skills she learned from Jose. Hosts Iya and Jose take on the roles of Mamazing Iya and Chef Cuz, respectively. They are part of a narrative about a bubbly, modern mom (Mamazing Iya), who wants to improve her knack for cooking with the help of her cousin (Chef Cuz), the person with the know-how about healthy, mouth-watering recipes. Part of the story are Mamazing Iya adapting to the new-normal life and prioritizing family.