Nyoy marks birthday with a special mall show
February 18, 2020 | 12:00am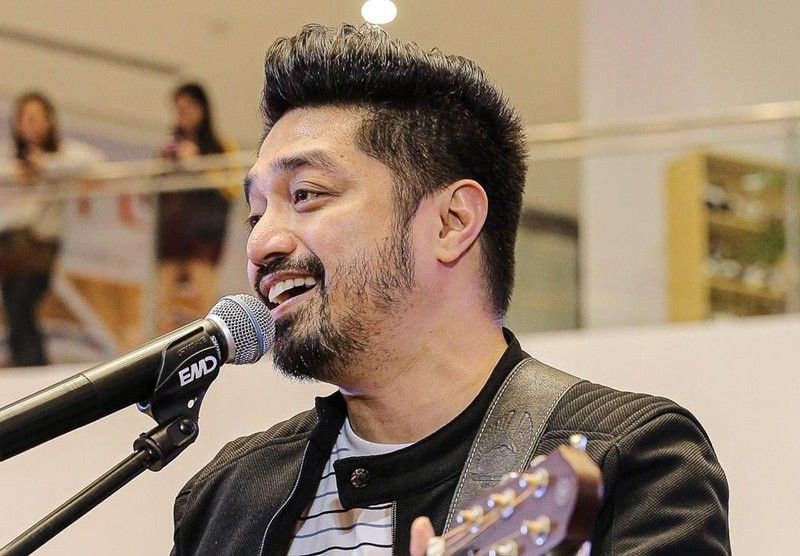 MANILA, Philippines — Nyoy Volante has come a long way since the early days of 21st century when he blossomed among a slew of acoustic artists that dominated in many ways. Audiences acknowledge that by showing much appreciation for his performances to this day. You could feel that he is a cut above most acts in the live scene owing to his string of familiar records, perennial TV exposure and star appeal.
Last Jan. 25, actually his 42nd birthday, he headlined the live music showcase for City of Dreams Manila's Chinese New Year Festivities at the Ayala Malls Manila Bay. He serenaded the delighted mall crowd with his brand of entertainment anchored on emotively strong vocals, pumped-up guitar playing and a tightness only a well-oiled full band set-up could provide.
After playing his highly admired version of VST & Co.'s Ipagpatawad Mo and giving a carefully strewn live performance of his now-classic Someday, which almost brought him to tears as well as others in the audience who were stunned and mesmerized, he pulled up the tempo with a new composition.
"Para ito sa mga nagmamahal," he began, then elaborated, "Alam mo 'yung hindi mo pa alam ang pangalan pero mahal mo na? Ito yun."
Get ready for song title for it's not that short: Awit Ko Na Naisulat Dahil Sa Kagandahan Mo.
That's self-explanatory and very relatable while the music, confidently upbeat with a nod from '80s pop or more closely, with the Manila Sound of that era.
Nyoy, now known as King of Acoustic Pop, took center stage as a prelude to City of Dreams Manila's fifth anniversary festivity. Jinky Vidal of Freestyle fame was also on hand that weekend along with the resort's CenterPlay bands — High Calibre, Higher Ground MUB and Part 3.
The weekend occasion was made more memorable with the involvement of eSakay, Meralco's electric vehicle subsidiary launched to provide complimentary e-shuttle services to City of Dreams Manila for people to experience the resort's diverse facilities. Its participation provided revelers the feel of such sustainable mode of transportation which essentially complements City of Dreams Manila's thrust for eco-efficient operations.
In time for the resort's anniversary this month, people were given the privilege to sign up for membership at the Melco Club. It meant that upon activation of the card, new members got to receive free exclusive merchandise and a limited edition-Melco Club commemorative card, as well as some freebie to spin on the Welcome Rewards spin game.
Nyoy's 75-minute set was no doubt a highlight that gave mall goers and fans alike a great dosage of fun from a key musical act in the local music scene. The fact he merited the upgrade from Prince to King of Acoustic Pop showed the legitimacy of his talent.
Obviously, it's him winning public acclaim that led him moving up to being a notable judge for Tawag Ng Tanghalan himself.
Imbibing the aura of a positive person, Nyoy's charm has to do with his belief in inspiring people. In the aftermath of basketball legend Kobe Bryant's shock death from helicopter crash, he was among the Filipino celebrities who quickly expressed immense sadness on social media. He is obviously a fan of the NBA star whose birth year is the same as his.
Nyoy somehow chose guitar to score hits, either in the form of songs with strong radio airplay or live performances that consistently earned applauses. Seldom has he miss.