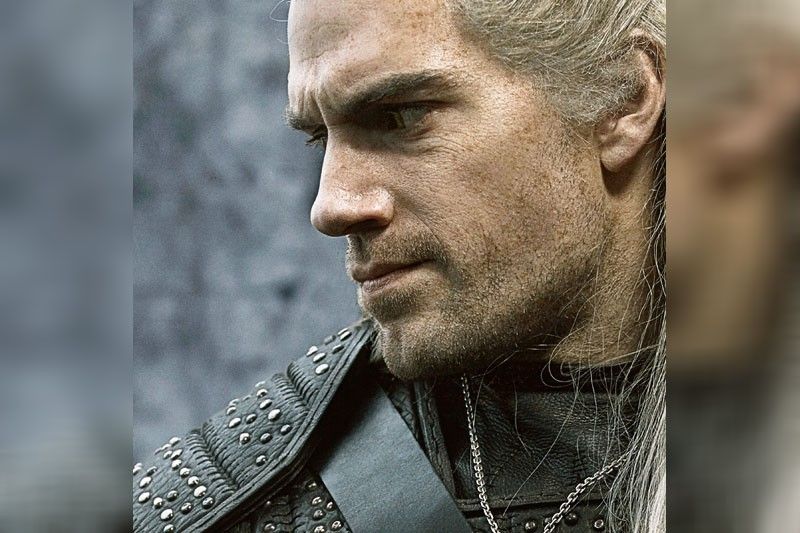 Netflix's upcoming fantasy epic The Witcher stars Henry Cavill as Geralt of Rivia...
The Witcher's young cast gushes about working with 'more experienced' co-star Henry Cavill
Anya Chalotra and Freya Allan are being touted as the stars to watch out for. This is because the young and relative newcomers play the leads alongside British star Henry Cavill in Netflix's upcoming action-fantasy epic The Witcher.
Anya, 23, is the powerful sorceress Yennefer of Vengerberg, while Freya, 18, is the princess "with a dangerous secret" Ciri in the series adaptation of the best-selling books and short stories written by Polish author Andrzej Sapkowski. It is set in the fictional world of The Continent and revolves around Geralt of Rivia, a lone wolf of a "witcher" which is described as a trained monster slayer with superhuman powers.
The Philippine media were given an insight into these main female characters direct from the British actresses portraying them, ahead of the show's Netflix debut on Dec. 20. Incidentally, Henry, best known for playing Superman, is in Manila with The Witcher showrunner Lauren Hissrich to also promote the show. Here are excerpts from the phone interview with Anya and Freya:
On what they love about their characters and their strengths:
Freya: "What I love about Ciri is that you will see her strengths through how vulnerable she is. The fact that she has seen the most horrific things and experienced the most overwhelming amount of loss, and she's going through the pain of dying and that she continues on, that takes a huge amount of determination and drive and a real strength.
"But also, I think that you get to see a strength through how kind of open-minded she is able to be and how kind of gentle and kind she is because she's able to understand other people's viewpoints and see the goodness in people despite the fact that they have totally opposing views to hers.
"And so I think it's nice to get to see her strength through that rather than necessarily the immediate choice of it being that she's physically strong or you know, fighting or killing people you know. She used to strength through her vulnerability and how gentle she is."
Anya: "For Yennefer in this series, we see her discovering her powers. And she discovers what those powers are, where they lie, where they're from and actually in looking at her backstory and her childhood, the tragic childhood she has, we learned that those insecurities and fears all feed this chaos inside her which actually becomes the source of her power. And that becomes a strength.
"Not only that, she's very resilient and I think that resilience mixed with all the suppression she had as a child and confusion and such an abusive upbringing make her one of the most powerful majors of the continent. She's also very… she won't take no for an answer. And she's very unapologetic. And I think that's a great strength of hers which she uses to her advantage."
On how they're dealing with the scrutiny from hardcore fans of the book series (which has also successfully spawned a videogame version):
Freya: "I think that the best way for us to look at it is that we have done… we have worked really hard to portray these characters well, as well as possible and, and that's kind of like, all we can do. And the whole crew and cast and everybody has. So, at the end of the day, that's all that we can now do and you can just hope people enjoy it."
Anya: "I agree… What can I say? I have focused on all those positive reactions out there. And there are a lot. So, I'm… I know, it would be so easy for me to you know, with the pressure of playing such an iconic character to read and because I care about those fans, that's why we do what we do. That's why we're doing this — to focus on the negative things, but actually, you know, there is there is so much positivity out there and I've really chosen to focus on that and also focus on the work, you know, bringing this (character) to life in the most truthful way."
On bonding on the set and working with Henry Cavill:
Anya: "It was a joy to work with him. Yeah, he's so humble. And from the moment I met him, he's just very approachable and was so enthusiastic about working on The Witcher and playing Geralt and bringing it to life and, you know, for joining forces to like make this brilliant. So it was an absolute joy to work with him. And you know, we've worked together quite closely so we had some really great times on set and yeah, I look forward to working together again in Season 2."
Freya: "Yeah, he's such a fan of The Witcher. That is so clear how excited he is about it all. And it's so nice to be around someone who was so excited despite having been in this world in this industry for so long, he has such an excitement and passion for it. And he worked so, so hard.
"And also, we had some really, really great conversations where you kind of, you know, talk me through things I was worried about what happens after the show comes out and things because obviously, you know, he started out acting when he was about 17.
"So, he kind of knows how I could be feeling and so it's been really nice to have that, you feel really supported actually. And it's great to have someone to speak to about things that I don't know about and other people in my life don't know about but he does because he's very experienced within the industry and dealing with everything that comes with it."