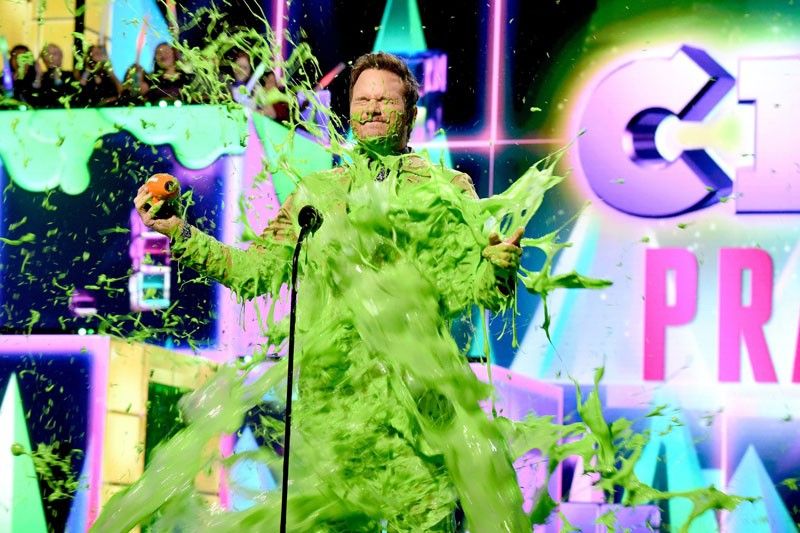 Chris Pratt getting slimed after receiving the blimp trophy for Favorite Butt-kicker
Stars of all types at 2019 Kids' Choice Awards
MANILA, Philippines — Social media stars from all over the world and the young talents of Nickelodeon, Netflix and Disney Channel joined superstars DJ Khaled, Will Smith, Jennifer Hudson, Janelle Monae and the multi-platinum hip-hop trio Migos on the red carpet of the 2019 Kids' Choice Awards held at the Galen Center in Downtown Los Angeles on Saturday, March 23.
Dance champion and online host of ABS-CBN's World of Dance competition AC Bonifacio was the only Filipino on the official Social Media Squad of the event. Social media influencers from Europe including Dutch Singer Kaj Van Der Voort, who has over 14 million followers, and superstar twins Lisa & Lena from Germany, who will be hosting Kids' Choice Awards Germany next month, are also on the squad.
AC arrived in L.A. on Wednesday and part of her activities was the slime soiree party, a pre-awards event where the squad did a flash mob. AC hopes to have her own show on Nickelodeon. "Sana po. Whatever happens I will be down to do anything po," she shared excitedly.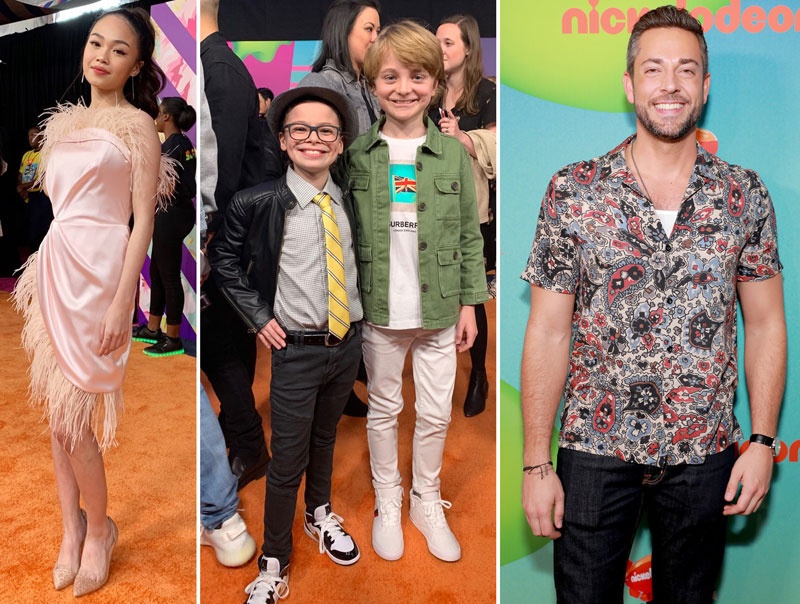 AC Bonifacio(left), the only Filipino star on the official KCA 2019 Social Media Squad. Raphael Alejandro and Will Buie Jr.(center) from the show Bunk'd. Zachary Levi(right) avoids getting slimed after presenting the new trailer of his superhero movie Shazam!
Later, after the red carpet closed, I asked AC about her experience on the red carpet and she instantly gushed about her encounter with DJ Khaled. "I told him that I danced to his song last night, he was, like, 'You're so cool, Thank you!'" She showed this writer the selfie she snapped with the Grammy-award winning superstar who was set to host the show.
Everyone on the red carpet was looking forward to seeing DJ Khaled including the cast of Nickelodeon's new show Cousins for Life, a buddy comedy series about two 12-year-old cousins learning to navigate life under one roof with their families, despite coming from very different backgrounds.
"It has been the best experience of my life," Ishmel Sahid, who played the father on the series, said about the show, which was echoed by his young co-stars Scarlett Spencer, Micah Abbey and Dallas Dupree Young.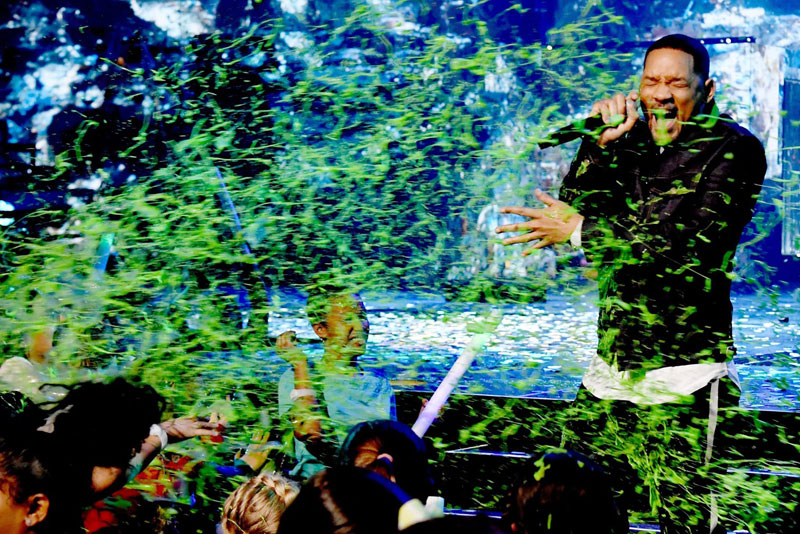 Will Smith grimaces as he gets slimed after presenting the new Aladdin trailer
Will Buie Jr. and Raphael Alejandro, young stars of Disney Channel's Bunk'd, stopped by to chat with this writer as well. "Bunk'd is super fun! It's awesome how we get to do all the stunts and everything," Raphael said. Will, on the other hand, told this writer that he only does his own stunts "if they're safe."
Raphael and Will are part of the next generation of Hollywood stars who are creating their own content intended for audiences their age. "It's so fun. There's so many things to do as a kid," Will exclaimed. "Now, there's so much more entertainment. It's really cool!"
Both Will and Raphael looked forward to meeting DJ Khaled and possibly getting slimed.
DJ Khaled, who is set to drop his latest album lovingly titled Father Of Asahd in May 2019, took time off his busy schedule to host this year's show in honor of his son who joined him on the red carpet together with his wife Nicole Tuck.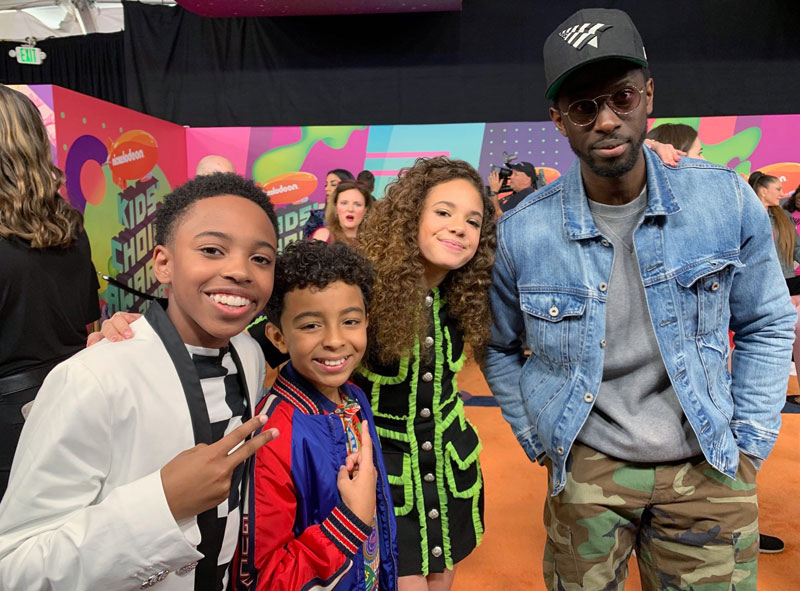 The cast of Cousins for Life (from left): Dallas Dupree Young, Micah Abbey, Scarlett Spencer and Ishmel Sahid
"I'm a father, this was a major priority," DJ Khaled told this writer. "I am excited because my son, he loves Nickelodeon — so do I! The other day, a commercial came on TV and my son was, like, 'Daddy, daddy, daddy!' It was a tearjerker for me."
He said he was grateful to host the show. "I am grateful to be able to host the iconic awards show for the young world. I am excited. I am a fan of the show. I've been to the show before. I love it. It's a dream come true but at the same time I feel like it was meant to be as well."
During the show, DJ Khaled won the Favorite Collaboration award for his song No Brainer. And, yes, he was slimed.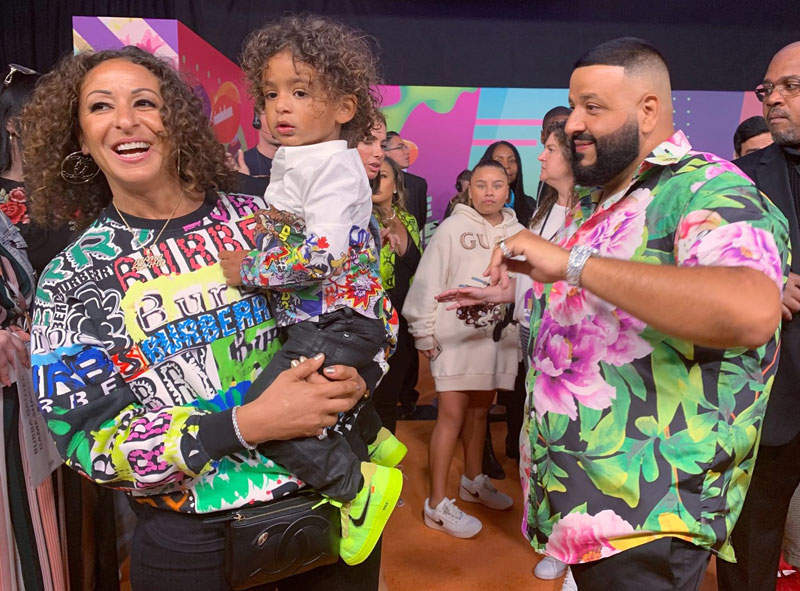 DJ Khaled with son Asahd and wife Nicole tuck
Kids' Choice Awards is the only awards show on the planet where winners are expected to bring an extra set of clothing just in case they get slimed. The gooey green mixture of oatmeal, applesauce and vanilla pudding has been a fixture at the KCAs for a decade now.
Those who got the "honor" of being slimed this year include some of the biggest names in Hollywood. Chris Pratt was first after he received his blimp trophy as Favorite Butt-kicker.
Will Smith introduced the brand-new trailer of his new film, the live-action remake of Disney's Aladdin, and was subsequently slimed.
Zachary Levi, who presented his latest film, Shazam!, escaped getting slimed.
Adam Sandler, who won the Favorite Male Voice from an Animated Movie award, did not escape the green slime despite "pleading" not to.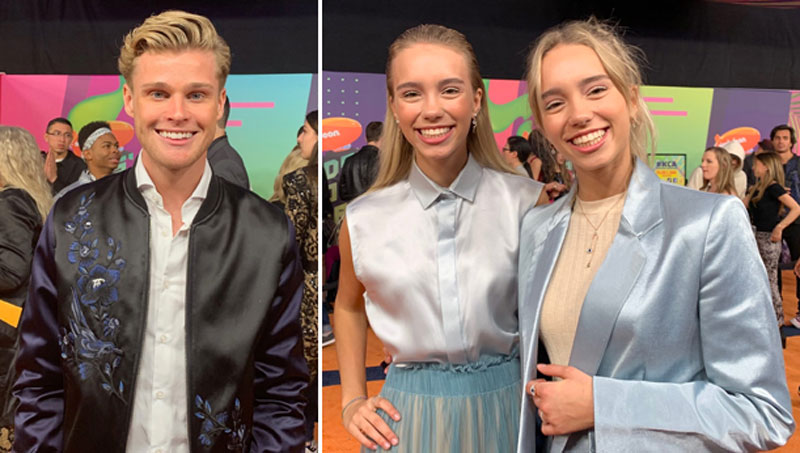 Dutch singer and social media superstar Kaj Van Der Voort(left) on the red carpet. German social media superstars Lisa & Lena will host the German KCA next month
And, per tradition, DJ Khaled closed the show while being showered with slime and confetti.
Favorite Pinoy Internet Star winners Ranz Kyle & Niana and Favorite #Trending Pinoy winner Kathryn Bernardo did not grace the event.
Fil-Am YouTube personality Roi Fabito, a.k.a. Guava Juice, who was nominated but lost for Favorite Social Star, shared with this writer portion of the acceptance speech he prepared. He would have thanked his family and his fans and would have given kids some advice: "Keep moving forward, no matter what happens."
Nickelodeon's Kids' Choice Awards premiered in Asia on March 25.
Fans can go to KCA.Nick-Asia.com for replay schedule, the complete list of winners and to relive all of their favorite show moments by watching video highlights from the live show and flipping through live event pictures.