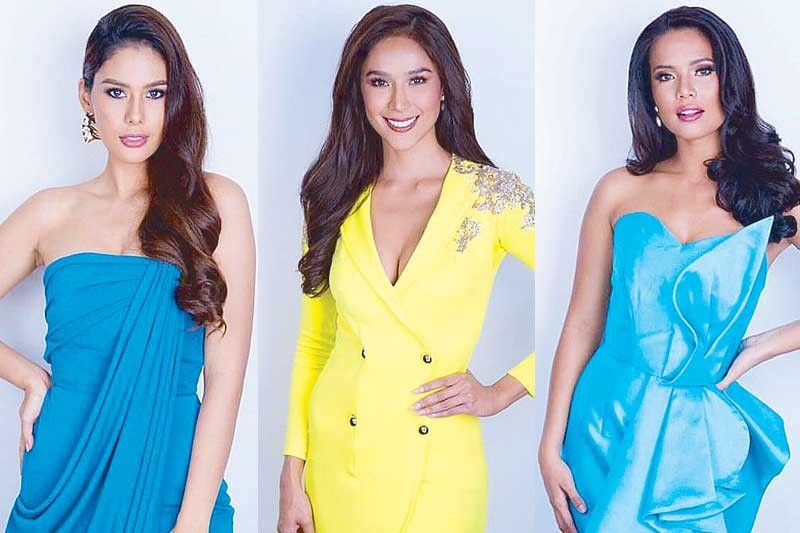 From Left: Vickie Marie Rushton, Samantha Bernardo and Leren Mae Bautista
Photos by Bruce Cassanova of BCPI
Returnees, crossovers & newcomers in 2019 Bb. Pilipinas pageant
MANILA, Philippines — One half of the 40 hopefuls in the 2019 Bb. Pilipinas pageant are returnees and crossovers from other pageants, with the rest newcomers vying for six titles (Universe, International, Supranational, qq Grand International, Globe and Intercontinental).
Winnowed from 84 aspirants, the official bets were revealed by Binibining Pilipinas Charities, Inc. (BPCI) at the final screening and announcement on March 18 at the New Frontier Theater in Cubao, Quezon City.
• The returnees (must have been inspired by Pia Wurtzbach who won on her third Binibini try and bagged the third Miss Universe crown for the country):
• Vickie Marie Rushton (2018 Bb. first runner-up),
• Samantha Mae Bernardo (2018 Bb. second runner-up),
• Aya Abesamis (2018 Bb. Top 15),
• Marie Sherry Anne Tormes (2018 Bb. Top 25, Best in Talent and Miss Friendship),
• Sigrid Grace Flores (2018 Bb. Top 25),
• Larah Grace Lacap (2017 Bb. Top 15),
• Kimberly Penchon (2016 Bb. Top 15), and
• Emma Mary Tiglao (2014 Bb. Top 15).
• Crossovers: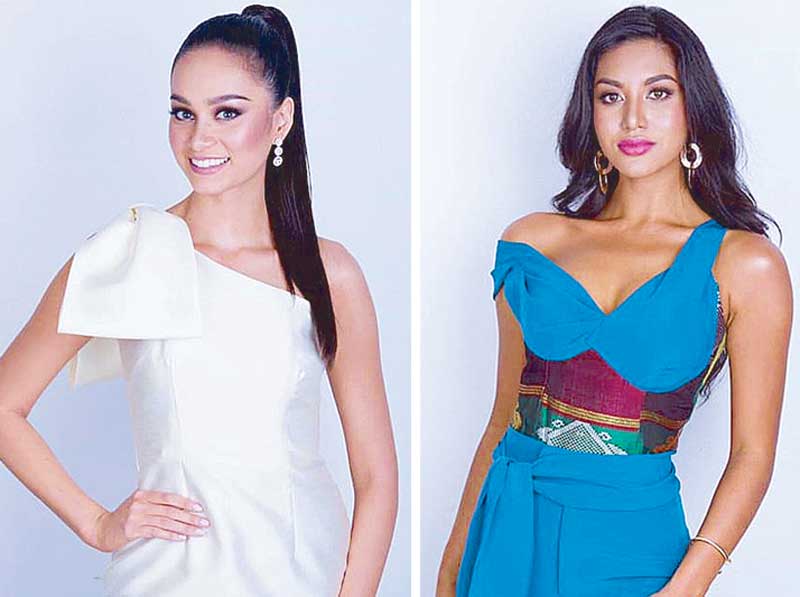 (Left) Hannah Arnold. (Right) Resham Saeed.
• Leren Mae Bautista (2015 Mutya ng Pilipinas winner, 2015 Miss Tourism Queen of the Year International winner in Malaysia),
• Ilene Astrid De Vera (2017 Mutya ng Pilipinas winner, 2017 Miss Asia Pacific International 4th runner-up in Pasay City),
• April May Short (2018 Miss Zamboanga),
• Hannah Arnold (2014 Miss Philippines Charity Queen in Australia),
• Jessica Marasigan (2017 Miss Philippines Earth-Water),
• Samantha Ashley Lo (2018 Best Model of the World candidate in Turkey),
• Jane Darren Genobisa (2017 Miss World Philippines candidate),
• Joanna Rose Tolledo (2018, Century Tuna Superbods finalist, 2016 Mutya ng Pilipinas Top 10 and 2016 Miss Philippines Earth top 12),
• Honey Grace Cartasano (2018 Mutya ng Pilipinas Top 25),
• Francia Layderos (2015 Daragang Magayon first runner-up),
• Danielle Isabelle Dolk (2018 Miss Lumiere Montage International),
• Jessarie Dumaguing (2013 Mutya ng Pilipinas candidate and 2017 Bb. MIMAROPA Festival Queen),
• Melba Ann Macasaet (2010 Miss Silka Philippines second runner-up),
• Gazini Christiana Ganados (2013 Miss World Philippines Top 13, 2015 Reyna ng Aliwan second runner-up and 2017 Miss Bohol first runner-up),
• Joahnna Carla Saad (2013 Reyna ng Aliwan second runner-up),
• Malka Shaver (2018 Miss Manila first runner-up and 2014 Miss Dumaguete),
• Jean Nicole Guerrero (2017 Miss Philippines USA), and
• Resham Ramirez Saeed (2017 Miss Philippines Canada).
• Newcomers: Bea Patricia Magtanong, Samantha Poblete, Danielle Joi Magno, Mary Faye Murphy, Dia Nicole Magno, Cassandra Chan, Maria Isabela Galeria, Julia Eugene Saubier, Alanis Reign Binoya, Louisielle Denise Amorog, Marianne Marquez, Pauline Anne Cordero, Rubee Marie Faustino and Martina Faustina Diaz.
• Reigning Bb. Pilipinas queens Catriona Gray (2018 Miss Universe), Karen Gallman (2018 Miss Intercontinental), Ahtisa Manalo (2018 Miss International first runner-up), Michele Gumabao (2018 Miss Globe Top 15), Jehza Huellar (2018 Miss Supranational Top 10) and Eva Patalinjug (Grand International) will crown their successors on June 9 at the Smart Araneta Coliseum.