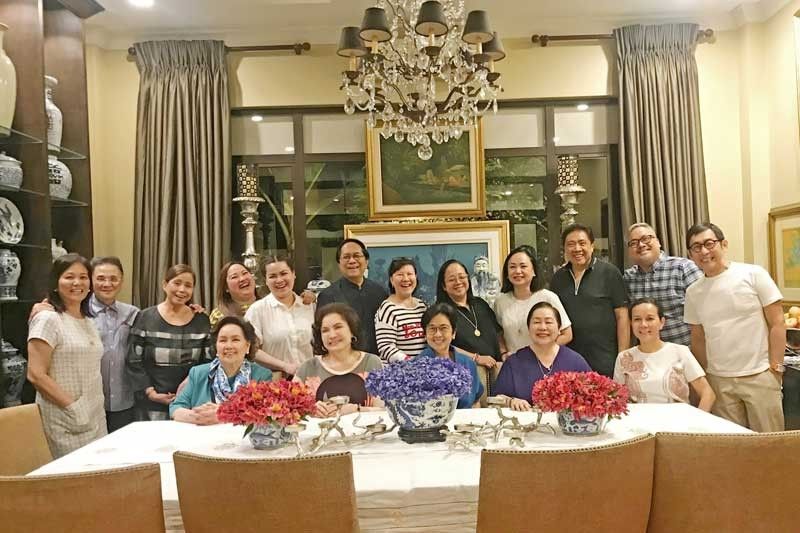 Helen Gamboa during last Sunday's 'Kainserye' of the Dabarkads (as differentiated from the Eat, Bulaga! group) at Sen. Grace Poe's home, standing from left: Malou Choa- Fagar, Ricky Lo, Mother Lily Monteverde, JP and Anes Victorino, Danny Dolor, Shirley Kuan, Veana Fores, Pat-P Daza, Tony Tuviera, Gelo Jamias, and Lawrence Tan; and seated also from left: Susan Roces, Helen, Madz Tuviera, Dolor Guevarra and Sen. Grace. (Present but missed the pictorial were Marichu 'Manay Ichu' Maceda and sister Betchay Nakpil.)
FUNFARE
-
Ricky Lo
(The Philippine Star) - January 19, 2019 - 12:00am
In case you have forgotten or are too young to know, Helen Gamboa-Sotto was hailed as a Dancing-Singing Queen at her prime (ask your parents when that was), fondly remembered for her iconic role in the LEA movie Bang-Shang-Alang (as musical-romcom flicks were then aptly titled) which immortalized her as the lady in knee-high boots, wearing a mini-skirt and dangling round earrings as big as Timog-Morato Rotunda.
Now known as Queen of the Kitchen, Helen doesn't dance when she cooks but she does sing…La Vie en Rose (when Maricel Soriano guested during the first season of Helen's show, From Helen's Kitchen) but not Thirty First of June which never fails to evoke sweet memories of yesteryear when love was young and all that made one's heart beat faster was romance.
The show will premiere the first of its 14-episode second season at 11 a.m. on Monday, Jan. 21, on Colours, exclusively on Cignal, with a stellar line-up of guests that includes Ai-Ai delas Alas, Lorna Tolentino, Janice de Belen, Eula Valdez, Mylene Dizon, Angelu de Leon, Bobby Andrews and Ryzza Mae Dizon, together with Helen's sister-in-law Pauleen Luna and daughter Ciara Sotto.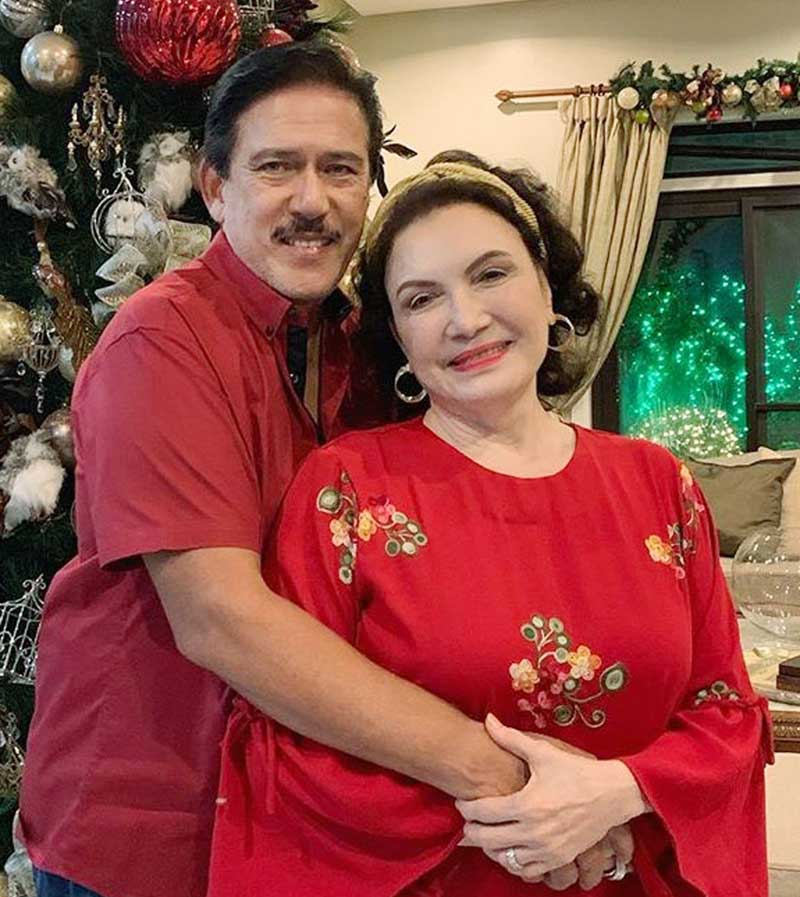 With husband Senate Pres. Tito Sotto.
At the Sotto residence in White Plains, Quezon City, Helen reigns supreme at the well-equipped kitchen, perhaps the cleanest and the most modern owned by a showbiz star. That's where Helen's show is shot, where she prepares family recipes that are featured in her book, Helen's Kitchen. At a presscon held at La Creperie (on Katipunan Avenue, Quezon City, a stone's throw from the Sotto home), Helen gave away Baked Macaroni which she herself prepared (yummy!!!).
Last Sunday during the Dabarkads' "Kainserye" at the house of Sen. Grace Poe, Helen brought Karioka and Hawaiian Salad as her potluck share, a welcome breather from the heavy stuff (Pochero, etc.) that she usually lays out at the buffet table. When she hosted one "Kainserye" at her home, Helen set up a boodle fight.
I love the Foreword Helen's husband, Senate Pres. Tito Sotto, wrote for Helen's book, comparing their courtship to Tito's favorite dish, nilaga, prepared with TLC (Tender Loving Care) by Helen.
It was light years away from being the person you know today, when I first met the woman who was to be my wife, on the set of one of her big movie projects, in 1967. It was love at first sight, for me.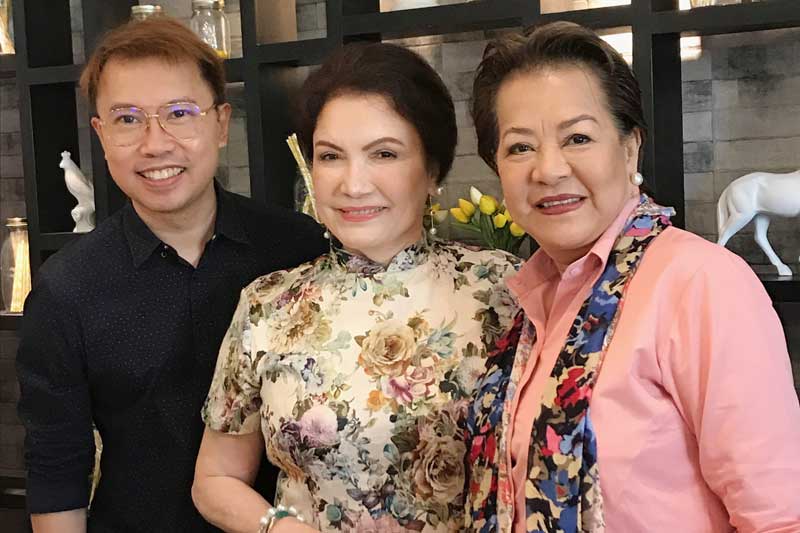 From Helen's Kitchen producer Perci Intalan and director Bibeth Orteza
That she was the star and I was just one of the members of the Tilt Down Men cast to provide music for a scene, did not matter. I dared to court her and because her mother, the late Eusebia Albert, was strict beyond words, I'd make up stories about needing to meet the star to discuss musical arrangements and stuff, when in fact, I was already professing my undying affection.
Believe it or not, ours was the classic kasal muna bago ligaw. We had already eloped and gotten married, September of 1969, but I still had to formally visit her three times a week after that. We were only allowed to live together after our church wedding in January of 1971, 14 months after our secret marriage.
Kung may tiyaga, may nilaga? You bet. Much, much more than just nilaga, too. With a cherub in heaven, four children and 10 grandchildren, we now enter our 50th year of wedded bliss. With God's grace, the good continues to steadily outweigh the bad.
I liken our relationship to a really good singing na baka, also incidentally the first dish she ever cooked for me. As I've said in many an interview, what we have is "Kumpleto ­— may gulay, may sabaw at may beef. Masarap at puwede pang maanghang," (It's all you need — vegetables, soup and beef. Delicious and at times spicy.)
For what is a good marriage closest to, but a really good meal? Completos recados as we oldies say, including family and friends we invite to partake of the goodness of home-cooked dinners.
Some people disagree with my politics, even hate it. But wow, I still have to meet someone who does not bow to Helen's cookery. So much so that if in my office she is referred to as the wife of the Senate President, in her kitchen I am gladly and proudly the husband of the cook.
Kelvin is the perfect partner for Kyline and Therese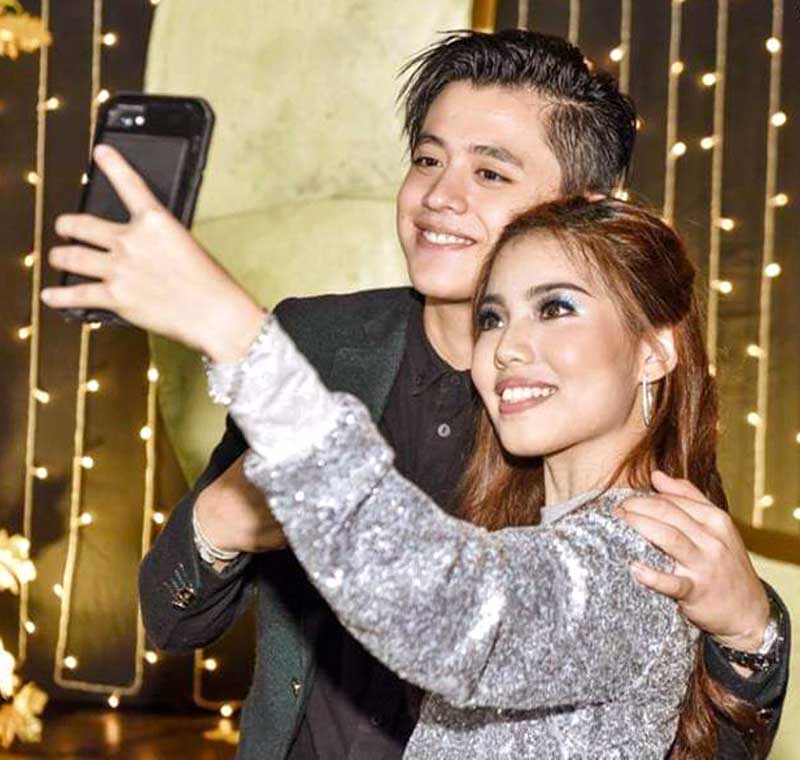 Swoon-worthy Kapuso actor Kelvin Miranda with Therese Malvar and Kyline Alcantara. They make a handsome pair, don't they?
Remember the swoon-worthy aspiring young actor featured in this section late last year?
He's Kelvin Miranda, 18, with dreamy looks highlighted by soulful eyes. Although he has had several exposures in Kapuso shows (Kambal Karibal as Alfred Vargas' younger brother, Ang Forever Ko'y Ikaw as Bruno Gabriel's friend, Sirkus as the young Gardo Verzosa, etc.), Kelvin hasn't really been given the big break that he badly needs even if he has "it" (good looks and potential acting talent).
Heard that GMA is looking for the leading man of Kyline Alcantara in the forthcoming musical-drama Inagaw na Bituin (also starring Therese Malvar). Kelvin possesses the qualities of the character who sings and dances and can act.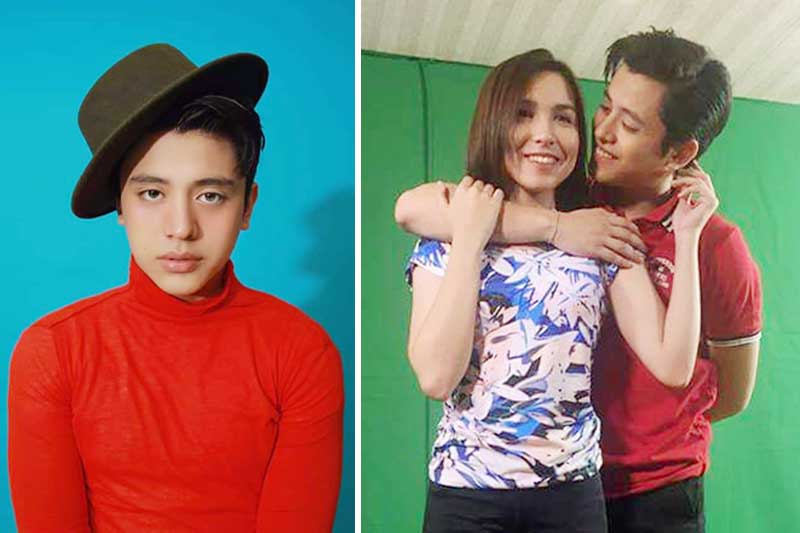 A trivia sent to Funfare by Kelvin's manager Tyrone Escalante quoted Kelvin as saying, "During my years at the Caloocan High School, I would humbly say that I was one of those recognized and being looked up to by schoolmates. I can sing, I can dance, I play music instruments, write poems and am fond of the arts. I actively participate in school programs, even if I am shy by nature."
There he is. Properly endorsed.
(E-mail reactions at rickylophilstar@gmail.com. For more updates, photos and videos, visit www.philstar.com/funfare or follow me on Instagram @therealrickylo.)