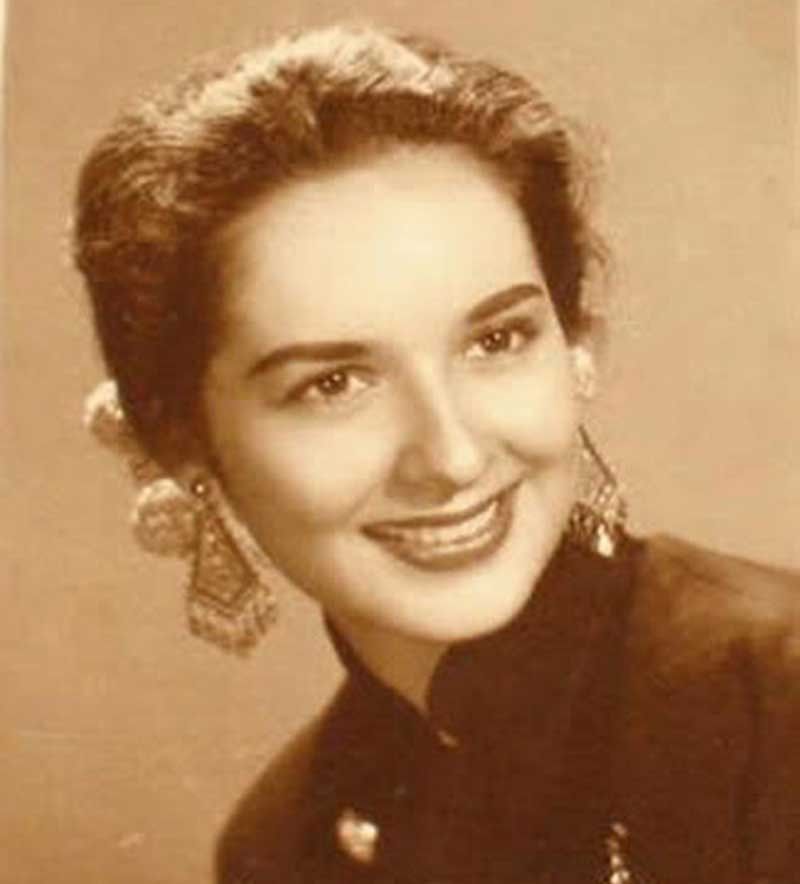 At 85, Gloria Romero looks back sans regret at a colorful career that started when she was 16, fresh from a small townin Pangasinan where she grew up with a star-studded dream
CONVERSATIONS
-
Ricky Lo
(The Philippine Star) - January 13, 2019 - 12:00am
There was an 18-year gap between the 2000 Metro Manila Film Festival (MMFF) when she won Best Actress for Laurice Guillen-directed family drama Tanging Yaman and the 2018 MMFF where she duplicated her victory for her performance in Rainbow's Sunset, also a family drama.
It was a fitting "surprise" gift for Gloria Romero turned 85 on Dec. 14, two weeks before the MMFF's Gabi ng Parangal. Asked how many awards she has harvested in a career that spans seven decades, the eternal First Lady of Philippine Cinema (and not only because she played then First Lady Imelda Romualdez Marcos in two movies, Iginuhit ng Tadhana and Pinagbuklod ng Langit) mumbled, "Oh my God, I have lost count," and broke into a demure laughter that has been her trademark in the volatile industry that she loves so much that she has never left it, not even when at her prime she married Juancho Gutierrez, her fellow Sampaguitan who was among the Glamour Boys of the '50s and '60s.
This corner's "other beauty expert" Celso de Guzman Caparas furnished Converations the list:
• FAMAS — 1954 Best Actress for Dalagang Ilocana, 1988 Best Supporting Actress for Nagbabagang Luha; and 2000 Best Actress for Tanging Yaman;
• Gawad Urian — 2000 Best Actress for Tanging Yaman, and 2003 Best Supporting Actress for Magnifico;
• Film Academy Awards (FAP) — 2000 Best Actress for Tanging Yaman and 2003 Best Supporting Actress for Magnifico;
• Metro Manila Film Festival (MMFF) — 2000 Best Actress for Tanging Yaman and 2018 Best Actress for Rainbow's Sunset;
• PMPC Star Awards for Movies — 1987 Best Supporting Actress for Saan Nagtatago ang Pagibig?;
• PMPC Star Awards for TV — 1988 Best Comedy Actress for Palibhasa Lalake;
• Young Critics Circle — 2000 Best Performance (Lead Actress) for Tanging Yaman;
• Golden Screen Awards — 2009 Best Performance by an Actress in a Lead Role (Musical or Comedy) for Fuschia;
• Gawad Tanglaw — 2010 Best Supporting Actress for Tarima;
• Lifetime Achievement Awards — Cinemanila International Film Festival (2001), FAP (2002), FAMAS (2004), Gawad Urian (2004), MTRCB (2009) and PASADO (2010); and
• Special Awards from FAMAS — Huwarang Bituin (2009) and Iconic Movie Queen of Philippine Cinema (2015).
Through the seven decades, Gloria has played all kinds of roles, including being "uglified" in Kurdapya (with her beautiful face pockmarked), fitted with fangs as a manananggal in Anak ng Aswang and cast as a scheming cruel mother-in-law in some movies. Still and all, they failed to tarnish her immaculate-white image that made her the perfect choice for the role of Virgin Mary in Lenten plays.
She is as glorious as ever, untainted by scandals and put on a pedestal by fans and colleagues.
Note: The italicized portions of the following Conversation are excerpts from previous interviews with Gloria.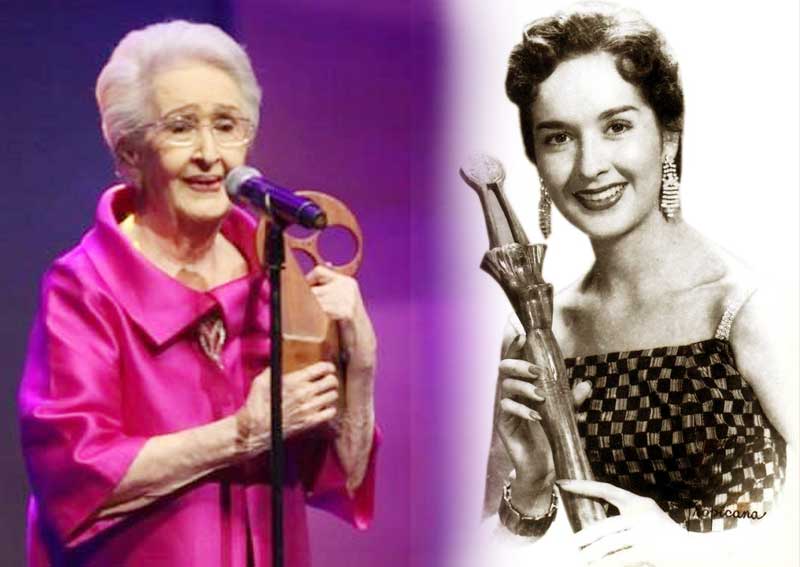 Then and now: Gloria won her first Best Actress (FAMAS) award in 1954 for Dalagang Ilocana (right) and her latest (left) at the recent 2018 MMFF for Rainbow's Sunset.
You are so good in Rainbow's Sunset (as the wife of Eddie Garcia who is into an age-old bromance with a childhood friend played by Tony Mabesa, with the former winning a Special Jury Prize and the latter Best Supporting Actor). From where or what did you draw your performance which is so natural (effortless)?
"It's a family movie and I just acted naturally, 'yung pagka-nanay ko sa tunay na buhay. And the director, si Joel (Lamangan), was really very good in explaining the scenes."
What's in the role that you found attractive?
"It was the script (by Eric Ramos). When they offered me the project, first thing I did was ask for the script. I checked the script…medyo makapal, but I thought siguro in half an hour matatapos kong basahin. I wanted to put it aside kasi gabi na and just read it the next day. But then, I decided to read only the first half of it sana, until I finished reading the whole script because I was curious to find out how the story would end. (Eddie's character dies ahead of Tony's character who is terminally-ill. ­— RFL) Nabitiwan ko 'yung script at tumulo ang luha ko! I called them and said, 'Yes, I will accept it.' Nakakaiyak, eh!"
You were predicted to win hands down…
"I didn't expect to win even if they were telling me that the movie is good. Hangga't hindi ina-announce ang pangalan ko, hindi ako umaasa. I'm used to that already."
It was beautiful birthday gift for you.
"Oh yes. I never expected to win any more award at my age…85."
You don't hide your age, unlike most women, hehehe!!!
"I've always been honest about my age. Why should I? Baka sabihin ng mga tao, 'Bata pa ako, artista na 'yan,' baka pagtawanan ako. I don't like to tell a lie. I'm proud of my age. I thank the Lord for giving me this kind of life. I started in showbiz when I was 16 and I'm still around."
Sometime in 1949, after graduating from a small-town high school in Pangasinan, Gloria came to Manila and appeared as an extra (a tavern girl) in Prinsipe Don Juan starring Anita Linda and in Bahay na Tisa starring Leila Morena, both produced by Premiere Productions. Then she sought out her uncle Tenario Rosales, the chief editor at Sampaguita Pictures, who brought her to Dolores "Mommy" Vera (the Sampaguita matriarch) who cast her, again as an extra, in Kasintahan sa Pangarap starring Pancho Magalona and Tita Duran, her favorite actress. "I was one of the models-models at pa-dance-dance kami doon," recalled Gloria. It didn't take long before the perennial extra became a bida. The rest, as they would say, is history.
"I walk to a supermarket near our house as a form of exercise and people always ask me how old I was." (adding with a laugh). "Gusto ko nang magsuot ng karatula na may nakasulat na 'I am 85!' They tell me, 'My lola is your fan' and I would say, 'Say hi to your lola for me.' I also walk to a church nearby. 'Yan din ang exercise ko."
You have preserved your looks. (Gloria was once a Karilagan model and a beauty queen.)
"I never had a facelift, only facials."
You are careful with your health.
"I eat anything. I used to eat lots of rice because I loved rice, pero binawasan ko na."
At work, do you have a cut-off time?
"It's usually 9 p.m. but sometimes I stay longer if we have to finish some scenes. If my call time is morning, I would report to the set already made-up. If the director doesn't like my make-up, puede na i-retouch on the set. When we were on location shooting for Magkaribal (a GMA soap) in Laguna, I would wake up at 5 a.m. I am happy to say that I have never been late on the set. I've never been the cause of delay."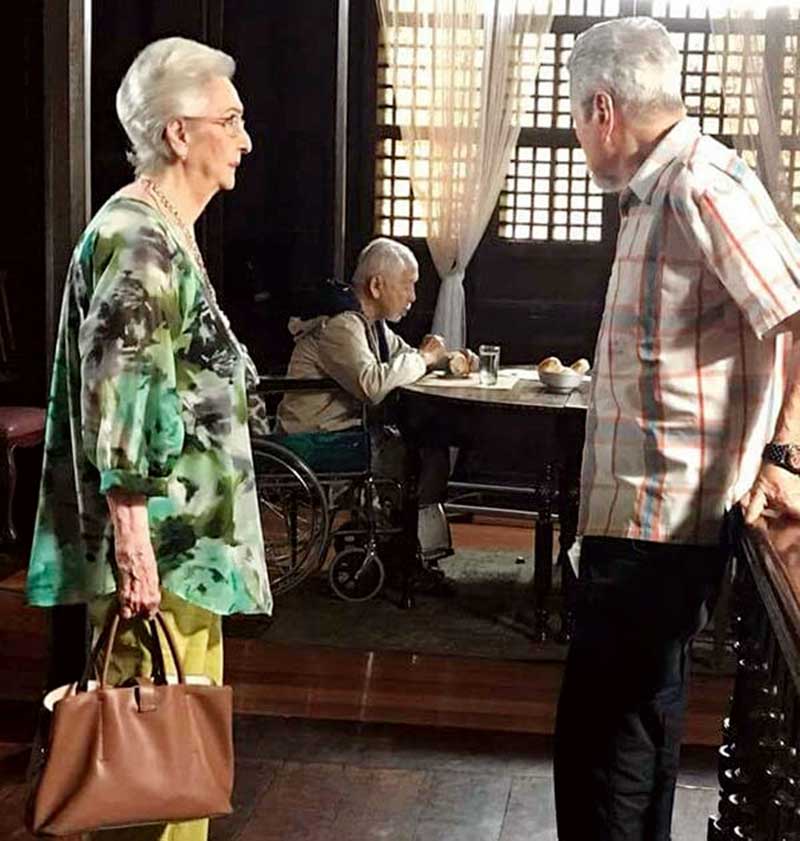 With Eddie Garcia and Tony Mabesa (background) in Rainbow's Sunset: When I wake up every morning, I start my day by thanking the Lord. 'Kayo na po ang bahala sa akin,' I would say.
Even during your Sampaguita days?
"Yes, Mommy Vera used to remind us, 'You are being paid so huwag kayong mag-inarte. Huwag kayong mali-late sa trabaho.' We had a strict training at Sampaguita. We were really taken care of, we were built up, inalagaan talaga kami. If we had to be in public, dapat nakaayos kami, especially during premiere nights when we would all go together in a studio bus to the theater. I owe what I am now to Sampaguita. Utang na loob ko kung ano man ako ngayon sa Sampaguita. I lost my mom when she was 28 and it was Mommy Vera who acted as my mom."
So unlike most young stars today na makikita mong pakalat-kalat kung saan-saan, sometimes not properly dressed.
"During our time, we were reminded to be properly dressed even if we only had to go to the market, kasi ang tingin ng mga tao sa artista ay hindi tao, nilalagay nila sa pedestal. Kung hindi ka naka-ayos, people might say, 'Ay, hindi pala maganda sa personal.' That was then. On the other hand, stars today are lucky because they are accepted even if they are married o kaya may anak na."
I think you have made more than 250 movies (a conservative estimate). Could you name three as your personal favorites?
"Dalagang Ilocana. I was 21 when I did it and won my first (FAMAS) Best Actress award. I was shocked when they called my name. Sabi nila, 'Magpasalamat ka.' I was so nervous that all I could say was, 'Thank you!' It was the first time that comedians won, kami ni Fred Montilla.
"There's also Magnifico where I played the grandmother of Jiro Mano. I won Best Supporting Actress for that movie.
"And also Tanging Yaman in which I played the matriarch of a clan na may Alzheimer's. That movie gave me my first MMFF Best Actress award."
You developed very beautifully from a comedienne into a serious drama actress.
"At Sampaguita, I also started to do dramatic roles, mga light drama roles lang —- you know, 'yung api-apihan at sinasampal-sampal. Later in my career when I started playing roles na may pagka-kontrabida, I joked, 'Makakaganti na ako; ako naman ngayon ang mananampal.' I still remember what Dr. (Jose) Perez told me when I asked him to give me a dramatic role. Sabi niya, 'Hindi bagay sa'yo.' So parang na-challenge ako."
If you were to live your life all over again, would you do it the same way?
"Yes, I would. I would still be an actress, I would marry the same man…wala akong inibig na iba kundi siya lang…I would still have Maritess as my daughter and her son Christopher as my grandson. Walang babaguhin. Maybe, I should have continued my studies even when I was already in showbiz.
"When I wake up every morning, the first thing I say is, 'Thank you Lord, for giving me another day. Kayo na po ang bahala sa akin. I love you, Lord!' That's how I usually start my day."
(E-mail reactions at rickylophilstar@gmail.com. For more updates, photos and videos, visit www.philstar.com/funfare or follow me on Instagram @therealrickylo.)