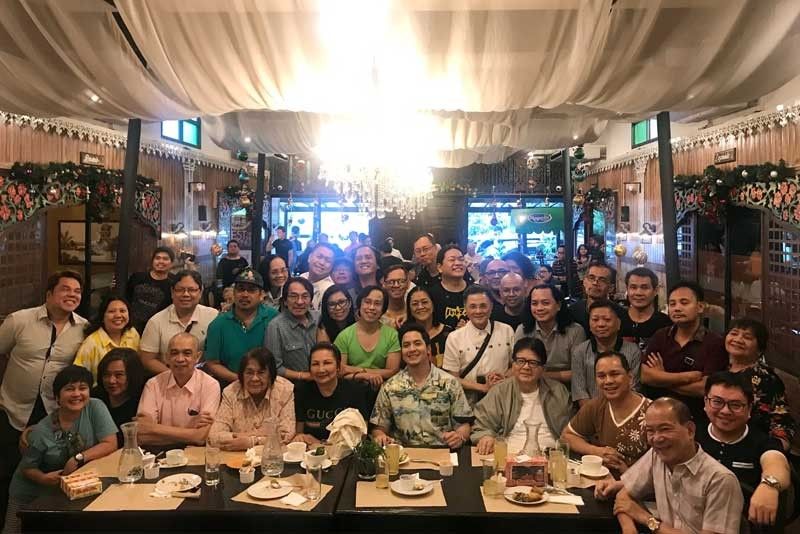 Alden Richards hosts his annual thanksgiving party for movie writers Sunday afternoon at the family-owned Concha's restaurant on Scout Madrinan St. (across from Il Terrazzo), Quezon City
Is Alden putting lovelife 'on hold'?
FUNFARE
-
Ricky Lo
(The Philippine Star) - January 9, 2019 - 12:00am
Despite the lingering speculation that he has a "secret" girlfriend (first reported in this corner two years ago and was promptly denied), Alden Richards (who turned 27 on Jan. 2) insisted that he hasn't found the right girl yet. Thus, it's not right to say that he's putting his lovelife "on hold" because there's none.
"It's fake news," smiled Alden. "If ever I have a lovelife, I will tell you."
Is he, uhm, choosy? What kind of girl is he waiting (not looking) for?
"Somebody who possesses the qualities I am looking for," he said during an "ambush" group interview after he presided over a raffle that highlighted the annual thanksgiving party for movie writers last Sunday at the family-owned Concha's restaurant (on Scout Madrinan St., across from Il Terrazzo, Quezon City). "It doesn't matter if she's showbiz or non-showbiz, at 'yung looks ay bonus na, as long as she's understanding at maiintindihan niya ang gusto ko. But at this time, it's hard to find one like that. Sana this 2019 magka-lovelife na ako."
His AlDub partner Maine Mendoza perfectly fits the bill but so sorry, they are just friends. But Alden added that, in fact, he and Maine are closer now than ever.
"We are more open to each other," admitted Alden, "but we don't meddle in each other's personal life. Being a gentleman, hindi ako nanghihimasok sa buhay niya, although if she's willing to share I'm also willing to listen."
Maine is rumored to be "dating" (usually with a group) Arjo Atayde who appears with her in Jack Em Popoy, a Metro Manila Film Festival (MMFF) entry also starring Vic Sotto and Coco Martin on extended run in some theaters after the filmfest officially ended on Jan. 7. But Alden wouldn't comment about that.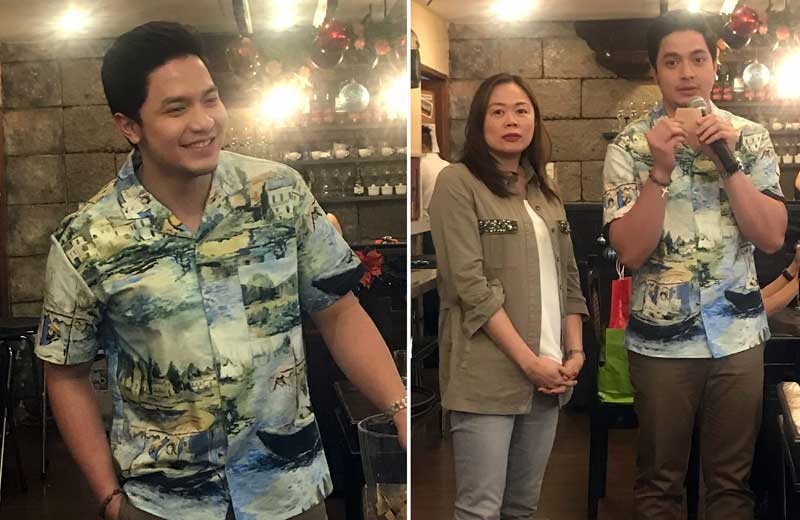 Alden fields 'personal' questions after conducting a raffle assisted by Gigi Santiago-Lara (GMA senior assistant vice president for Alternative Productions)
Asked if something about AlDub went wrong since he and Maine have lately been pursuing different directions, Alden said no.
"It was a matter of choice. I'll leave it at that. I would say that our temporary separation has even helped us because we learned so many things; marami kaming natutunan. AlDub is still solid, as alive as ever. The AlDub Nation continues to support even in our individual projects."
Hopefully (keep your fingers crossed, AlDub Nation!), Alden and Maine might be together again in the Philippine version of the hit Koreanovela Descendants of the Sun. "But nothing is final yet," added Alden. "What I also hope to do is a movie…not a romcom but something with a dark story, something different from Imagine You & Me (his 2016 hit starrer with Maine). The last time I did a dark character was in The Road in 2011." (Yam Laranas, director of the movie, said, "Alden played a murderer of a 12-year-old unsolved case.") "I want to go back to drama (after the GMA action-adventure series Victor Magtanggol) para ma-iba naman ang maipakita ko."
By the way, the issue about Alden's lovelife cropped up after he said, "I am at my happiest."
"What I mean is that I'm very happy with all the blessings I got in 2018. I helped a lot of people and I brought my family on another vacation in Japan." (In 2017, the family also spent Christmas in Japan. They planned to go to the States last year but they changed the plan because Alden's grandfather wasn't up to the long flight.)
Besides Concha's in Quezon City, the restaurant also has a branch in Tagaytay City. In April (Easter Sunday), Alden will open his own McDonald's franchise in Biñan, Laguna (near the University of Perpetual Help), just like that of Maine's in Bulacan.
"Our family is an avid fan of McDonald's," said Alden. "We often eat at a McDo branch at a supermarket near our place. Maine shared the idea that McDo is a good business. 'Masarap na mahirap,' she told me. My little sister will manage our McDo business. It's also Maine's sister who is managing their McDo business."
Both he and Maine are McDo endorsers.
"No," explained Alden. "Walang special treatment sa amin. We followed the regular process in getting a franchise."
Karen Gallman hosts bets of 2018 Miss Intercontinental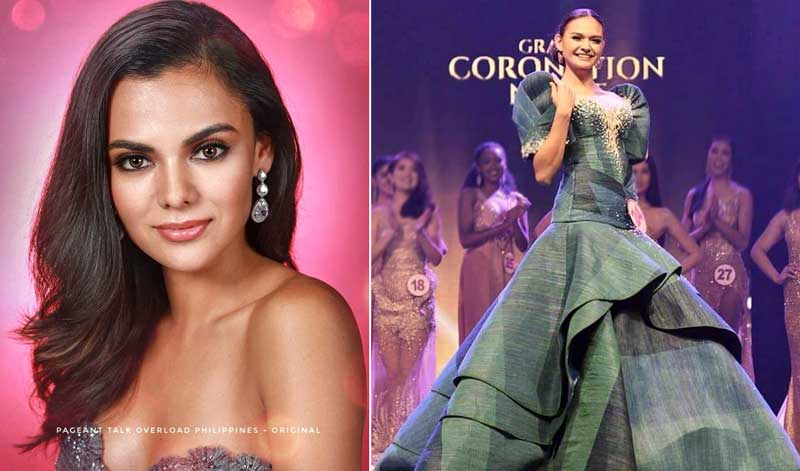 Boholana beauty queens 2018 Bb. Pilipinas Intercontinental Karen Gallman (left) and 2018 Mutya Global Beauty Pauline Amelincx (right), who was Miss Bohol 2017
2018 Bb. Pilipinas Intercontinental Karen Gallman plays host to 85 other delegates of the 47th Miss Intercontinental that will have the grand finals from on Jan. 26, even as she aims for the country's first-ever Miss Intercontinental crown. Bb. Pilipinas Charities, Inc. started sending its delegate in 2014 with Kris Tiffany Janson placing second runner-up to Patraporn Wang of Thailand, Christi McGarry first runner-up to Russia's Valentina Rasulova in 2015 and Katarina Rodriguez first runner-up to Mexico's Veronica Salas Vallejo in 2017.
Some 172 local designers will dress up the candidates, 86 for evening gowns and the other 86 for Filipiniana ensembles. The winning designers will receive $1,000 each. The Sofitel Philippine Plaza Manila is the official residence.
The calendar of events is as follows: Arrival of candidates, Jan. 8-9; Press Presentation, Sofitel, 3 p.m., Jan. 10; National Costume Competition, Sofitel, 7 p.m., Jan. 11; Swimsuit Competition, Okada, Jan. 16; Evening Gown Competition and Filipiniana Fashion Show, Okada, 6 p.m., Jan. 17; and Grand Coronation Night, MOA Arena, 7 p.m., Jan. 26. — Reported by Celso de Guzman Caparas
Meanwhile, Peter Dejaresco, publisher of Bohol Chronicle, told Funfare that Bohol has actually produced two beauty queens last year. Besides Karen Gallman, who traces her roots to Ubay, Bohol, there's also Pauline Amelincx, crowned Mutya ng Pilipinas Global Beauty, a half-Filipino/half-Belgian who is from Tubigon town.
Karen was born on Sept. 27, 1992. Her parents are retired World War II German soldier Gavin William Gallman and Editha Boyonas. Pauline was raised in Brisbane, Australia, but spent her childhood in Ubay. She graduated with a Business Arts degree major in Management at the Griffiths University in Brisbane.
Other beauty queens from Bohol: Anna Igpit, one-time Bb. Pilipinas World, and Rich Asuncion, a Bb. Pilipinas first runner-up.
(E-mail reactions at rickylophilstar@gmail.com. For more updates, photos and videos, visit www.philstar.com/funfare or follow me on Instagram @therealrickylo.)