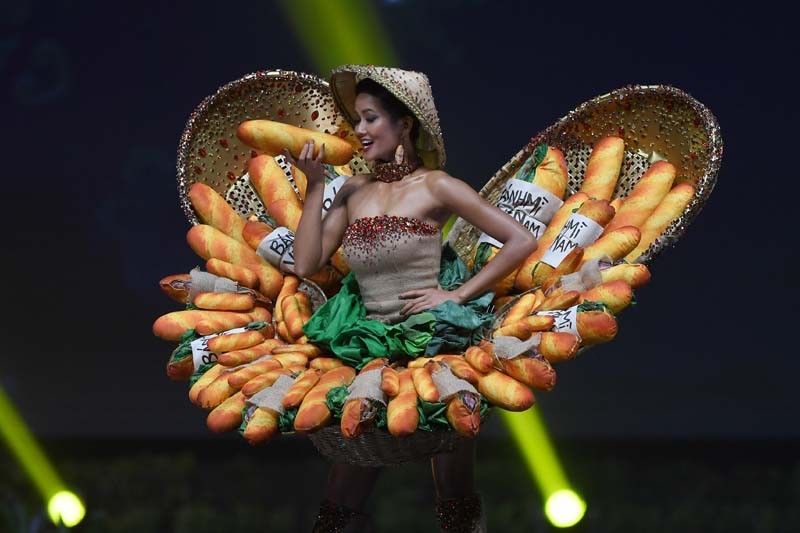 H'Hen Nie of Vietnam poses on stage during the 2018 Miss Universe national costume presentation in Chonburi province on December 10, 2018.
AFP/Lillian Suwanrumpha
From nanny to Banh Mi: Miss Universe reveals Vietnam's humble beginnings
MANILA, Philippines — From her national costume inspired by a Vietnamese sandwich, to her English that made other candidates talking, Miss Vietnam H'Hen Nie has been among the trending candidates at this year's Miss Universe pageant.
During the preliminary competition on December 13 at Impact Arena, Bangkok, Thailand, H'Hen's struggles as a candidate were read by the show's Thai emcee as she modeled her yellow dress at the evening wear contest.
"This 26-year-old Finance major served as a nanny, serving food and cleaning houses to go to college," the emcee said.
The third oldest of six children, H'Hen is reportedly the first and only Miss Universe Vietnam that hails from an ethnic minority. According to her Rade tribe's customs, women are supposed to marry and start a family early. H'Hen, however, refused to follow the tradition and insisted to continue her education.
To support her Business Finance studies at the College of Foreign Economic Relations in Ho Chi Minh City, H'Hen worked as a domestic helper for a year. During her internship in a bank, she shifted to modeling as a way to support herself and her studies.
After college graduation, she was discovered by a Vietnamese designer and later on joined "Vietnam's Next Top Model," where she placed 9th.
In 2017, she joined Miss Universe Vietnam and her short hair and tanned skin, which departs from the usual Vietnamese beauty standard of long hair and fair complexion, became her ticket to success.
In an interview, H'Hen revealed that the title helped her not only pay her family's debts, but also donate her entire $10,000 cash prize to provide scholarships in the schools where she came from. She continues her advocacy as a global ambassador for non-profit organization Room to Read, which aims to provide resources for girls' literacy and education programs.
During Miss Universe's preliminary competition, Miss Vietnam and Miss USA Sarah Rose Summers were in the same group at the long gown round. It can be recalled that a viral video showed Sarah Rose allegedly making fun of Miss Vietnam and Miss Cambodia's English, making her earn the ire of some netizens who called her a "racist" and a "bully."
READ: Netizens slam Miss Universe queens over 'racist' comments vs Vietnam, Cambodia
Sarah Rose has since then issued an apology for her behavior in the video.
READ: Miss USA apologizes for 'racist' comments vs Vietnam, Cambodia

H'Hen posted the same photo as Sarah Rose's apology, and captioned the photo: "We all did the great job on the stage tonight! Sleep well and tomorrow will be brighter, my girls. Hugs and kisses. We are a family."
RELATED: How Miss Vietnam's national costume 'Banh Mi' was chosen
Apart from Miss Vietnam's background, among those that stole the spotlight during the evening gown portion were Miss Virginia Limongi Ecuador, who said in her bio that she modeled in the Philippines; Miss Israel, who is the only one who competed in the round wearing pants and tuxedo; and Miss Japan, who advocated Japanese minimalism in a plain ball gown with no embroidery or ornament.
During the evening gown portion, it was also revealed that Miss Kyrgyzstan Begimay Karybekova is the first ever to represent her country in Miss Universe.
Likewise, during the turn of Miss Philippines Catriona Gray, it was unraveled that she proudly raised funds to purchase and renovate an old apartment building in Manila.
"This 24-year-old turned the building into a child care center, a school offering free education to children," the emcee said of Catriona's bio while she modeled her evening dress inspired by Philippine mythological character Ibong Adarna.
READ: Philippines' Catriona Gray goes 'Ibong Adarna' for Miss Universe evening gown
The 93 queens will continue their fight for the title during the coronation night on December 17.