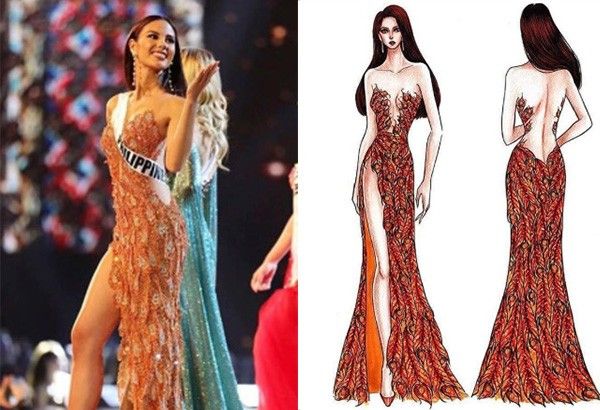 Miss Philippines Catriona Gray wearing a Mak Tumang creation at the preliminary contest (left); the designer's sketches for the dress.
Instagram/Mak Tumang
Philippines' Catriona Gray goes 'Ibong Adarna' for Miss Universe evening gown
MANILA, Philippines — Miss Universe Philippines 2018 Catriona Gray surprised fans when she chose none of the sketches revealed on Facebook by her designer, Mak Tumang, and instead, went for a golden sweetheart gown with a thigh-high slit for the evening gown preliminary competition of the Miss Universe 2018 pageant.
As a result, Catriona was a standout in a sea of white dresses that flooded the evening gown portion.
Like her national costume, her evening gown is full of meanings drawn from Philippine history and folklore.
On his Instagram posts, Mak explained the inspiration behind Catriona's evening gown, which he called, "ADARNA: The Blazing Siren."
"Inspired from the Philippine Adarna Bird, Phoenix & Mikimoto Crown," said the designer, who also created Catriona's Binibining Pilipinas dress.
"The 'Ibong Adarna' is a mythological pulchritudinous bird that could change in several fascinating guises. Its enchanting voice can enable complete healing to anyone who hears it. Some artists liken it to the mythological Phoenix where it recurrently regenerates itself by arising amidst a spectacle of flames and candescence. This makes it a fitting symbol of resilience, rising and rebirth," the designer explained.
Like the gown's inspiration, according to Mak, "Catriona has a resilient, tenacious and unwavering spirit. Her voice is truly captivating literally and figuratively. She uses it to influence, advance her timely causes and both melt and heal hearts. Her will-power and burning passion drive her to make every Filipino proud in whatever she does. She is the blazing Adarna! Watch her rise in glory along with our hopes and dreams for our beloved country: the Philippines!"
In a previous post, Mak revealed that he made seven sketches, four prototypes and three gowns with the help of 16 artisans for Catriona's evening gown.
The gowns, he said, took 2,712 hours of "fastidious process" to create, using over a million pesos worth of materials.