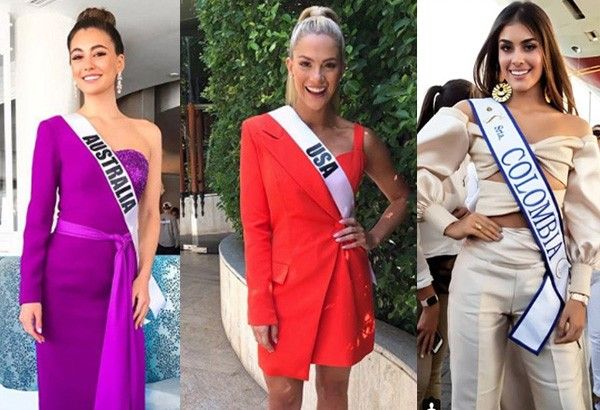 From left: Miss Australia Francesca Hung, Miss USA Sarah Rose Summers and Miss Colombia Valeria Morales Delgado
Instagram/Francesca Hung, Sarah Rose Summers, @andresibarra_84
Netizens slam Miss Universe queens over 'racist' comments vs Vietnam, Cambodia
MANILA, Philippines — Miss Universe candidates Sarah Rose Summers of USA and Francesca Hung of Australia are now in hot water for their viral video, allegedly making fun of fellow contenders' difficulty in speaking English.
In a YouTube video uploaded by Miss Universe Superfan, Sarah Rose and Francesca can be seen doing a video commentary, together with Miss Colombia Valeria Morales Delgado.
Related video: Miss Universe representatives from USA, Colombia and Australia on bets from Vietnam and Cambodia
"Francesca, the other day, Miss Cambodia is here and doesn't speak any English and not a single other person speaks her language," Sarah Rose said in the video.
"Can you imagine? Francesca said, 'That will be so isolating,' and I said, 'Yes and just confusing all the time,'" Miss USA continued.
"You at least speak good English," Sarah Rose told Valeria.
"And Brazil doesn't speak English," Miss Colombia said afterwards.
"Poor, Cambodia," said Miss USA.
Later on in the video, Sarah Rose asked Francesca and Valeria: "And what do you think about Miss Vietnam?"
"Fash-yon," Valeria said, seemingly imitating how Miss Vietnam H'Hen Nie pronounced the word "fashion."
"She pretends to know so much English and after having a conversation and you ask her a question, after having a whole conversation with her, and she goes… (laughs) She's adorable," Sarah Rose said of Nie.
The next clip in the video shows Miss USA and Miss Australia hugging Miss Cambodia.
Though the queens seemed to have sorted things out, some netizens were not convinced, calling Sarah Rose and Francesca "racists" and "bullies."
"Chaka!" a Filipino netizen commented.
"I don't respect people who normalize xenophobia (and never will)," said another netizen.
"MIss USA 2018 making fun and being critical of Miss Vietnam is uncalled for. I quote, 'Miss Vietnam 'PRETENDS' that she speaks really good english and after a whole conversation when you ask her a questions she's like...' and mocks miss Vitnam by imitating her reaction. This is not what young woman should be doing while representing a country like USA or any other country. They are young but they are also an example to many young women. If that girl makes it at all into the 20 semifinalist, the pagent will be a disgrace and dissapoinment for many young girls and women who follow the show," another netizen added.
"Wow I'm so disappointed in you. I was rooting for you as a fellow usa but now I want the everyone to know the USA is not like that. We are good and fair people. Apologize to miss Vietnam, you are such a mean person!" another netizen commented.
Summers and Delgado have been named as among the pageant's "frontrunners" by critics such as pageant-dedicated website Missosology.
The queens are among the 93 contestants competing for the Miss Universe 2018 crown to be decided on December 17 in Bangkok, Thailand. — Video from YouTube/MissUniverse Superfan