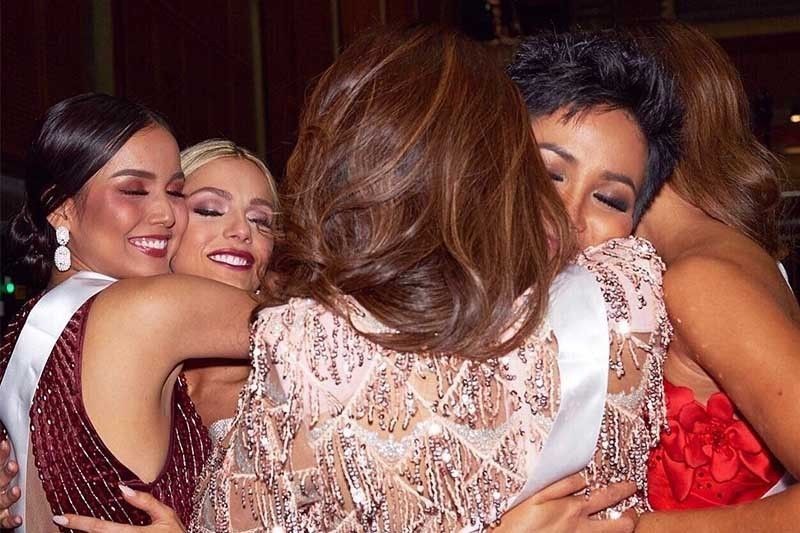 Miss Universe USA Sarah Rose Summers posted a photo of her and four other beauty queens sharing a hug.
Screenshot from Miss Universe USA Sarah Rose Summers' Instagram
Miss USA apologizes for 'racist' comments vs Vietnam, Cambodia
(Philstar.com) - December 14, 2018 - 10:32am
MANILA, Philippines (Update 2, 10:43 a.m.) — Miss Universe USA Sarah Rose Summers apologized on her Instagram account for a video where she was allegedly making fun of her fellow pageant contenders' difficulty in speaking English.
Sarah Rose posted a photo of her hugging Miss Universe Cambodia Rern Sinat. Also in the photo are Miss Universe Australia Francesca Hung, Miss Universe Colombia Valeria Morales Delgado and Miss Universe Vietnam H'Hen Nie.
READ: Netizens slam Miss Universe queens over alleged 'racist' comments vs Vietnam, Cambodia
"In a moment where I intended to admire the courage of a few of my sisters, I said something that I now realize can be perceived as not respectful, and I apologize," Sarah Rose said in the caption of her post.
She added that she would never intend to hurt others.
Sarah Rose then said that she is grateful that she had the chance to speak with Miss Cambodia and Miss Vietnam about what happened.
"These are the moments that matter most to me," she added.
Sarah Rose was put in hot water after she was seen in a video that has made rounds in social media saying: "Francesca, the other day, Miss Cambodia is here and doesn't speak any English and not a single other person speaks her language."
"Can you imagine? Francesca said, 'That will be so isolating,' and I said, 'Yes and just confusing all the time,'" Sarah Rose added.
She was also seen in a next clip asking Miss Australia and Miss Colombia: "And what do you think about Miss Vietnam?"
Miss Colombia, Delgado, said: "Fash-yon."
Sarah Rose replied: "She pretends to know so much English and after having a conversation and you ask her a question, after having a whole conversation with her, and she goes... (laughs) She's adorable."
Social media users criticized Sarah Rose for her comments that seemingly showed casual xenophobia and racism.
Meanwhile, Miss Universe Vietnam H'Hen Nie also posted the same photo in her account and captioned it with: "We all did the great job on the stage tonight!"
The Cambodian beauty queen added: "Hugs and kisses. We are family."
Miss Universe Cambodia Rern Sinat also posted the photo and said that the experience "have given us the opportunity to show and learn different cultures."
"I speak the language of love, respect and understanding. I love you my sisters," Rern added.
The five beauty queens shared the stage with 88 others on Thursday night for the preliminary competition, which included swimsuit and evening gown competition.
RELATED: In photos: Miss Philippines Catriona Gray at Miss Universe 2018 swimsuit competition | Philippines' Catriona Gray goes 'Ibong Adarna' for Miss Universe evening gown
The coronation night will be held on December 17, in Bangkok, Thailand. — Kristine Joy Patag