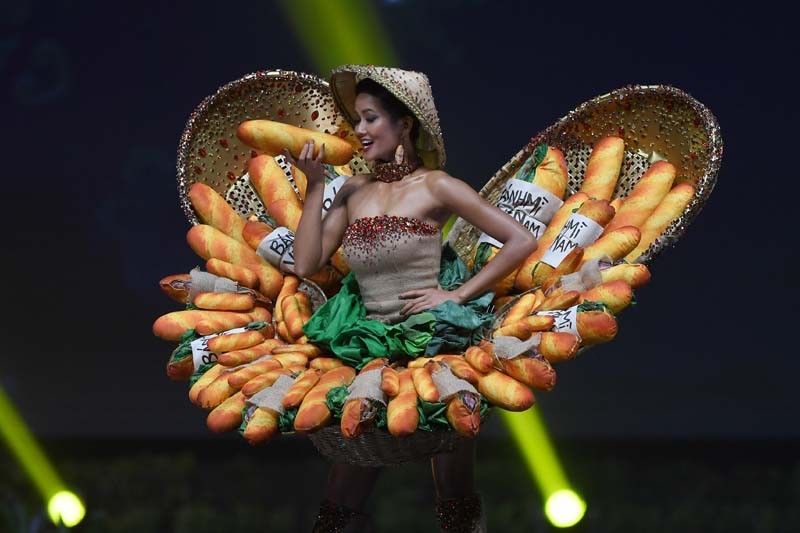 H'Hen Nie of Vietnam poses on stage during the 2018 Miss Universe national costume presentation in Chonburi province on December 10, 2018.
AFP/Lillian Suwanrumpha
How Miss Vietnam's national costume 'Banh Mi' was chosen
MANILA, Philippines — Vietnam's representative for Miss Universe 2018, H'Hen Nie, turned heads at the National Costume competition held in Pattaya,Thailand on Monday evening when she showcased her country's most popular fast food, "banh mi" or Vietnamese bread as her official costume.
Months prior to the national costume show, Miss Universe Vietnam held poll to choose the official costume for Nie.
Miss Universe Vietnam in October asked the public to vote for six other costume choices for Nie's national costume until they come up with the top 3 costumes.
Audience selection comprised 40 percent of the final score while 60 percent of the score came from the judges.
From November 5 to 7, the public voted from the top three potential costume choices for Nie which included Ngu Ho, Pho Co and Banh Mi.
"Whether you go to the poorest areas of the North and Central Highlands, or the most exquisite places of HCM (Ho Chi Minh) City and Hanoi, you will find the presence of bread. For foreigners, seeing banh mi and pho (noodles) they will think of Vietnam," Nie was quoted by Vietnam News.
Nie then embodied one of Vietnam's most iconic food at the National Costume competition. She carried three basket full of Banh mi and used the Vietnamese's conical hat as her headpiece.
In Miss Universe 2017, Malaysia's then Representative Samantha Katie James also wore her country's famous food, Nasi Lemak in the pageant's national costume show.
Nasi Lemak is the the rice dish served in banana leaf.