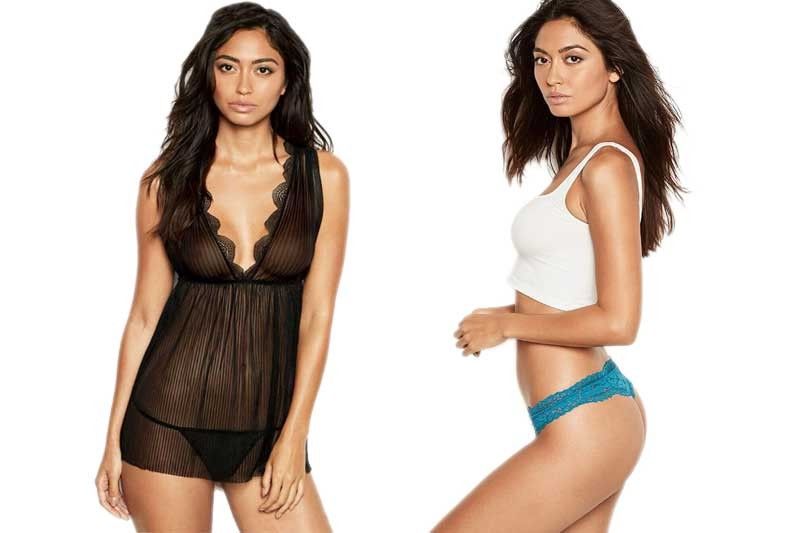 Ambra Battilana Gutierrez, who was recently signed up as a Victoria's Secret model, clarifies that she's not a #MeToo. "I am a 'fight back'. I told my story before everybody else did."
Fil-Italian 'whistleblower' says she has 'no regrets'
FUNFARE
-
Ricky Lo
(The Philippine Star) - October 5, 2018 - 12:00am
Three years after she broke open a Pandora's Box of "sexual harassment," Fil-Italian model Ambra Battilana Gutierrez said that she has no regrets even if her landmark revelation left her jobless and depressed.
"I did what I thought was right," Ambra, here for a week-long visit, told Funfare.
The name might not ring as many bells as that of Harvey Weinstein, the Hollywood mogul whom Amber accused of "sexually harassing" her in 2015. A case against Weinstein has been filed in a US court so, according to Ambra, "I should not go so much into the case," except to briefly rehash what happened on that fateful day in New York City when she claimed, and as recounted by a New York Post story, Weinstein "attempted to force himself on her in his office." Barely an hour after what happened, Ambra reported the incident to the police. What followed was splashed in headlines all around the world, in newspapers, TV newscast and social media.
"Did I consult my family before I did it?" asked Ambra whose mother is Filipina (from Calamba, Laguna) and father is Italian. "I did it on my own."
Asked if she was aware of the adverse effects her "whistleblowing" would have on her career, Ambra said yes without blinking.
"Nobody listened," she recalled. "Nobody believed me. I was called a liar, a blackmailer, a prostitute and so many names that I was not. I was a victim of fake news. The media wasn't kind to me. I was in bad health and I fell into depression. I was jobless but I was contented with the thought that I did a good job in telling my story and saving other people in the process."
It was Ambra's shocking revelation that led to the #MeToo movement which now counts as followers actresses and other celebrities who kept quiet for years and might have remained so had not Ambra spoken up.
In an interview with a US paper, Ambra clarified, "I was never a #MeToo," she was quoted as saying, "I was a 'fight back.' I went to the police and everything. It's not that I sat down until, it was safe for me to speak."
She felt kind of "vindicated" when big-name Hollywood actresses came out to tell their own stories kept "on hold" for years and perhaps would have been in secrecy until Ambra spoke up.
She added in that US paper interview, "The #MeToo movement has two different faces. Some people use #MeToo in the wrong way. I feel that #MeToo is for the collective benefit. Somebody speaking bad about someone else to ruin their careers is not good."
Born in Turin, Italy, Ambra and her brother Klaudio, also a model, were raised single-handedly by their mom.
"She went to Italy when she was 19," said Ambra, "and that's where she met my father."
It was also in Turin where Ambra studied. At 18, she competed in the Miss Italy pageant and finished among the finalists. After graduating college, she went to London to pursue a modeling career (starting with the Elite agency) that brought her to Paris and then New York where she met her, so to speak, date with history.
In 2016, Ambra came back planning to stay for good. She took the chance to compete in the Century Tuna Superbods pageant and finished a runner-up. Then she went back to New York. Her recent homecoming was delayed by the filing of the case against Weinstein. One of these days, she just might be called to testify, that's why she said she couldn't talk too much about the case.
Asked what she planned to do while she's here (aside from resuming her modeling career), Ambra said, "I want to speak up so that my voice will be heard. I'm speaking about what's happening in the world. I want to share my experience and give strength to others to make them also make a difference."
Things are starting to pick up, she noted.
"I was signed up by Victoria's Secret," revealed Ambra, 25, probably the first Filipina to have scored the honor before a Fil-Am followed suit. "Two months ago, I did a pictorial for Victoria's Secret's catalogue (for lingerie). Something good is happening to my career, to my life, and I am in a happier place now."
Rep. Vilma Santos an instant fan of R.S. Francisco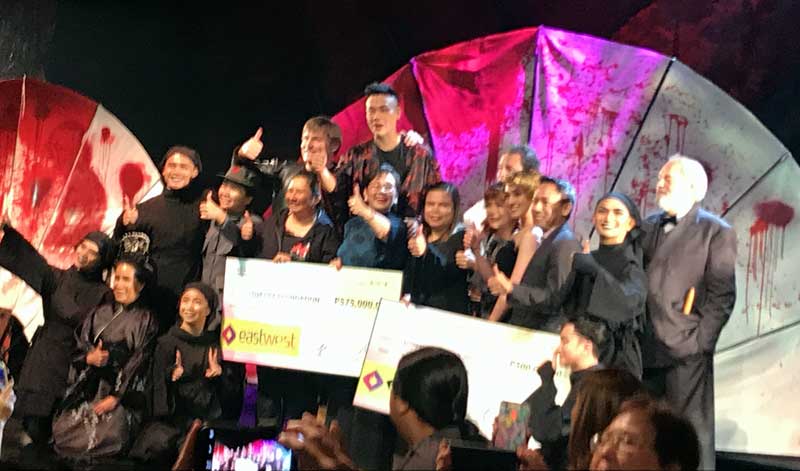 At curtain call, Batangas Congresswoman Vilma Santos (center) flashes a thumbs-up as she joined the cast of the M. Butterfly onstage after she received a P500,000 donation for his Love for Lipa Foundation.
Until R. S. Francisco went to her office in Congress, Batangas Rep. Vilma Santos said that she didn't have a clear idea who R.S. was. R.S. was there to invite Ate Vi to watch M. Butterfly which R.S.'s Front Row Entertainment co-produced with Grammy/Emmy winner Jhett Tolentino, so he could personally present to her the P500,000 donation from the proceeds of the musical.
"It was during that visit when I learned that R.S. won best Actor for his performance in Bhoy Intsik," said Vi. "Ang sarap ng kuwentuhan namin. At ang dami kong nalaman tungkol sa kanya."
Last Sunday, Sept. 30, Vi took time out from his airtight schedule and watched the 3 p.m. matinee of M. Butterfly in which R.S. reprised his role as Song Liling 28 years after he first did it. Like the other performances since it opened on Sept. 13, the Maybank Theater at BGC (Bonifacio Global City) was a full house and all the proceeds from all the performances were donated to various charities, one of them Vi's Love For Lipa Foundation.
At curtain call, with the audience giving R.S. and company a standing ovation, Vi was called to the stage to receive the P500,000, thanking R.S. while gushing over the musical (that is going on provincial tour from early January 2019 to mid-February, covering Iloilo, Davao, Baguio and two other cities).
"I became an R.S. instant fan," Vi later told Funfare. "Ang husay-husay niya!"
Star endorsers boost stocks of Beautederm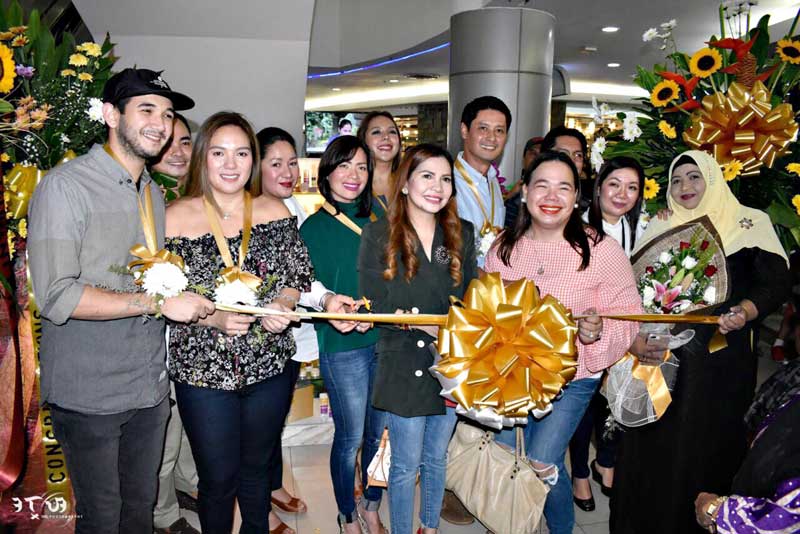 Beautederm owner-manager Rhea Tan (center) during the ribbon-cutting at the opening of an outlet with some endorsers including Matt Evans, Sylvia Sanchez, Alma Concepcion, and Glydel Mercado and husband Tonton Gutierrez and Darla Sauler.
For sure, Rhea Anicoche-Tan is missing her job as a radio talent in Ilocano drama at a Baguio station where she was moonlighting while finishing a Masscom course at the St. Louis University and later as host of the 9 p.m.-to-12 midnight slot of Love Radio in Manila. But she doesn't regret having put up Beautederm after working first at Avon before selling appliances.
"In nine years," Rhea reported, "we have put up more than 41 outlets nationwide. We have several celebrities as endorsers who really help boost our company's image and reputation."
The endorsers include Carlo Aquino, Arjo Atayde and his mom Sylvia Sanchez, Jimwell Stevens, Matt Evans, Tonton Gutierrez and wife Glydel Mercado, Shyr Valdez, Alma Concepcion, Maricel Morales, Rochelle Barrameda, Darla Sauler, Anna Feleo, Alynna Velasquez, Jinky Vidal and Alex Castro.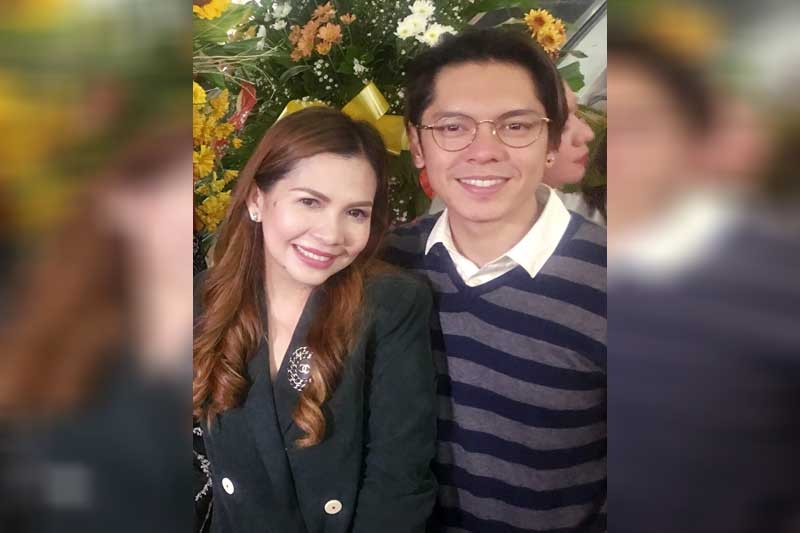 ...plus Carlo Aquino.
As Funfare was saying, it helps that Rhea has a gift of gab, an asset in the kind of business she is in. She also competed in oratorical and declamation contests.
"My mom, who was a teacher, was maboka (loves to talk) and I got that 'talent' from her," confessed Rhea to Funfare in a previous interview. Beautederm is a local brand from Angeles City, Pampanga, that started as a small family business. "I let my products do the selling. I mean, my clients are the ones who come to me and not the other way around." Beautederm manufactures and distributes more than 60 products that include whitening soap and lotion, facial care kits, bleaching items, and many more, including scented candles and insect repellants.
"God has been good to me," Rhea added.
Today, Beautederm has expanded to countries like Australia, Canada, Hong Kong, Malaysia, Singapore and some in Europe and the USA.
(E-mail reactions at rickylophilstar@gmail.com. For more updates, photos and videos, visit www.philstar.com/funfare or follow me on Instagram @therealrickylo.)