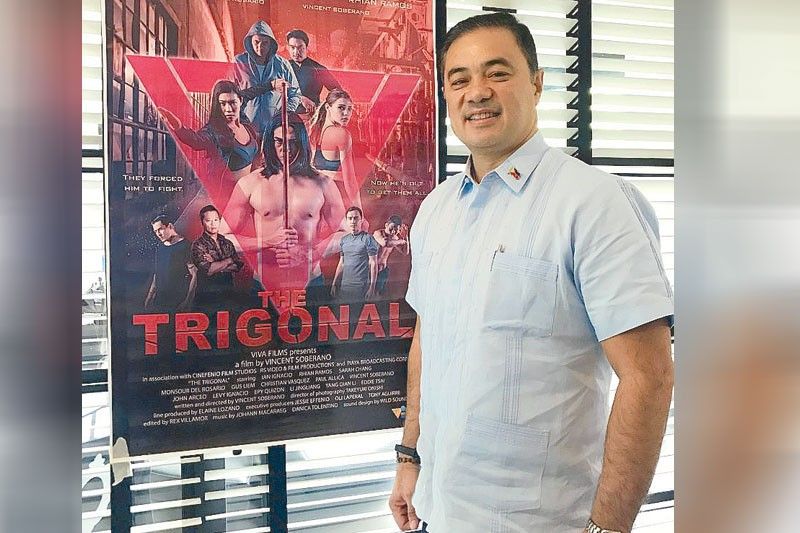 Makati Rep. Monsour del Rosario: As a public official, he avoids playing roles that would badly reflect on his person
Why Monsour said no to Probinsyano not once but twice
FUNFARE
-
Ricky Lo
(The Philippine Star) - September 22, 2018 - 12:00am
Yes, it's true: Makati Rep. Monsour del Rosario did turn down an offer to appear as guest in FPJ's Ang Probinsyano (which marks its third anniversary this month and is extended until next year) not just once but twice, for reasons of delicadeza.
"They were saying that all my contemporaries are appearing on the series at ako na lang daw ang hindi pa," Monsour told Funfare. "Of course, I was happy and honored that they invited me but there was a hitch."
The first offer was for him to play a congressman and that was right up Monsour's alley. He initially said yes until he learned that the congressman was the protector of a drug lord in the city so he begged off. The second offer was for him to play a police general and he liked it until...
"I would be wearing a uniform like General Bato and I thought it was nice," continued Monsour. "Then they told me that the general was the protector of a congressman who was a protector of a drug lord so I politely turned it down. Same banana, di ba?"
According to Monsour, as a public official, he has a responsibility not just to his constituents but to the whole country so he's careful about accepting screen roles that would reflect badly on his person.
"Otherwise, if I was not a congressman, I would have readily accepted the Probinsyano offer," explained Monsour who served two terms as Makati councilor before he ran for Congress. "It would have been okay if they asked me to play, for example, Coco Martin's mentor who inspires him to be a good officer."
But Monsour couldn't say no to two movies: Regal Films' Because I Love You (with Shaira Diaz, directed by Joel Lamangan) as the father of newcomer David Licauco and Viva Films' Trigonal (directed by Vincent Soberano and also starring, among others, Ian Ignacio, Rhian Ramos and Sarah Chang) in which he would have been the bida but for a conflict of schedule, so he settled for a supporting role.
"I couldn't be in Negros for the month-long shoot because of my work in Congress where we have sessions from Monday to Wednesday. I would have to fly to Negros to shoot Thursday to Sunday but it was not an ideal set-up," said Monsour, a taekwondo champion.
So what he did was recommend Ian, son of Levi Ignacio who happened to be Monsour's friend and his student in taekwondo.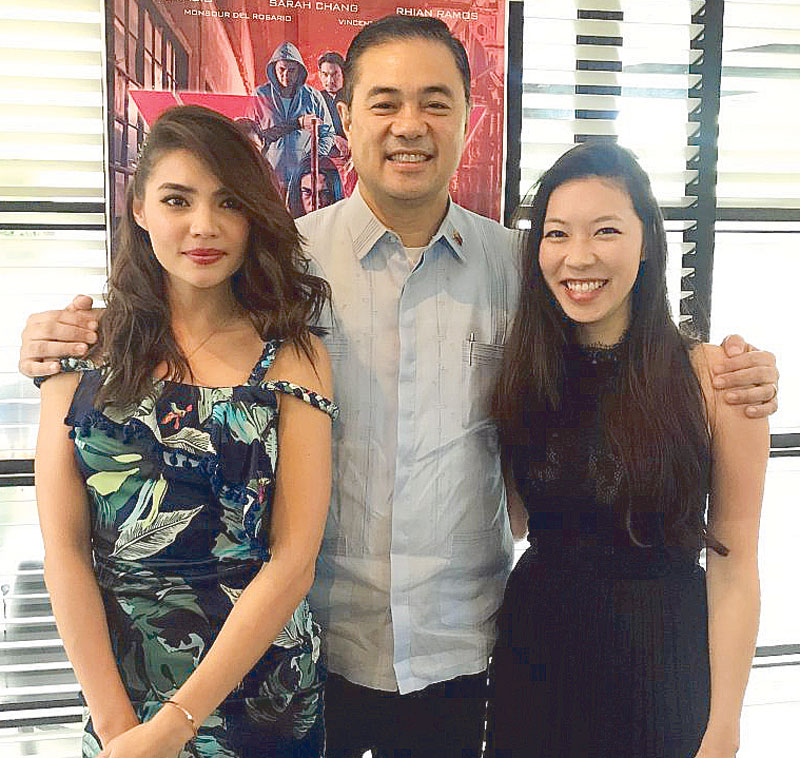 Monsour with Trigonal co-stars Rhian Ramos and Sarah Chang: A role close to his being a taekwondo champion
"Ian is a theater actor and a black belter martial artist so bagay sa kanya 'yung role. The movie's dialogue is in English because it will be shown in China and the US, as well as in international film festivals. My role is similar to that of Mr. Miyage (played by Noriyuki 'Pat' Morita) in Karate Kid, an instructor to a young martial artist."
Trigonal is Monsour's first movie in 13 years, the last having been Uno (with Ronnie Ricketts) which was inspired by The Assassins starring Sylvester Stallone and Antonio Banderas — "Except for the ending," clarified Monsour, "In the Hollywood movie, Banderas and Stallone kill each other and in Uno, magkakampi kami ni Ronnie against Mark Gil's character."
Casually mentioned as one of the 24 "possible" senatorial bets under Pres. DU30's party, Monsour said that if not selected (for the 12 official bets), he would be happy to run for reelection in Makati probably with the ticket of Junjun Binay who might run against his sister Abby (the incumbent) for the same position that he once held.
"I have until early next month to decide," added Monsour.
Once an athlete, always an athlete, so Monsour hasn't set aside that side of him. He competed in the 1988 Olympics and participated in the 2013 SEA Games in Myanmar and the same games in Manila next year. In his capacity as president of Philippine Combat Sports Council, he helps athletes. In December last year, he was inducted into the Hall of Fame Korea, with the distinction as Man of the Year for Taekwondo, the first foreigner and the only Filipino to be so honored. Taekwondo originated in Korea. The plaque was awarded to Monsour by the president of the World Taekwondo Federation.
Despite his breakneck schedule as a public servant (distributing wheelchairs, attending wakes and fiestas, etc.), Monsour finds time to work out.
"I train in martial arts twice a week," shared Monsour (whose mom is Greek-Syrian-Turkish and dad is Filipino-Chinese). "I see to it that no matter how tight my schedule is, I get at least six hours of sleep."
For somebody who, as he put it, "wasn't raised in a political atmosphere," Monsour is proving himself worthy of his constituents' trust.
"I lost the first time I ran for councilor in Makati," admitted Monsour. "I was in the ticket of Lito Lapid (who became senator) and we both lost. In the beginning, I told Lito, 'Huwag nang politics; shooting na lang tayo.' But I have no regrets. That was a humbling as well as a learning experience."
(E-mail reactions at rickylophilstar@gmail.com. For more updates, photos and videos, visit www.philstar.com/funfare or follow me on Instagram @therealrickylo.)