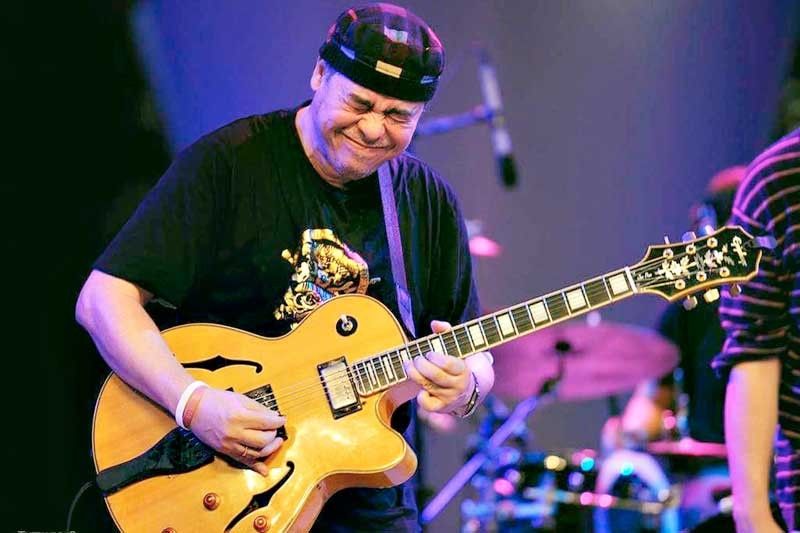 Premier jazz guitarist Johnny Alegre and his new electro-jazz collaboration, Group Libertad, will perform today at the Kansai Music Conference, Osaka, Japan.
Chameleon guitarist resurfaces
BLITZ REVIEW
-
Juaniyo Arcellana
(The Philippine Star) - September 15, 2018 - 12:00am
Once every several years someone calls on the phone about a new gig or CD or concert, and it can't be other than the jazz guitarist Johnny Alegre, whose musical acquaintance dates back more than 40 years to the time he was still enrolled at the UP Conservatory. Afternoons in Diliman where tunings and opera rehearsals were de rigeur, permeating the campus air with sound and vision.
The last time maybe around four years ago it was about a music festival in Chennai, to which Alegre's band Humanfolk had been invited. This latest adventure entails a trip to Japan over the weekend, with his latest collaborative project Group Libertad slated to play at the Kansai Music conference in Osaka.
Well, the guy has always had several things going at the same time, indeed Alegre had already been multitasking long before the term was invented, but this latest baby has been described as electro-jazz, and his fellow musicians are multi-instrumentalist Dan Gil (not to be confused with his phonetically sounding tocayo whose hit "Sometimes when we touch, the honesty's too much" is enjoying a resurgence of sorts) and vocalist Uela Basco, whose phrasing and bemused renditions would have us swear she's black but isn't.
That's the picture so far, the chameleon guitarist dabbling with a pair fresh out of the Chillitees, acid jazz close to the bone a la Soul II Soul.
But wait, there's more. Attached via Soundcloud to the e-mail release is a sampler from Group Libertad, whose origins can be traced to a bar or café in that Pasay City area, just some friends jamming since 2017 until viola, what could be the first single, Reunion, was born.
The guitar runs are unmistakable and subtle as ever, a bit of a tease in minor scale, while the keyboards and horns or what could be horns, hover in the background and lay the groove like a taste of amnesty. And the voice, yes, there should be more where that came from, there should be soul where that came from.
"So nice to reconnect," the phrase goes almost nonchalantly, jazz and chill and then some, certainly a long way from the College of Music where Alegre used to trade licks with Tots Tolentino, then onto the UP Jazz Ensemble with the fellow's windy reputation preceding him, followed by Hourglass and Phase 2 with the irrepressible In Love With You of the now mythical RJ transcendental parking lot concerts in old Sta. Mesa, long before it became Radio Bandido.
He'd drop out of sight for years only to resurface like a chameleon, Alegre in the new century was preoccupied with Affinity, who has a number of tunes accessible on YouTube, among them Jazzhound and Beacon Call. Then the side project Humanfolk with the cutie Abby and at one time even featuring Cynthia Alexander, nabola rin niya, always reinventing himself forever on the run.
Not to forget the jazz trio of foreign sounding names recorded by a foreign label, in at least a couple of albums of standards and improvisations and changing time signatures a la bebop but isn't.
It's been a long strange trip of course, now does anyone know the way to Osaka with Group Libertad and a reunion of those to the music born? Even or perhaps especially to the enlightened, extermination is not a lesson to be taught, the author Claire Messud once wrote. Unless it is Libertad you are talking about, killing the masses softly with their brand of morning becomes electro-jazz.