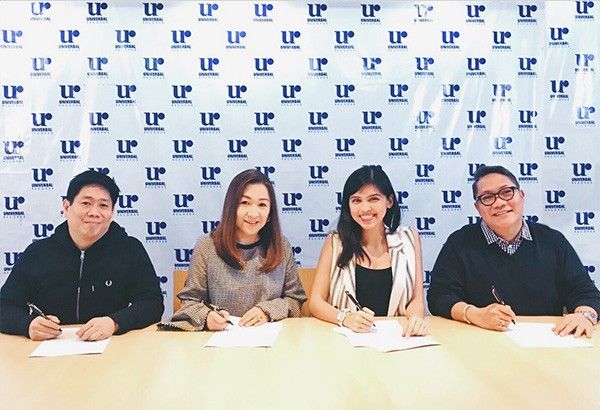 From left: Universal Records Operations Manager Peter Chan, Universal Records General Manager Kathleen Dy-Go, Maine Mendoza, Business Manager Rams David
Universal Records/Released
Maine Mendoza marks 3rd anniversary with record deal, #MainelandiaFair2018
MANILA, Philippines — Actress, TV host and "Phenomenal Star" Maine Mendoza gave fans a teaser of her upcoming single as a newly signed recording star of Universal Records.
During Maine's recent Mainelandia Fair 2018 celebrating her third year in showbiz, the budding singer indulged fans with a rendition of the Coldplay classic "The Scientist." Maine is a big fan and was a special guest of Coldplay during the British rock band's Manila concert last year.
Thank you sa inyong lahat! So blessed to be surrounded and loved by people like you. Salamat talaga. Sana nagenjoy kayo! Sa susunod ulit! #MainelandiaFair2018 https://t.co/PBMV3cIHsH

— Maine Mendoza (@mainedcm) July 8, 2018
Happy 3rd year anniversary @mainedcm!! Thanks for having us! #mymp #mainelandiafair2018 #mainemendoza pic.twitter.com/nVHrfDeG6A

— MYMP (@MYMP2010) July 8, 2018
The Phenomenal Star, Maine Mendoza!!! Concert feels!!!

#MainelandiaFair2018 pic.twitter.com/yK0YLXloDR

— One Above All (@AldubandBeyond) July 8, 2018
Previously, Maine can be heard singing on TV commercials as well as on her daily noontime show, "Eat Bulaga!"
Recently, Maine has become a certified recording star as she has officially signed a record deal with Universal Records. The contract signing was held at the Universal Records office. Present during the signing were Universal Records General Manager Kathleen Dy-Go, Operations Manager Peter Chan, Business Manager Rams David, and Maine.
Hints of Maine's signing first hit the web after Universal Records posted a teaser photo of a "mystery girl" wearing a leather jacket bearing the word Universal on it. Fans were quick to catch on, as #MaineForUniversalRecords became the number one trending topic on Twitter in the Philippines and worldwide not long after the teaser was posted.
The mystery girl was finally shown to be non-other than Maine herself on June 22, as posted through a "big reveal" video, further exciting her fans.
Kathleen Dy-Go, General Manager of Universal Records says in a statement: "We're very happy to welcome Maine into the Universal Records family, and very excited to be working with her for her upcoming projects."
Signing with Universal Records is just the latest accolade for the 23 year-old star, as she celebrates her third anniversary in show business. Rising to stardom after being introduced as Yaya Dub on the hit noontime show Eat Bulaga, Maine has amassed a number of endorsements, TV shows, box-office hits, and a best-selling book. Now, Maine is more than ready to trade in her dubsmash skills to pursue a recording career, adding to her many talents.
Maine now joins Gary Valenciano, Christian Bautista, Noel Cabangon, The CompanY, Parokya ni Edgar, Gloc-9, Sponge Cola, Ice Seguerra, Shanti Dope, Christian Bautista, and Elmo Magalona in the elite roster of Universal Records' prime artists.
Maine's debut single under Universal Records will be launched this 2018.