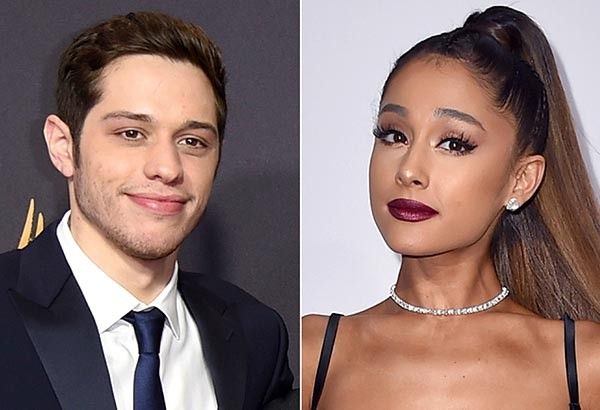 This combination photo shows comedian Pete Davidson at the 69th Primetime Emmy Awards in Los Angeles on Sept. 17, 2017, left, and singer Ariana Grande at the American Music Awards in Los Angeles on Nov. 20, 2016. During an appearance on "The Tonight Show Starring Jimmy Fallon," on Wednesday, June 20, 2018, Davidson confirmed that he is engaged to Grande.
AP Photo
Pete Davidson confirms engagement to Ariana Grande
(Associated Press) - June 22, 2018 - 1:17pm
LOS ANGELES (AP) — It's true, Pete Davidson says: He and Ariana Grande are engaged.
The "Saturday Night Live" cast member confirmed their rumored engagement to Jimmy Fallon on NBC's "Tonight Show."
Fallon put Davidson on the spot Wednesday, telling him he didn't have to get engaged to the pop star to come on the talk show.
Replied Davidson: "But I did, though."
When Fallon congratulated him and shook his hand, Davidson said he felt like he'd won a contest.
He's getting nods of approval on the street from other men, the comedian said, with one telling him, "Whoa, man, you gave me hope."
Robert Pattinson also was on the show, smiling as the host and Davidson bantered.
Grande and Davidson reportedly began dating in May after Grande's breakup with Mac Miller. Davidson and girlfriend Cazzie David also split around the same time.
NBC released a pre-air clip of the "Tonight Show" exchange between Davidson and Fallon.
Tonight Pete Davidson confirms his engagement to Ariana Grande. Here's a sneak peek. Tune in to #FallonTonight for the full interview. pic.twitter.com/NjxmZ2njgR

— Fallon Tonight (@FallonTonight) June 20, 2018