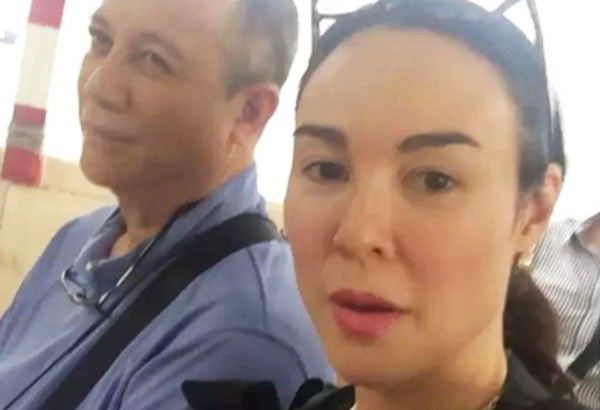 Actress Gretchen Barretto and partner businessman Tonyboy Cojuangco
Screenshot from Instagram/Gretchen Barretto
Gretchen Barretto, Tonyboy Cojuangco react to 'mistress,' 'gold digger' accusations
MANILA, Philippines (Updated June 15, 6:27 p.m.) — Actress Gretchen Barretto admitted she is the mistress of businessman Tonyboy Cojuangco, but it took her time to admit it, even suffering from depression in the process.
In an Instagram live video on June 9, Gretchen and her friends apologized for a video showing them laughing while reading the request of a netizen. In the same live video, the actress also addressed her bashers who had accusations against her.
"Mga kaibigan, you can accuse me of many things, nasty things, pwede n'yo akong sabihing malandi, I will accept it. Sasabihin n'yo akong baduy, bagong-yaman, I will accept it. Sasabihin nilang kabit, aaminin ko. For the past 23 or almost 24 years, opo, kabit po ako ni Tonyboy Cojuangco. I never denied it," she said.
"If you threw that at me five years ago, maglulupasay po ako. Halos magpakamatay ako sa sakit sa aking dibdib 'pag tinawag n'yo akong kabit," the actress added.
Tonyboy is still legally married to his first wife Denise Yabut-Cojuangco. Despite being tagged as mistress, Gretchen said she is happy with Tonyboy because he loves her unconditionally.
"But right now, after 23 lovely years with my Tonyboy, you can call me kabit and I will tell you, I am happily his kabit, I am happily his mistress. I have a man who loves me unconditionally."
Gretchen said she does not care if she and Tonyboy do not got married because she has learned to embrace her "very flawed" life.
"Yes, it is true. Maybe I will never be marrying him. Maybe he will never marry me. Maybe I will never have that dream to walk down the aisle and have that fabulous gown. But who cares? I have a very flawed life, a flawed relationship, but I'm happy. It's not perfect. He understands me fully, he loves me fully, and in his eyes, I can do no wrong. So, who am I to complain? Life isn't perfect. Hey, here we live right now, it's not heaven, you know. And I'm not the only one, you know, who lives an imperfect life."
In another Instagram live video, Gretchen was with Tonyboy and she asked him to say "hi" to viewers. Tonyboy refused.
Gretchen then teased her partner: "Dada, they said, I'm a gold digger, and I'm your kabit."
Laughingly, Gretchen told the audience Tonyboy's supposed response: "Sabi niya, 'Baba, you did not dig gold. I handed it to you. Can I have it back?' I said, 'No way. You have to dig it back!'"
As of posting time, Gretchen is still getting both praises and criticisms for the videos on her Instagram account. She responds by posting more "Hello, bashers!" videos that showcase her beauty and high society life.
Editor's Note: The first paragraph of this article has been edited for clarity. The earlier version lacked in accuracy in describing Ms. Barretto's statement.